MAC Viva Glam Cyndi and Gaga Swatches
Viva Glam Lipstick Puts a Smile on Our Lips
It's impressive enough that sales of MAC's Viva Glam lipstick have raised more than $150 million to help people affected by HIV/AIDS. But it's absolutely stunning to see what the purchase of just one Viva Glam lipstick can do. Every penny of the $14 price is donated to the MAC AIDS Fund, and here's a sampling of what a single lipstick can do in North America:
Buy 50 pounds of onions or 20 pounds of potatoes
Purchase a week's supply of groceries for two clients
Pay for eight home-cooked meals
Cover the cost of fuel for Manna trucks to make 37 deliveries of healthy meals
Pay for a medication organizer to help patients manage their complex needs
Internationally, that money goes even farther. One lipstick can:
Buy a pair of school shoes or stationery for a child orphaned by AIDS
Provide education to five HIV-positive pregnant women, helping them prevent transmission to their unborn children
Feed two children with two meals per day . . . for a month
All this from a little lipstick. To see what the new Viva Glam shades look like on people who aren't pop superstars, keep reading.
Two Bellas, two lipsticks, one consensus: these colors are much more wearable than we'd expected.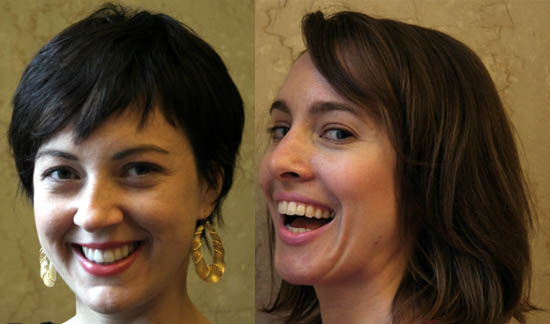 On the left, it's Viva Glam Cyndi, a light red with a tinge of coral. On the right, it's Viva Glam Gaga, a cool blue-toned pink. We, and more than a few people at Sugar HQ, were surprised by how versatile the colors are. You'd think that Gaga's color would look as bold as it does on her by default, but in real life, it can also look more innocent. What do you think?