The MTV Video Music Awards has earned the reputation as the most unpredictable award show in the lineup. But when it comes to beauty, we know exactly what to expect — glamorous hair and makeup looks worthy of a wild party. And this year was no different. Whether you're going to DIY [1] Gwen Stefani [2]'s retro hairstyle, copy Solange Knowles's pink mascara for your next girls' night out, or add Taylor Swift [3]'s textured lob to your Pinterest inspiration board, you can find it all below (and more!).
Miley Cyrus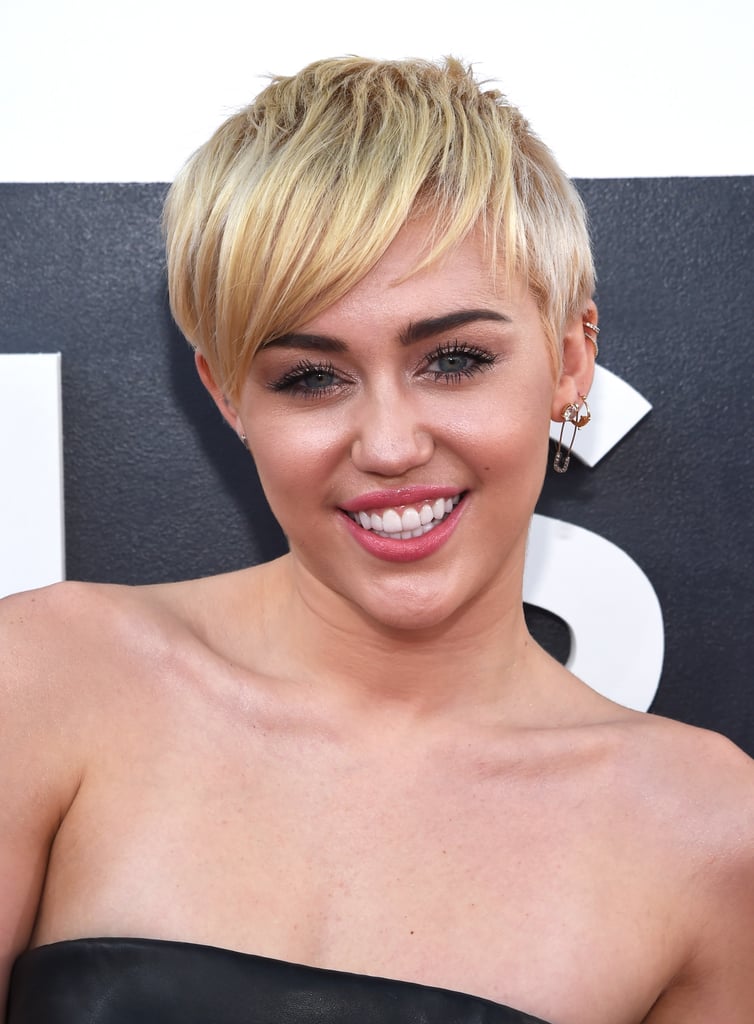 Miley's tousled platinum-blond pixie was definitely a toned-down approach compared to last year's pigtail buns. Andy LeCompte used Wella Luxe Oil Reconstructive Elixir [4] ($48) to get the tousled look.
Sarah Hyland
Long hair, don't care! Sarah strutted down the red carpet with her hair cascading down to her bum. To get a supersleek blowout, her stylist, Ryan Richman, recommends using a flat boar bristle brush like the The Wet Brush Shine Brush [5] ($14)
Katy Perry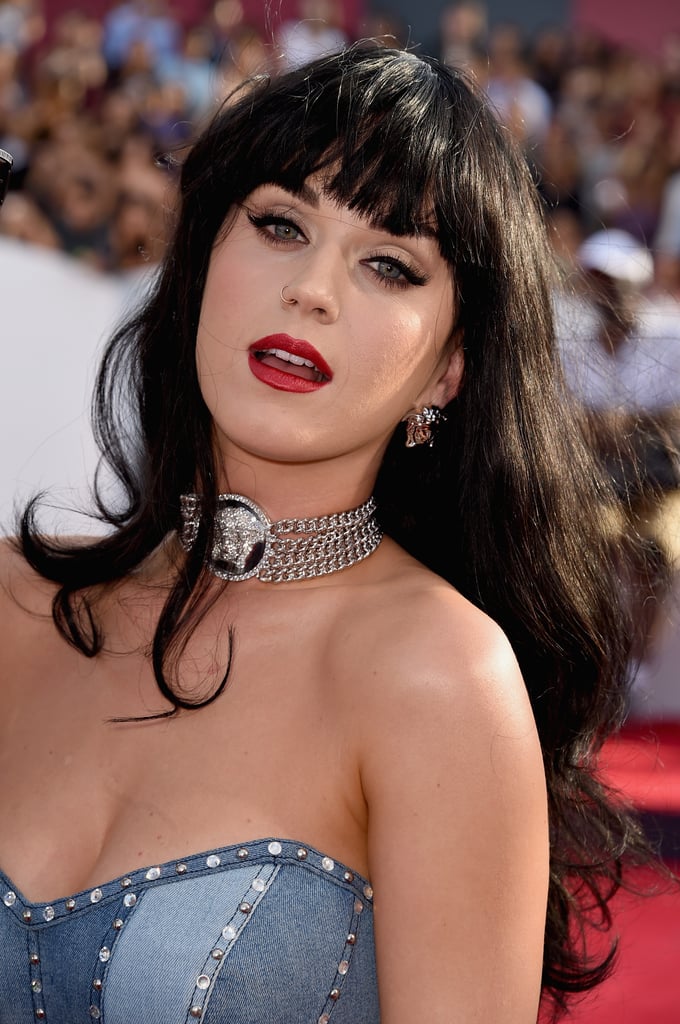 Katy might have pulled inspiration from Britney Spears [6] for her denim outfit, but her short bangs, curls, and vampy lip were all sourced from burlesque bombshell Bettie Page. Clyde Haygood used Paul Mitchell Stay Strong Express Dry Strong Hold Hairspray [7] ($18) to keep her retro style intact all night. Want that moody lip, too? Makeup artist Jake Bailey used CoverGirl LipPerfection Lip Color in Hot 305 [8] ($8).
Taylor Schilling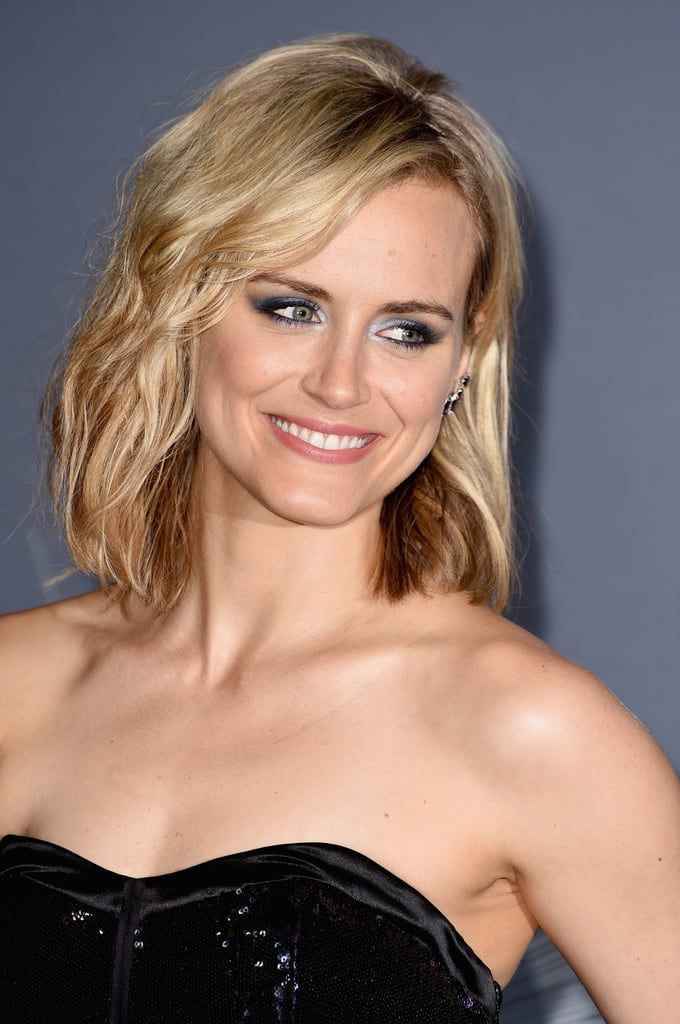 Taylor had something we all want at the MTV VMAs — the perfect smoky eye. Makeup artist Tina Turnbow used the dark navy shades in the Clinique Shadow Quad in
Galaxy [9] ($28) on the outer edges of the eyes and the pearlescent silvers near the center to create a seamless light-to-dark transition.
Lorde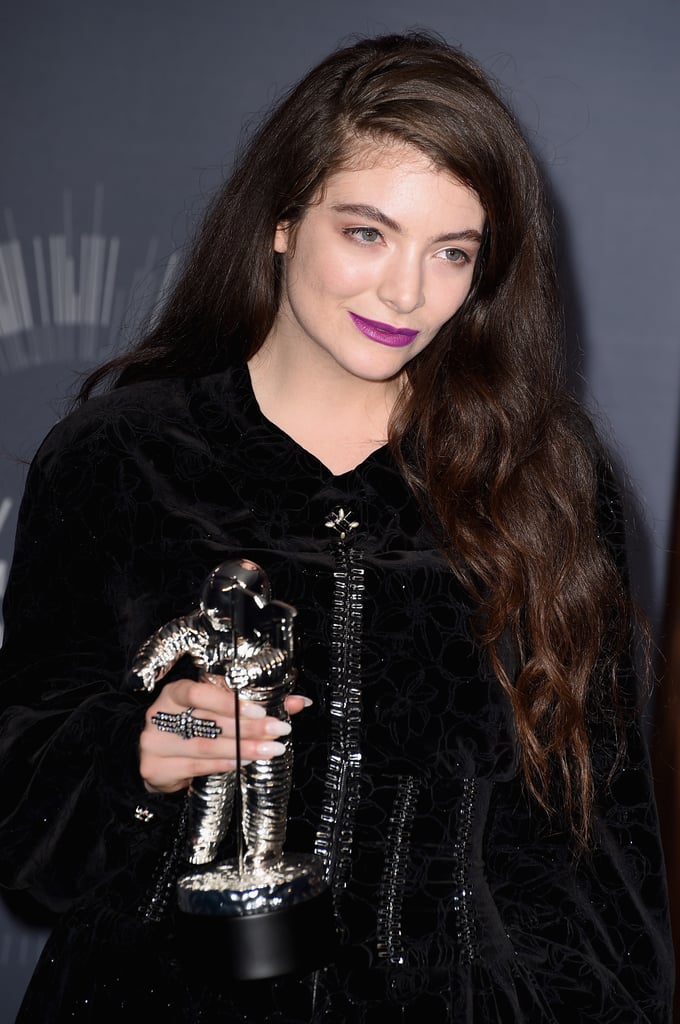 Lorde showed off her electric fuchsia lipstick and lengthy manicure as she posed with her moonman statue. Andy LeCompte blow-dried her curls into this smooth look using Wella Luxe Oil Keratin Boost Leave-In Conditioning Spray [10] ($22).
Chloë Moretz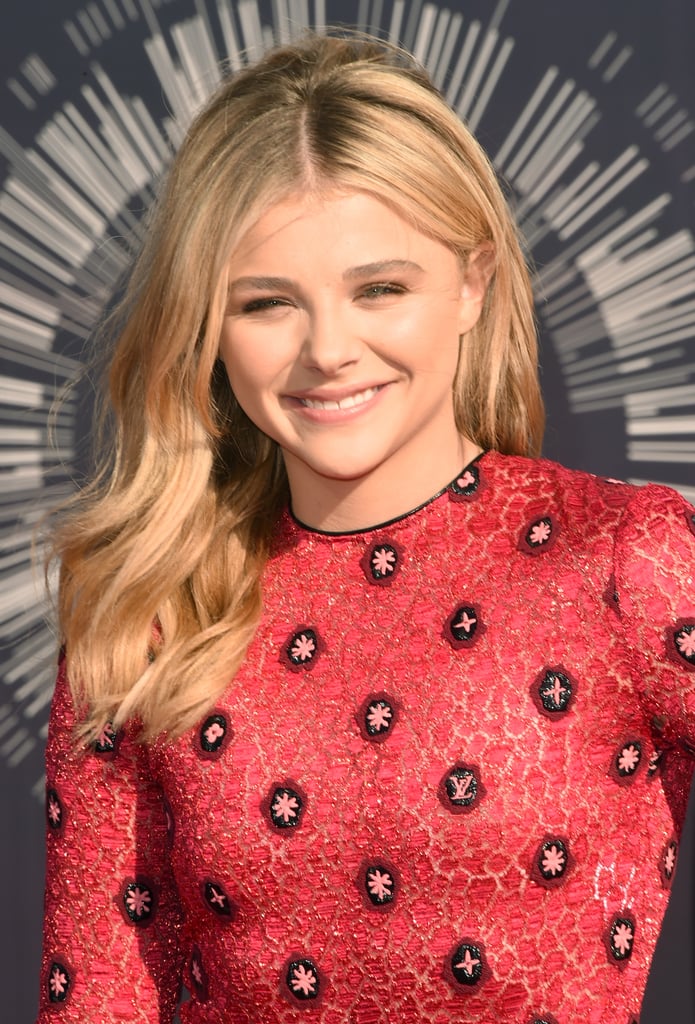 Chloë kept her beauty look soft and chic, from her beachy waves to her light-pink lip gloss. Stylist Greg Russell used Garnier Fructis Marvelous Oil Deep Nourish 5-Action Hair Elixir [11] ($6) before the blowout to get a high-shine finish, then he added in the piecey waves using a flat iron.
Becky G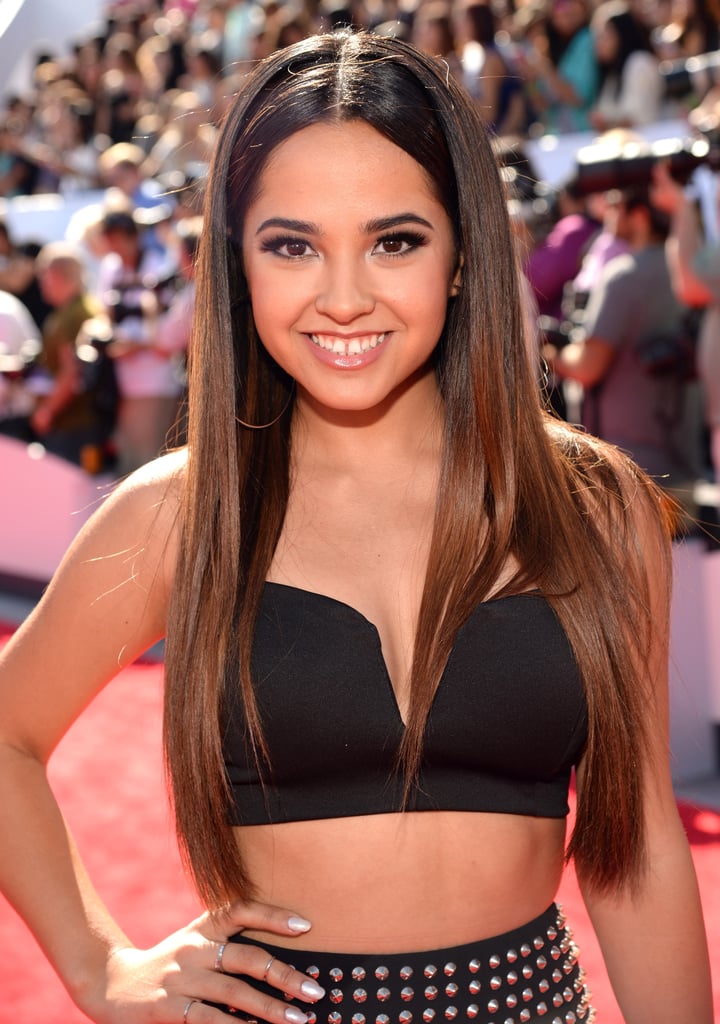 Becky G took the sleek approach on the MTV VMAs red carpet, with her superstraight strands reaching all the way down to her waist. Her makeup artist for the night, Sarah Uslan, says that lip gloss is making a big comeback, and she used CoverGirl Colorlicious Lip Gloss in Berrylicious [12] ($8) on Becky.
Laverne Cox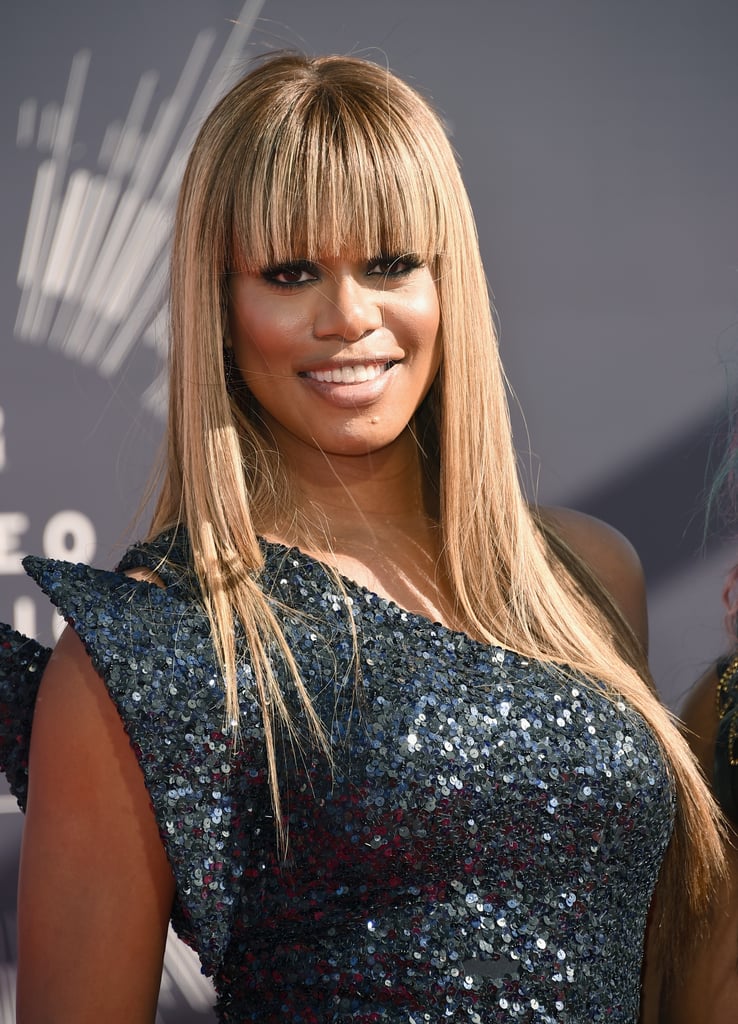 Orange Is the New Black's breakout star tried something new for the VMAs: the actress showed off blunt bangs before the show started. Her stylist, Ursula Stephen, used the Sedu Revolution 1" Styling Iron [13] ($160) to get her hair and new fringe superstraight.
Nina Dobrev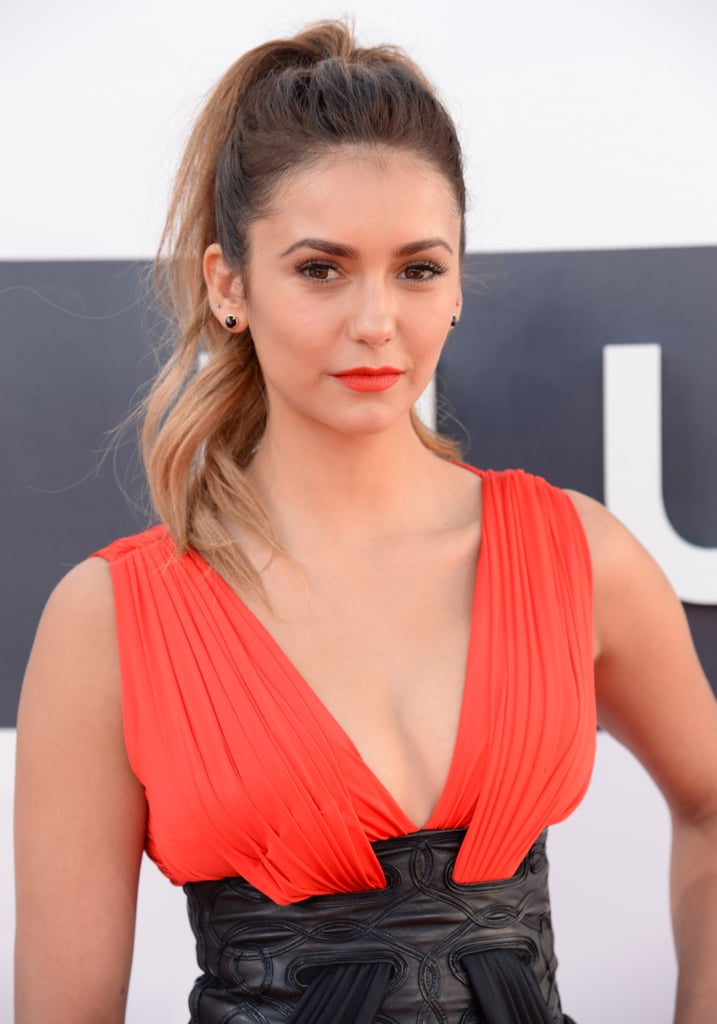 Nina coordinated her orange dress with her tangerine lip and topped it all off with a two-toned pony. Makeup artist Beau Nelson applied was Jouer Lipstick in Ava [14] ($22). Hairstylist Riawna Capri used Garnier De-Constructed Texture Tease Dry Finish Spray [15] ($4) on the ponytail to give the style added volume.
Taylor Swift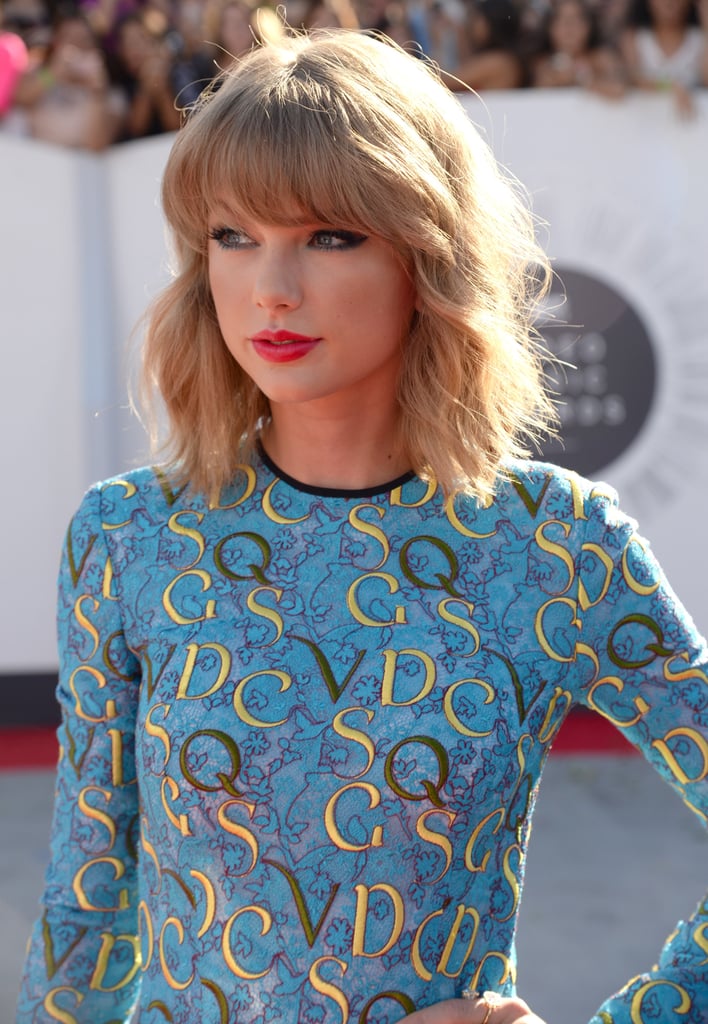 Taylor went with a windblown lob and her classic crimson lip for the MTV VMAs red carpet.
Kim Kardashian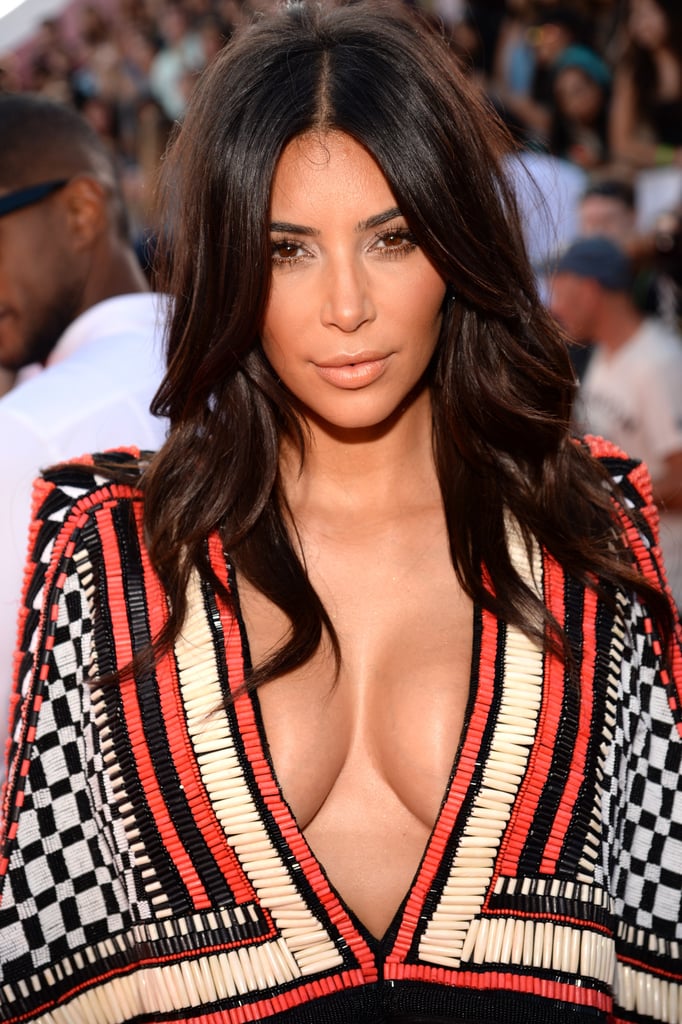 Kim was glowing from head to . . . décolletage, but we expect nothing less from the bronzed beauty.
Beyoncé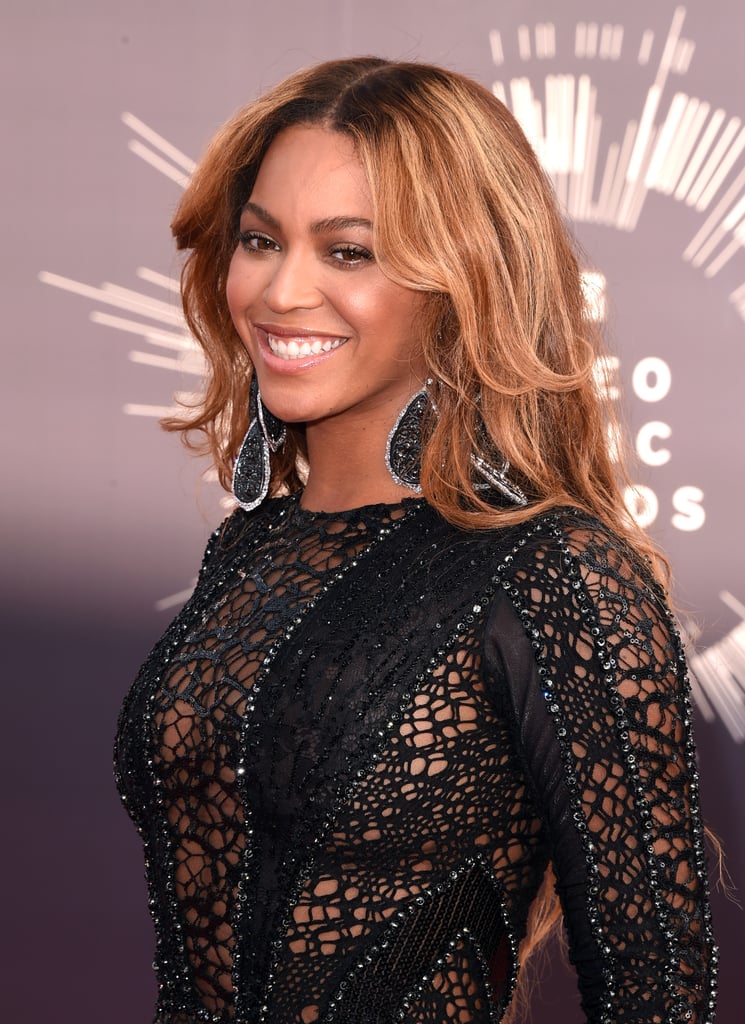 Queen Bey was fashionably late to the VMAs red carpet, but her feathered waves and earth-toned makeup were totally worth the wait!
Nicki Minaj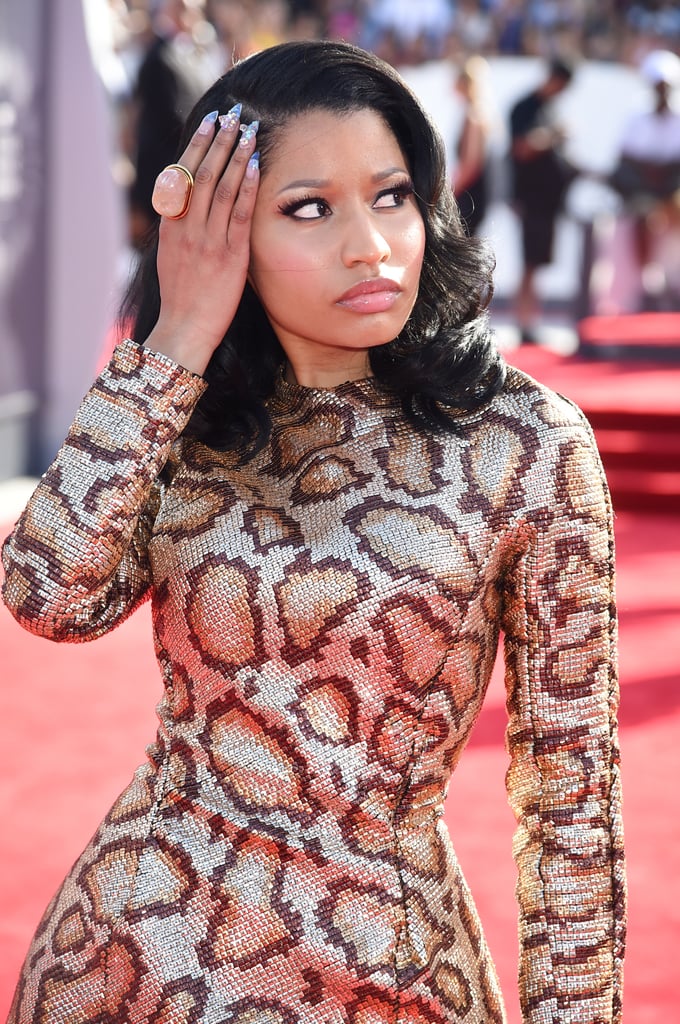 Nicki tried out a shorter hairstyle to coordinate with her new natural beauty look, but her manicure still had a heavy dose of fun.
Demi Lovato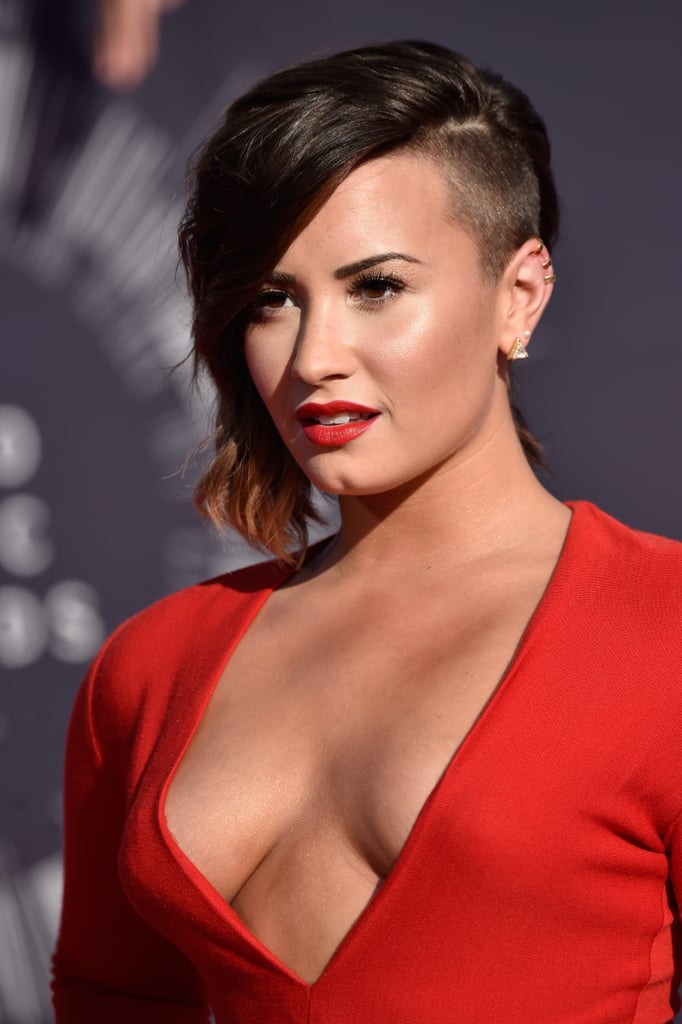 Demi selected a style for the night that really highlighted her shaved undercut. That fire-engine-red lipstick looked equally fierce.
Jennifer Lopez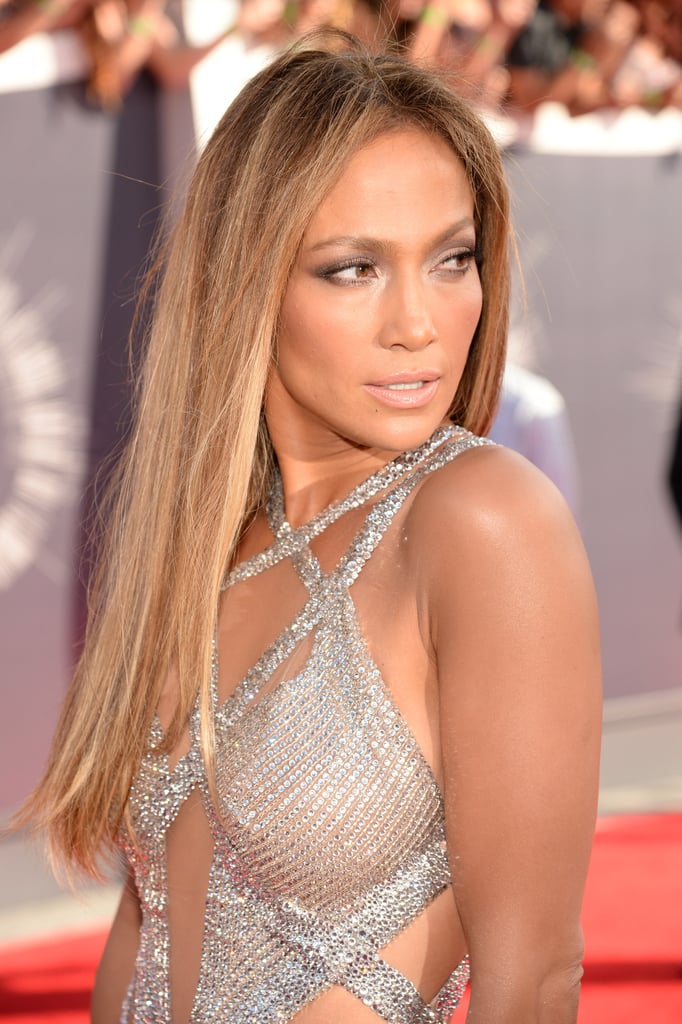 Jennifer's caramel, stick-straight strands and shimmering eye shadow complemented her chain-mail gown.
Kylie Jenner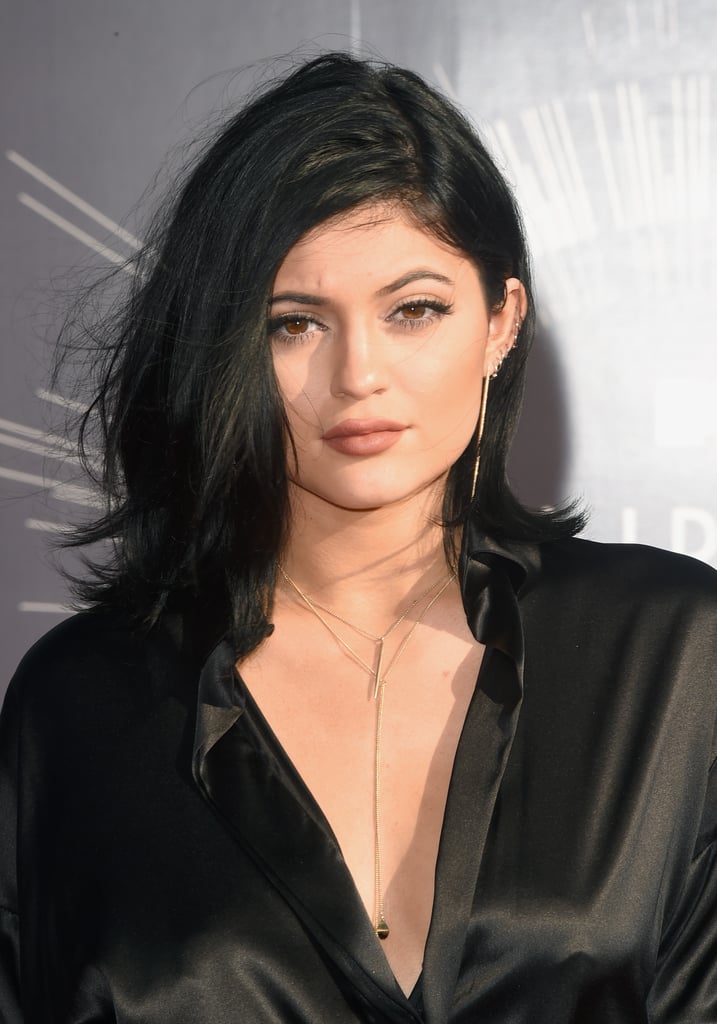 The mood was definitely dark when it came to Kylie's beauty look. Her inky mane blended well with her noir ensemble and the muted mauve lip.
Gwen Stefani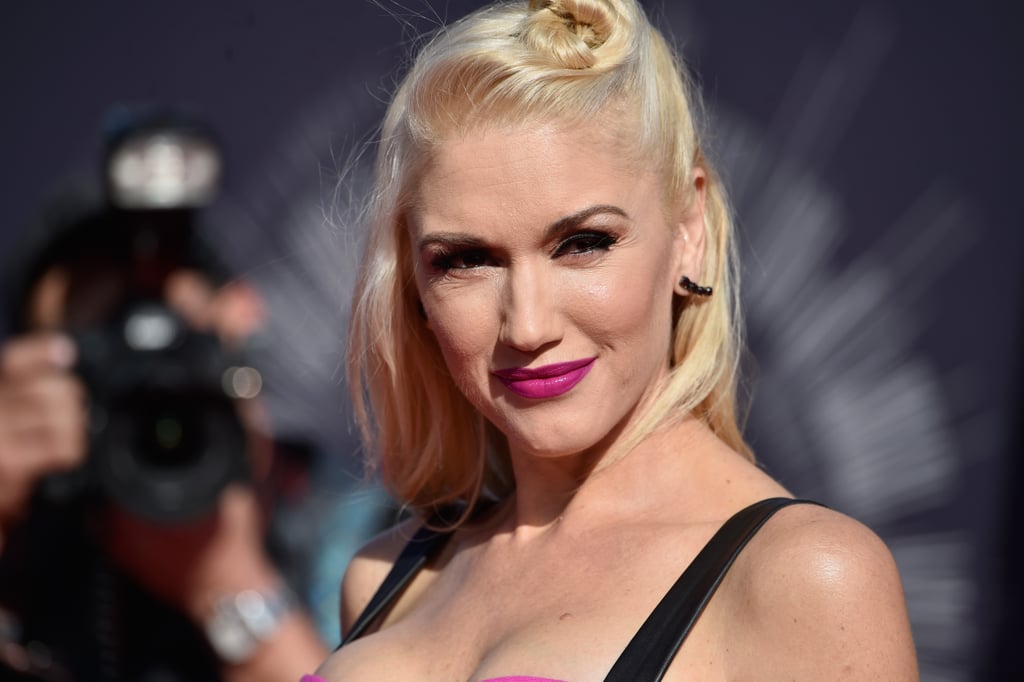 Two words: pin curl. Gwen was totally bringing back the '90s vibe with her vintage victory roll and deep pink lipstick.
Iggy Azalea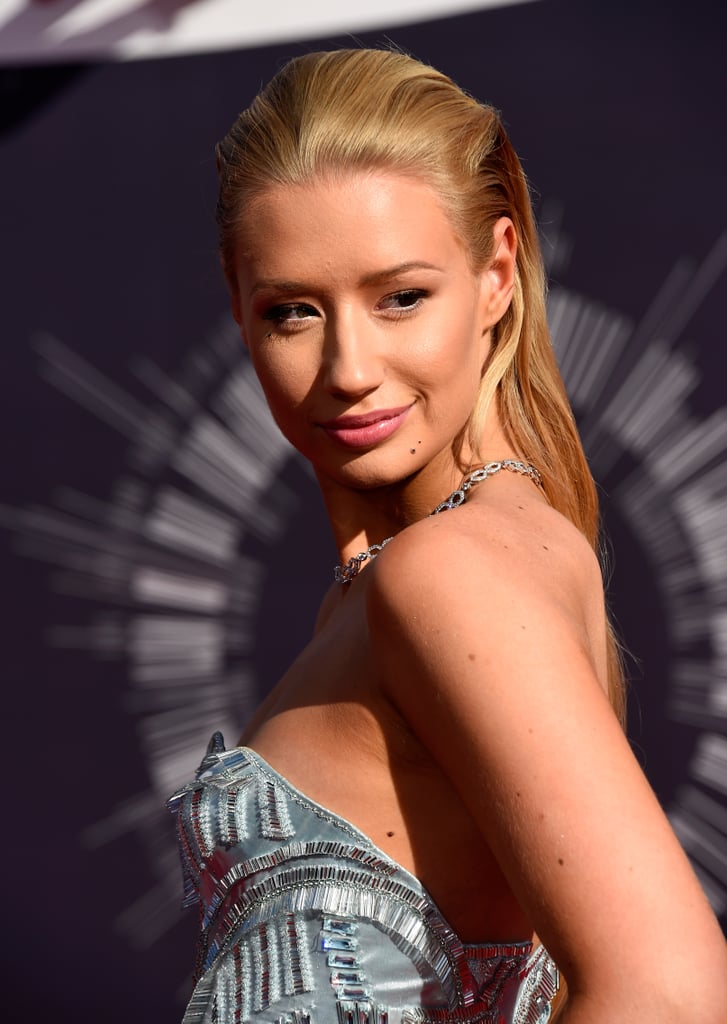 Iggy slicked back her strands for a dual-textured look on the MTV VMAs red carpet.
Solange Knowles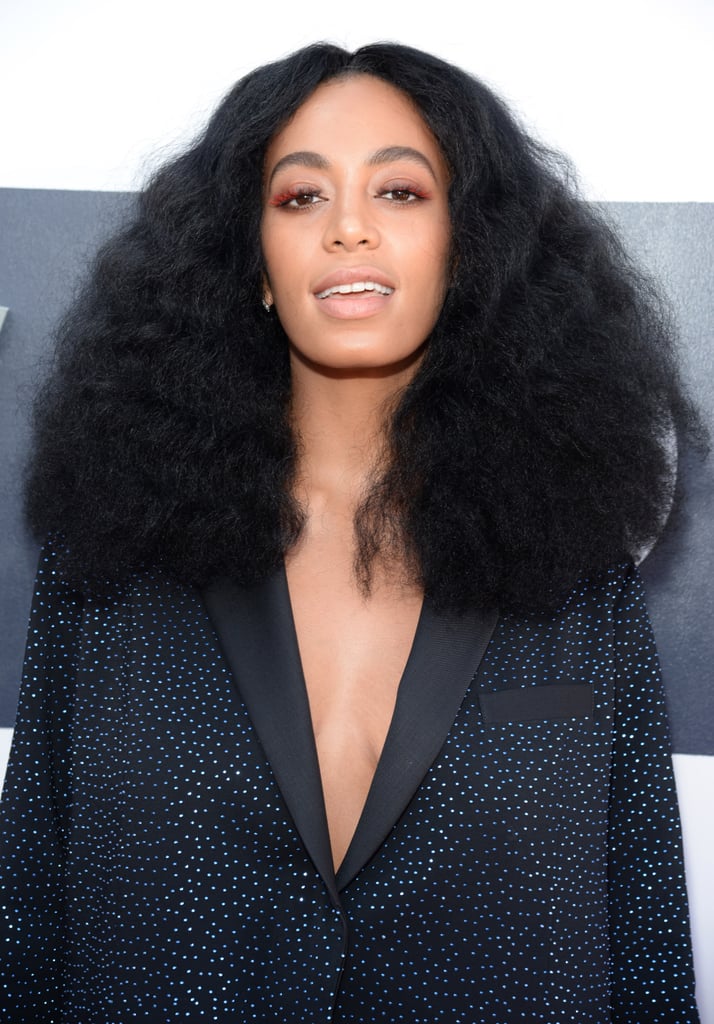 It was a very simple beauty look for Solange with nude makeup and Diana Ross curls. But she still stood out thanks to a pop of color with hot pink lashes [16]!
Lucy Hale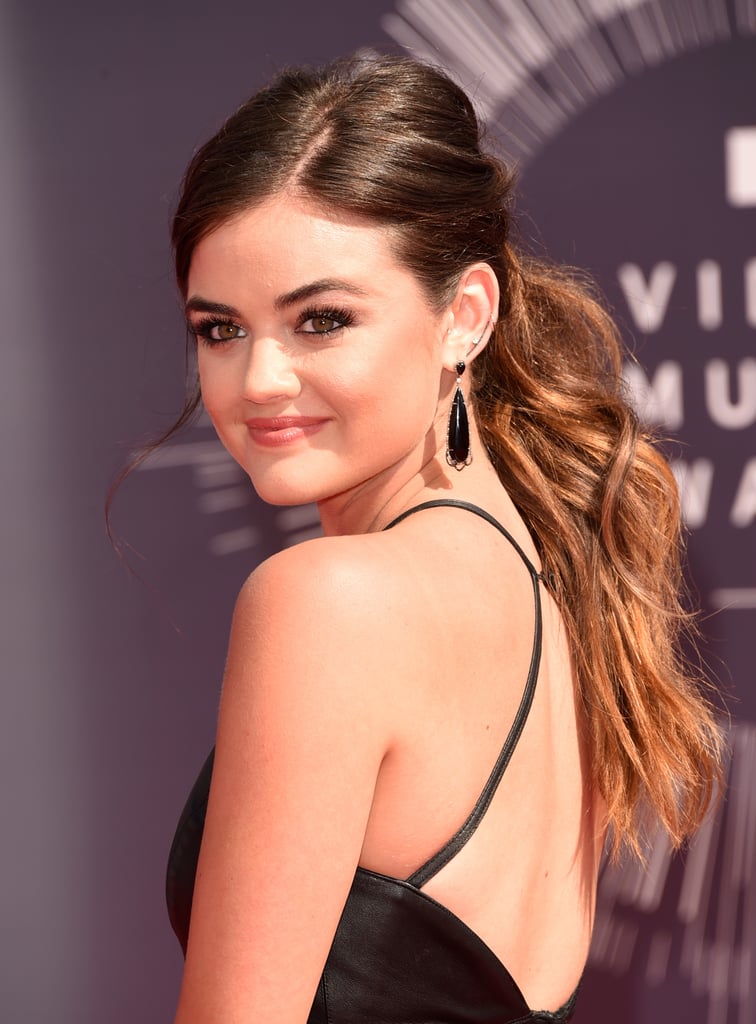 The Pretty Little Liars star pulled her ombré waves back into a low ponytail that showed off the back of her stunning gown. Her smudged eyeliner was the central focus of her makeup look.
Kendall Jenner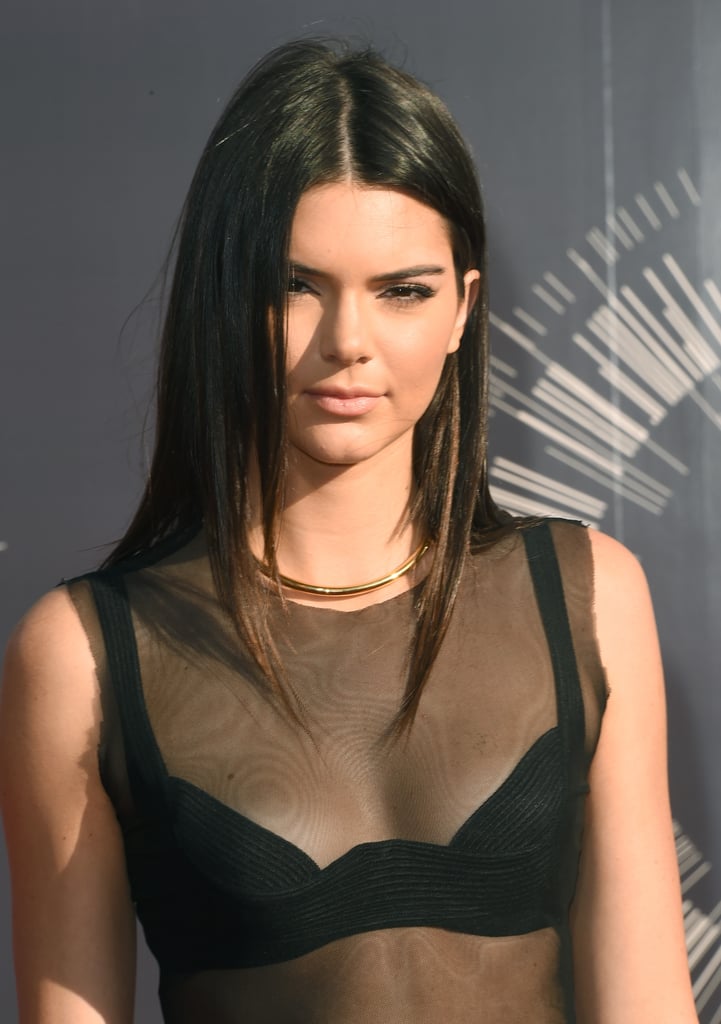 When you have amazing skin like Kendall, makeup is optional. She went with a minimal look for the VMAs to go with her polished blowout.
Rita Ora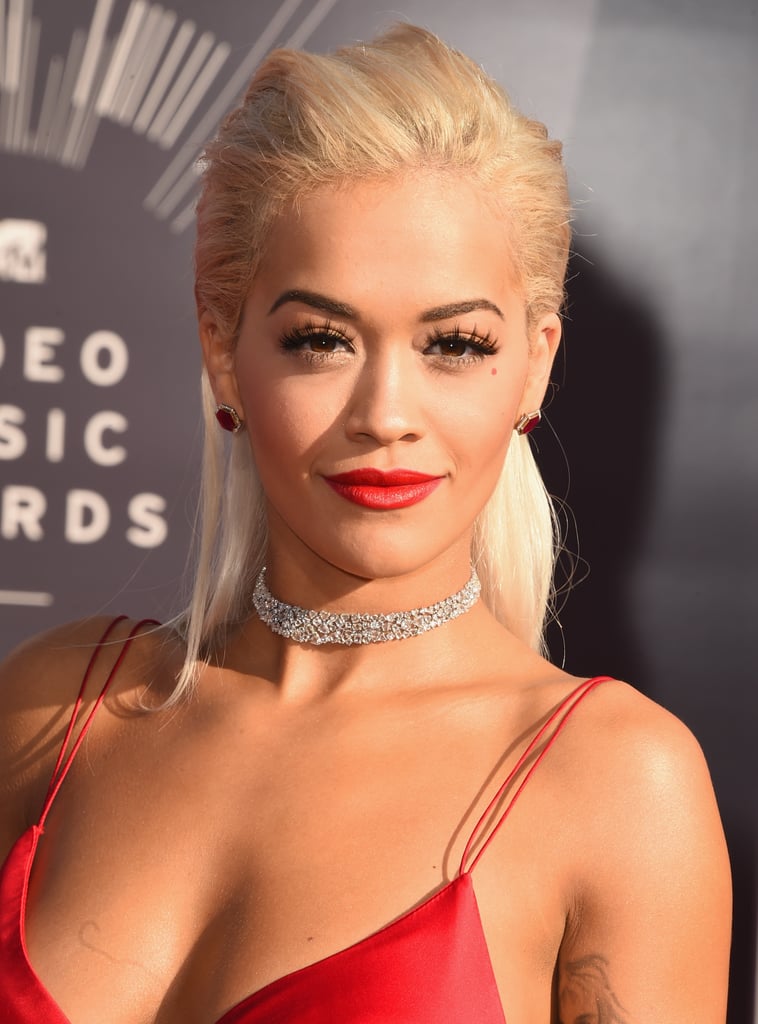 Did Rita and Iggy Azalea coordinate before the VMAs red carpet? It seems like the ladies both went for sleek styles, but Rita pumped up her look with a red lip.
Kesha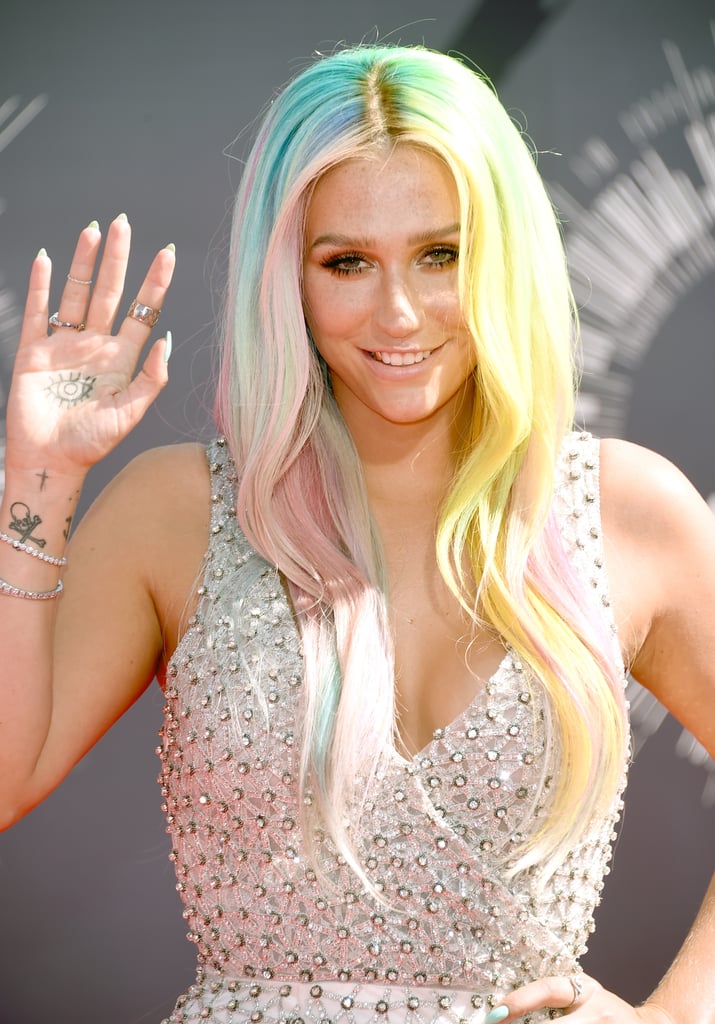 Kesha may have given up on all the glitter for a more natural makeup look [17], but she brightened her beauty style with multiple-pastel mermaid hair.
Ariana Grande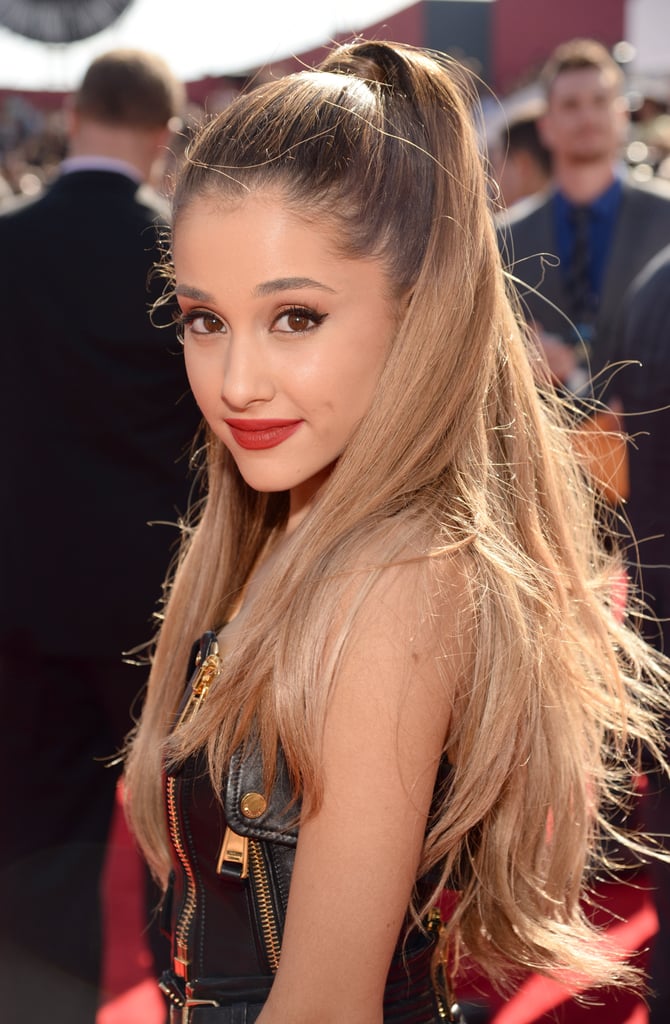 Wearing her signature half-up hairstyle, winged eyeliner, and brick-red lipstick, Ariana was geared up to rock out for her opening performance.
Jourdan Dunn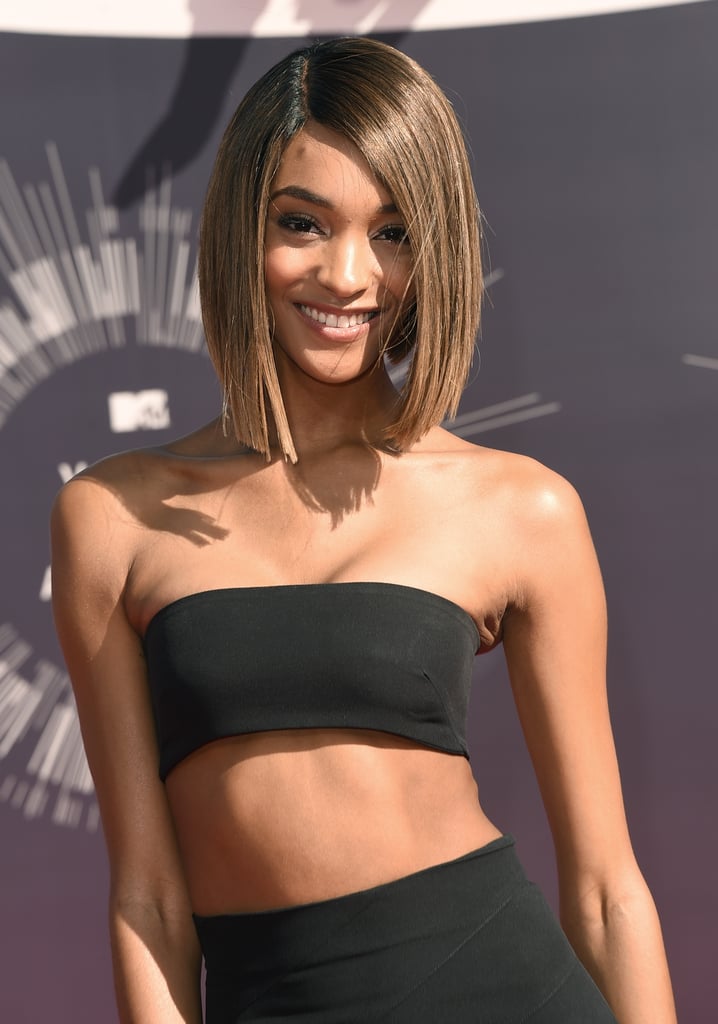 Wait a minute! Is that Jourdan Dunn in a lob [18]? The model debuted her new blunt haircut on the MTV VMAs red carpet.
Jessie J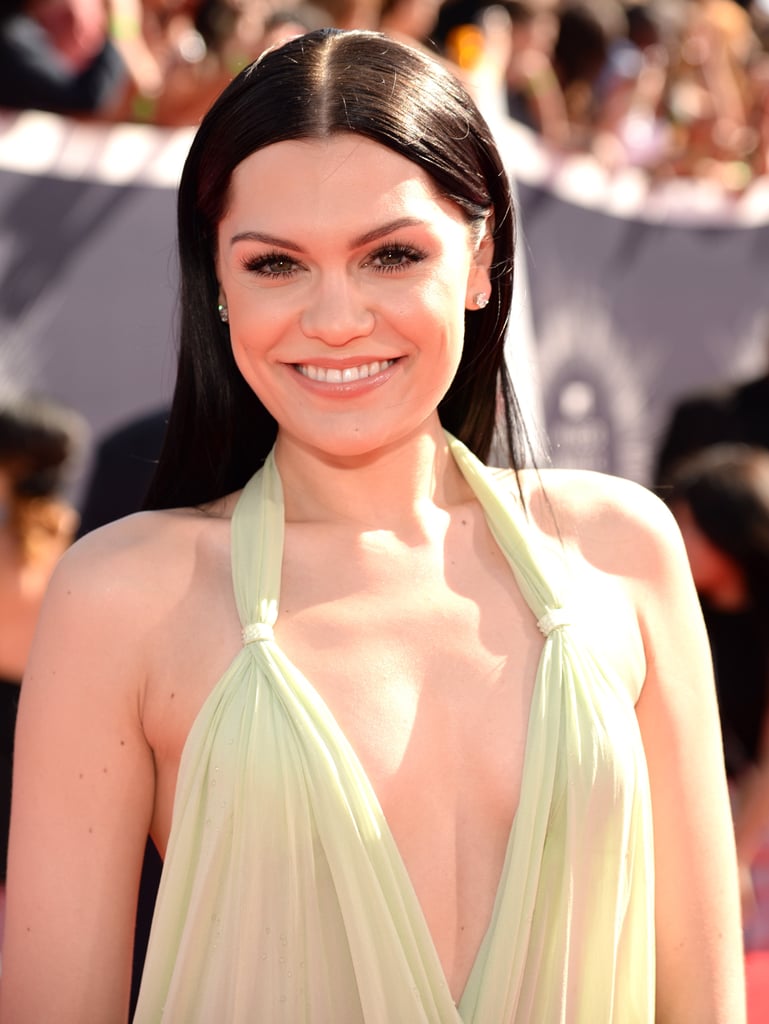 Jessie's inky black hair was the perfect contrast to her alabaster skin tone and natural makeup palette.
Ireland Baldwin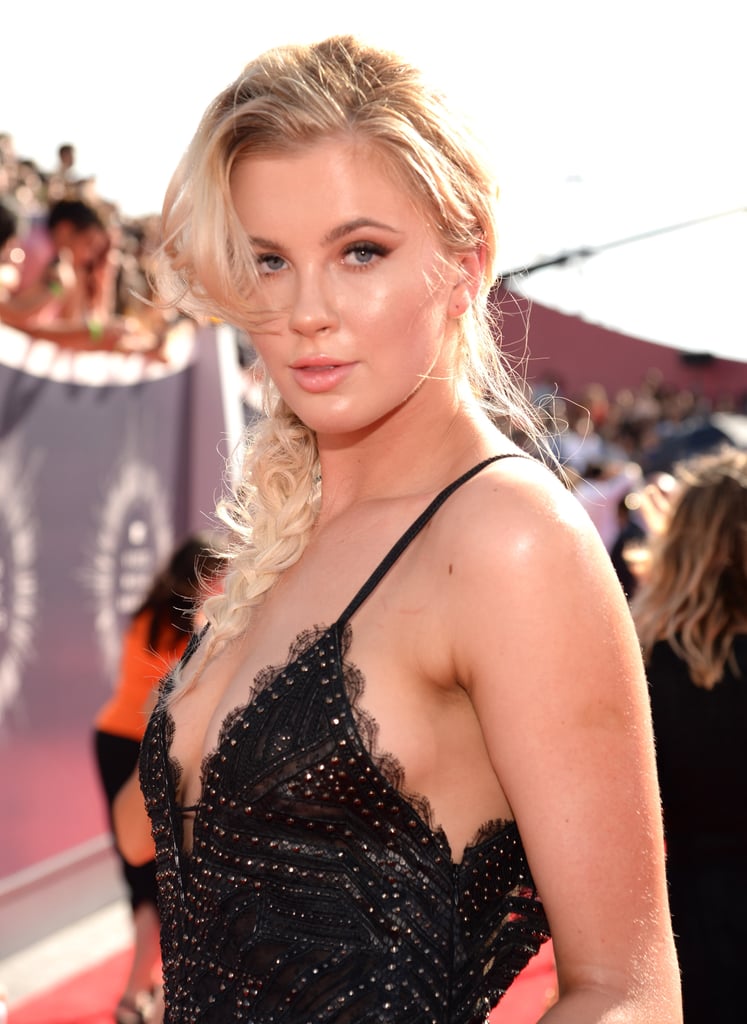 Ireland gets our vote for best braid on the VMAs red carpet.
Jordin Sparks
Berry lips were a big trend on the red carpet. Bold wine lips are best paired with champagne shadow à la Jordin's.
Kelly Rowland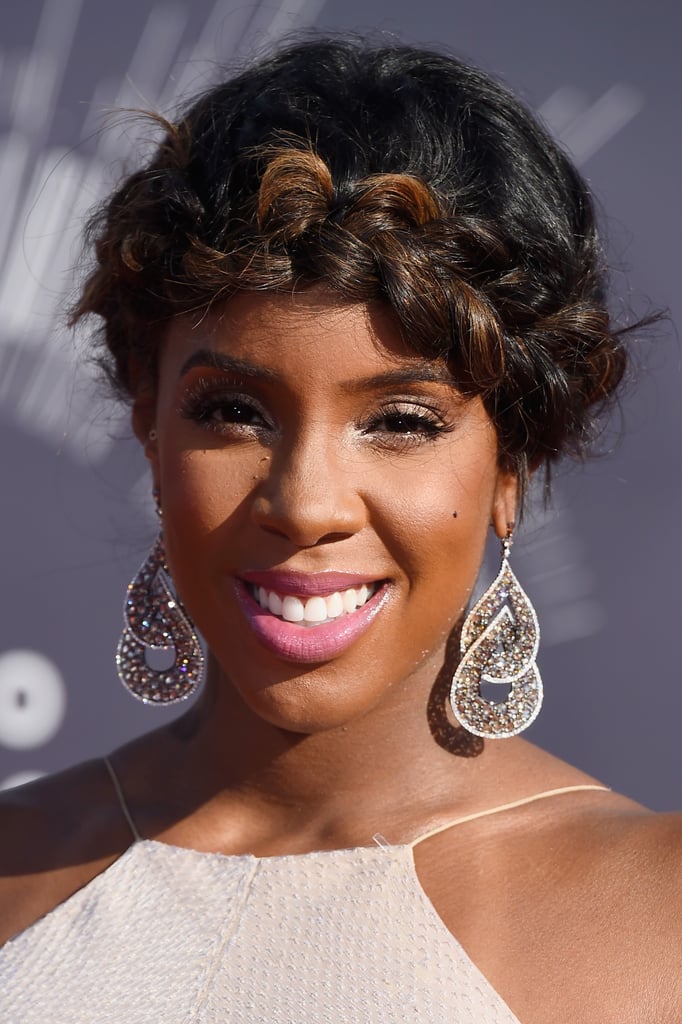 Kelly showed off her pregnancy glow with a glistening silver eye shadow and chunky, bohemian braid.
Julianne Hough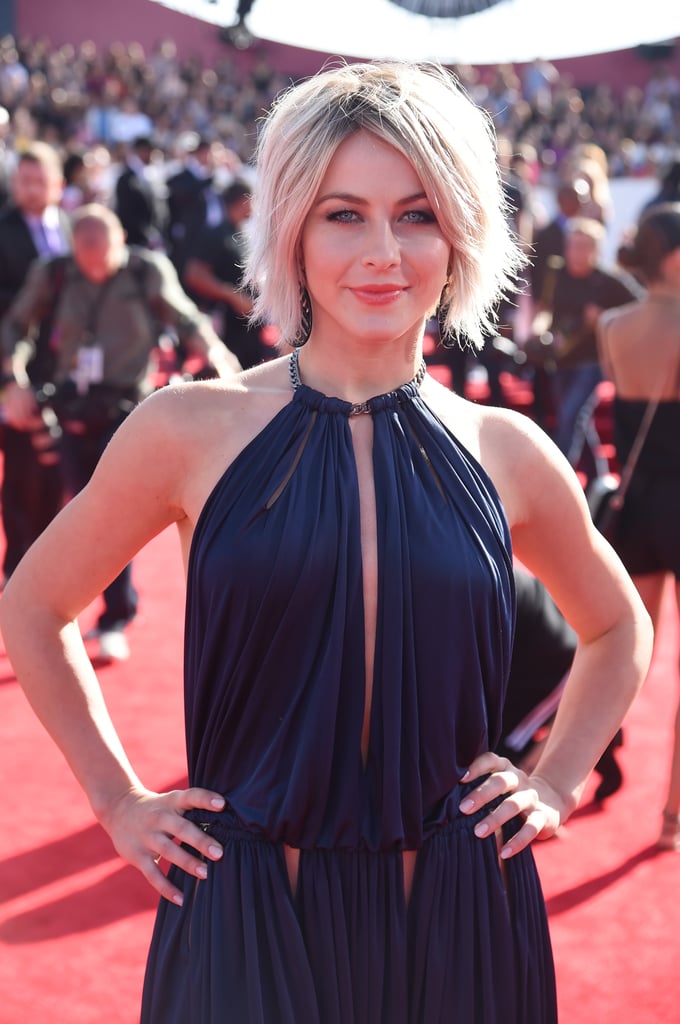 This chic short bob was the perfect cut to show off Julianne's high neckline. She also brought some color to the carpet with a subtle orange lip gloss.
Uzo Aduba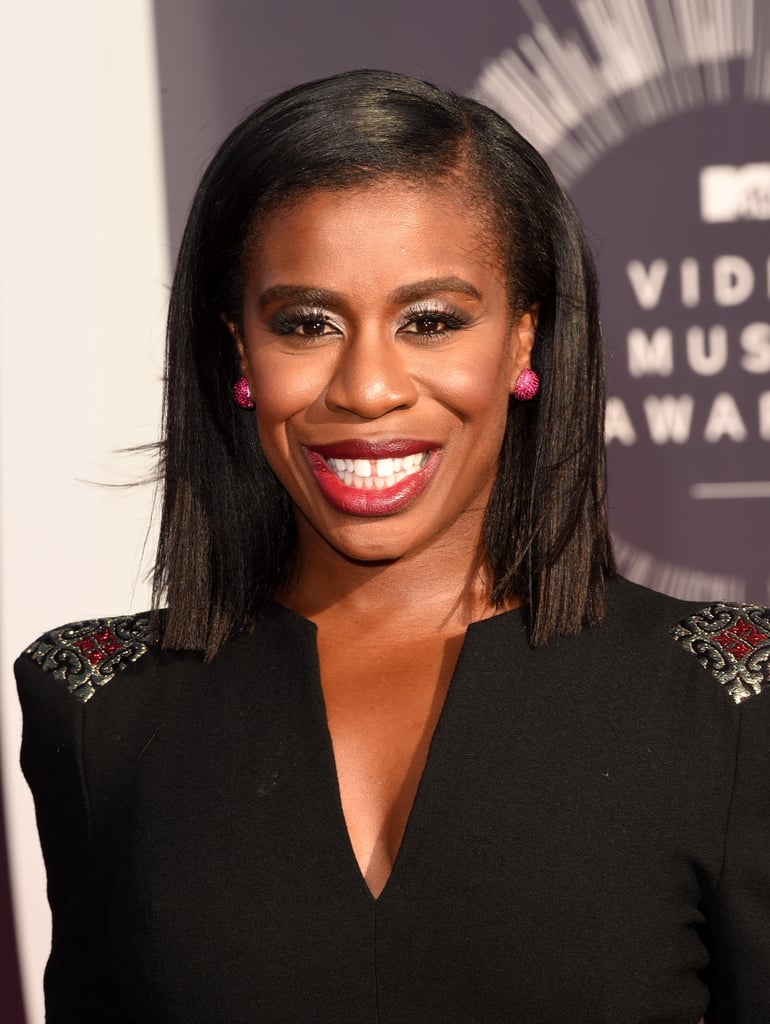 The Orange Is the New Black actress opted for straight strands and a dark lip at the VMAs — very chic.
Victoria Justice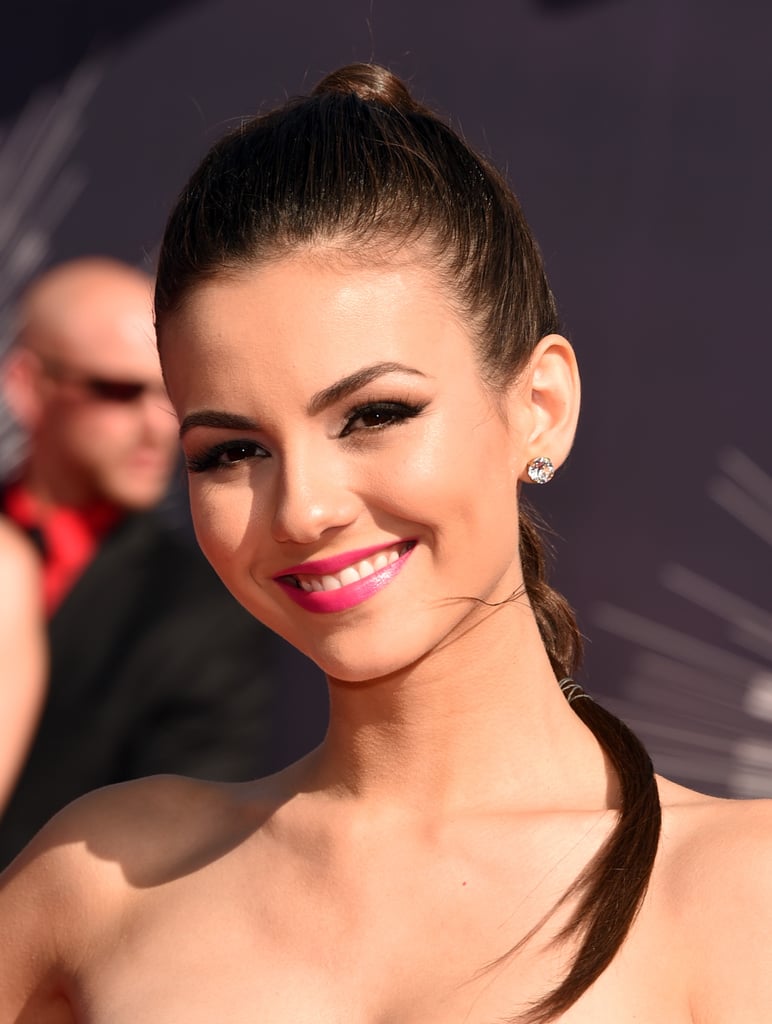 Victoria remixed the average ponytail with a few extra rubber bands. We're definitely going to file this under our favorite weekend looks.
Amber Rose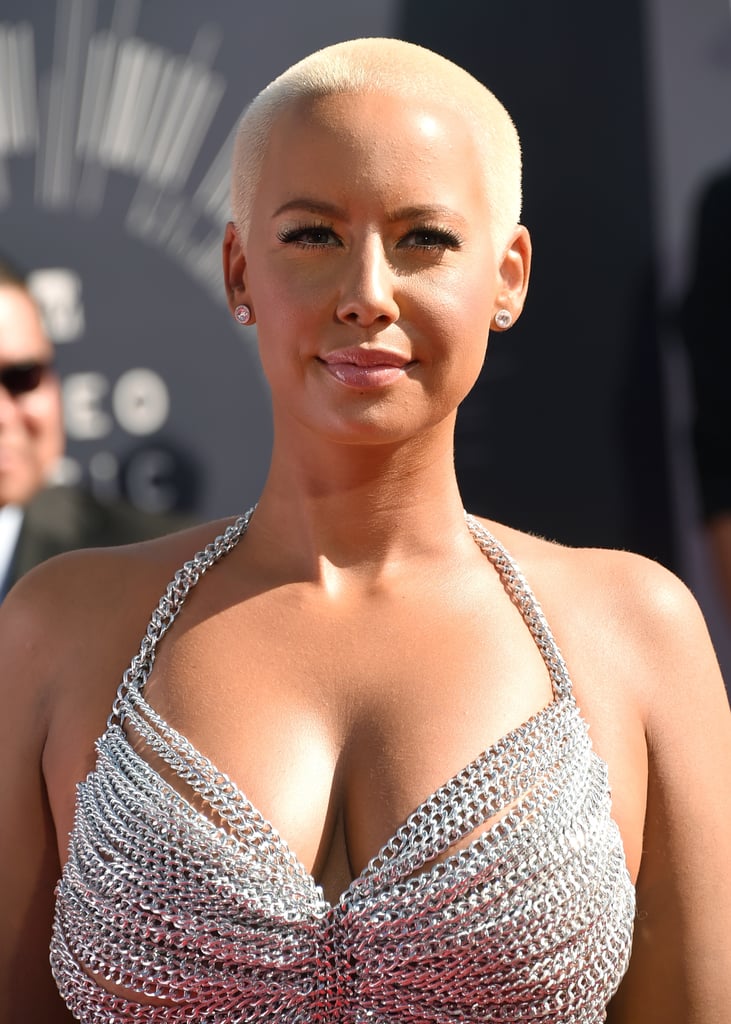 Amber mixed her metals on the red carpet: gold hair, silver dress.