Magnetic Nail Polish: The Next Big Manicure Trend?
Magnetic Nail Polish: The Next Big Thing?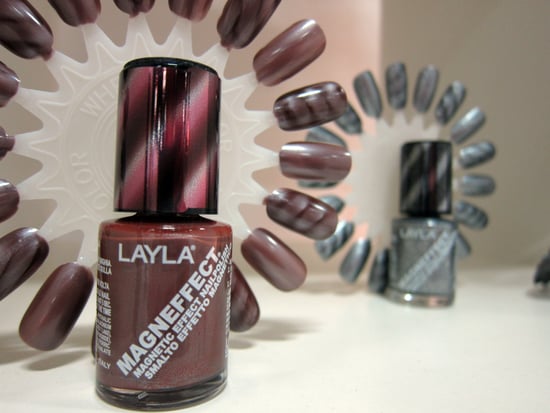 If you've tired of crackle polish and are looking for the next big special effect, search no longer, because magnetic nail polish is coming to a website near you. If you haven't seen magnetic polish yet, it's basically regular polish with tiny magnetized particles in it. When you put it anywhere near a magnet, the charged bits align themselves with the magnet's poles, creating cool patterns in the polish.
I tried Layla Magneffect in Brown Sugar ($16), which ends up looking like tiger's eye. It's a cool concept (although this isn't magnetic nail polish's first time around the block), and you can expect to see the collection popping up everywhere from Drugstore.com to Zappos soon. What's more, well-manicured little birdies have told us that some of the big nail polish companies are working on versions for next year. For now, check out spring 2012 nail trends for more inspiration.