Makeup For Work: What to Wear in the Workplace
How to Wear the Right Makeup For the Right Job
As POPSUGAR editors, we independently select and write about stuff we love and think you'll like too. If you buy a product we have recommended, we may receive affiliate commission, which in turn supports our work.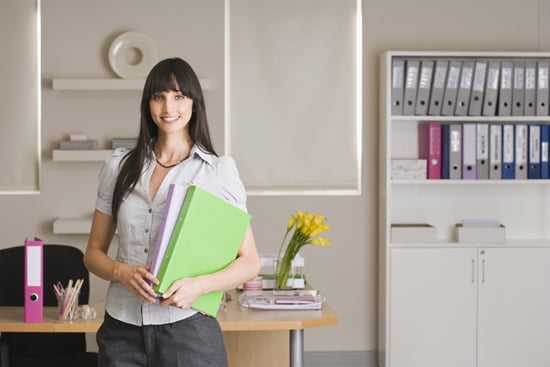 When it comes to wearing makeup at work, there always seems to be a mess of confusion. A UK woman was recently fired because her employer felt her makeup was too outlandish, throwing the spotlight on a question asked by many working women: what makeup is considered work-appropriate and what should be saved for personal time?
The answer isn't so cut-and-dry. Different job positions, work environments, and industries have different sets of rules regarding what's work-appropriate and what isn't. Depending on how conservative or relaxed they are, some companies welcome creativity and trend setting on the makeup front, while others believe it can be distracting. Not exactly sure what's cool in your field? Just keep reading.
Conservative setting (law firm, medical field, bank): While your makeup shouldn't be the first thing people notice about you, that doesn't mean you can't wear anything. Keep it neutral. A brown shadow, like
L'Oreal Infallible Eyeshadow in Bottomless Java ($7.95), paired with one coat of black or brown mascara is a good place to start. Dust your cheeks with a light blush, swipe your lips with a lipstick close to your natural tone, and you'll look put together and professional.
Relaxed environment (magazine, design firm, website): Your job is to be creative, so don't be afraid to experiment with trends here. Try Nars Velvet Matte Lip Pencil in Never Say Never ($24) if you're feeling the hot-pink lip trend. Just remember that even though you want your makeup to make a statement, you're still at work. Pick your battles. If you're rocking a statement lip, keep the rest of your look understated.
Middle ground (retail or any customer service job): So you're not sitting in an office pushing pencils around. This means you can go wild with your makeup, right? Wrong. If you have face time with customers, how you present yourself is your business. Something bold might work if you're selling CDs, but won't go over so well at a posh restaurant. Stick to a makeup look that accentuates your best feature. If you've got great eyes, for example, use a liner like NYC
Liquid Eyeliner ($3.99) to nail your perfect cat-eye.
Beauty deal breakers (wherever you're working): Steer clear of body glitter, embellished false eyelashes, or anything you would wear for a night out. If you wear perfume, make sure the scent is light and isn't offensive to your co-workers. And if your job allows you to wear neon shades, keep them tasteful and only make up one asset at a time.