A Manicure Suited For a Black-Tie Affair
Check Out This Rad Tuxedo Manicure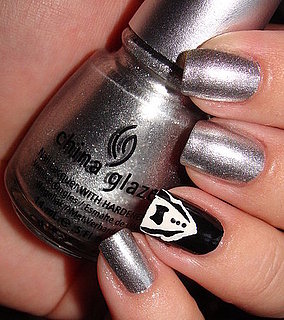 Here's an excerpt of a post by OnSugar blog beautopia on getting a black-tie manicure:
I took another page out of Wah-Nails's book and did a tuxedo this week. I have been trying to branch out into freehand nail art since I'm not exactly great at painting miniatures like the likes of The Daily Nail or The Lacquer Files. I've been attempting to practice and hone my skills so that one day I might be, so I've been trying to re-create other designs I've seen done so I at least have a baseline to work off of. Today you're seeing China Glaze "Cheers To You" from the Holiday 2010 collection on all fingers except ring fingers. The more I wear this silver the more I love it. It's the most metallic silver foil I own, and I own a few. The pieces are so finely milled and the coverage is so perfect. It's almost like a chrome.
Want to see more? Be sure to read the rest of beautopia's post. And when you're through, why not start an OnSugar blog of your own? You could be featured here on Bella.