Marc Jacobs New Bang Fragrance 2010-05-21 11:00:00
Marc Jacobs Launches New Fragrance With a Huge Bang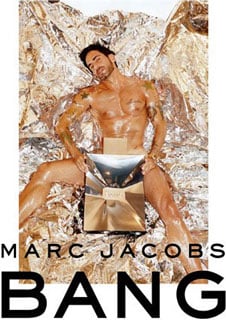 Oh, good morning, Marc Jacobs. What's that you say? You're launching another fragrance for men? What? Sorry, I was, uh, thinking about all the awesome no clothes — I mean notes — it's going to have. Speaking of those notes, they'll include pink, black, and white peppercorns at the top, primal masculine woods at the middle, and vetiver, patchouli, and white moss at the bottom.
Bang ($55-$75) is a great name for your fragrance, by the way. It really expresses how we all feel about it. "I was in the gym, and the name Bang came to me," Marc told WWD. "As a word, it has so many connotations, including a sexual connotation. And I loved the immediacy and the sound of the word," he added. The spicy new scent, which is marketed to the contemporary set, will launch at the end of July at Bloomingdale's and Marc Jacobs stores.
The juice, which is packaged up in a crumpled-looking silver bottle, will also feature an aftershave balm ($40), deodorant stick ($22), and a hair and body wash ($25) as part of the line. That's not all; Marc also hints that he'd love to expand his empire into the color cosmetics realm. And when it comes to the racy visuals for Bang, Marc fully expects it to be censored in some locations, joking, "I think more people are going to see [the Midwestern] version of the ad." What do you think about Marc's latest venture, dear readers? Are Mr. Jacobs and his Mylar sheeting pictured here having the same effect on you?