Mariah Carey Ring Pop Perfumes
Mariah Carey Ring Pop Perfume Now Exists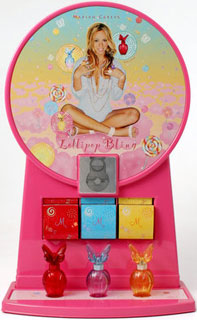 Yes, you read that headline correctly. Mariah Carey is taking her celebrity fragrance empire in a direction that's totally unexpected, and yet exactly like something she'd do. Mariah, Elizabeth Arden, and Topps (yep, the baseball card maker) have all gotten together to create Lollipop Blings, three perfumes that come with a matching Ring Pop.
One of the scents, called Ribbon, is actually based on the scent of Blue Raspberry Ring Pops. So why all the sweet treats? Noreen Dodge of Elizabeth Arden told the NYT that the fragrances were developed because the company thinks "it will bring an even younger customer into the Mariah Carey franchise." However, she describes the scents as being less teeny-bopper than you might expect.
"[They] take a candy element as a thread to be woven in a fragrance, and elevate candy into a prestige environment," she explained. What do you think? Would you pick up a sugary scent like this when they become available July 1, or are you not the kind of girl with a sweet tooth and a weakness for jewelry?