Mario Badescu Botanical Exfoliating Scrub
One of Our Favorite Cult Brands Finally Releases a New Product!
As POPSUGAR editors, we independently select and write about stuff we love and think you'll like too. If you buy a product we have recommended, we may receive affiliate commission, which in turn supports our work.
I have combination skin, and when it's dry, it's like a snake shedding its skin. Seriously. I need something that will slough off dead skin and flakes like it ain't no thang. I also tend to get on the red side, so I can't go overboard or else I'll look like a tomato. Thankfully, I've found a cure from cult favorite: Mario Badescu.
If you haven't tried Mario Badescu's products, you've at least heard someone endlessly raving about the Drying Lotion ($17), which has the magical ability to reduce the size and redness of your worst blemishes. This spot treatment has a fandom that rivals One Direction's. It's one of our bucket-list items, and I personally love this product so much that I figured out a DIY for my friends who don't have access to it.
What we love most about this spa brand is that it gives us what we really want: clear, gorgeous skin without frills or gimmicks. Whether it's the brand's large range of products to its New York City spa, Mario Badescu delivers almost instant results. And that's why many beauty editors and celebrities (like Jennifer Aniston and Hilary Duff) use the products religiously.
So throw your hands up in the air like you just don't care, because MB is releasing a new product this May — for the first time in two years! — and it's sure to be another medicine-cabinet favorite. The Botanical Exfoliating Scrub ($26) is unlike the brand's other scrubs, which include either a mild form of exfoliation or utilize chemical exfoliants. This scrub feels more like a polish by buffing off dead skin cells, helping your favorite serums and moisturizers do their job better.
How, you may ask? Ecuadorian ivory palm seeds are the star ingredient here. The natural goods have been pulverized to small grounds, so they provide an effective form of exfoliation without irritating sensitive skin. Everyone's cuckoo for coconuts, so the scrub includes coconut extract to help keep your skin from overdrying. Ginger extract and green tea extract are two anti-inflammatory antioxidants that help brighten up your skin. And last but not least, ginkgo extract rounds out the active ingredient list. Junkies know this is one of the best plant extracts on the market — it boosts blood flow and helps keep inflammation and aging at bay. After my first test drive with the scrub, I immediately noticed how soft my skin was, and within a few minutes, my complexion was glowing.
So, let's recap: a scrub that doesn't irritate sensitive skin, includes a variety of antiaging elements, and won't dry your skin out in the process? I can see Ms. Aniston stocking up now.
You can get the scrub online starting April 16 and in stores in May.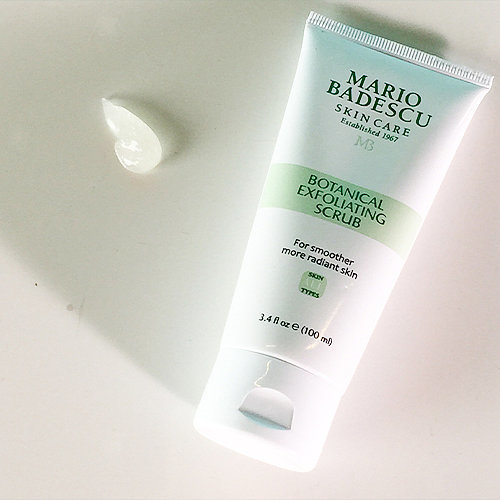 Image Source: POPSUGAR Photography