Mary J Blige New Perfume My Life 2010-04-30 12:10:56
Mary J. Blige and Carol's Daughter Make a Fragrance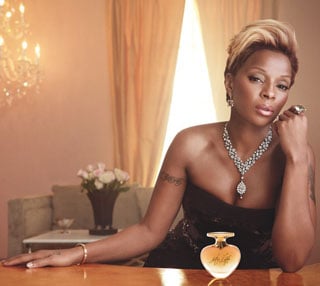 If you love Carol's Daughter and Mary J. Blige, then their latest collaboration should make you mightily pleased. My Life, a new fragrance, is named after Mary's first hit, which she says led her to begin "speaking truths about my life, and everything around us."
When asked about the inspiration for the fragrance, Mary tells WWD that she designed My Life for her fans, as "a special tribute to us as women . . . we're soft, we're edgy — we're all those things. And I wanted this perfume to represent every female's everyday life."
If you're interested to know what a day in My Life smells like, it's apparently a fruity floral (like most other celebrity scents). The fragrance's notes include gardenia, pear, and freesia to open; a blended floral heart with tuberose, jasmine, and lily; and a woodsy, candied drydown with a base of incense. Both hateration and drama are absent from the scent, which will be sold on HSN at the end of July. Are you interested?