Mary J. Blige Talks About Her New Perfume, My Life
3 Things You Probably Didn't Know About Mary J. Blige's New Scent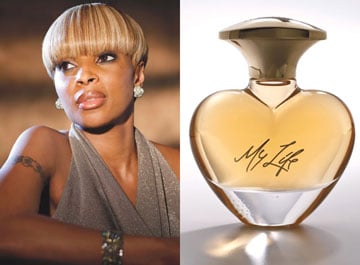 Back in April, Mary J. Blige announced that she'd be launching her first fragrance on July 31. "I will not put my face behind anything I don't believe in or my name," she said at a recent summit discussing the scent. "I'd rather have my good name instead of your money, and my goal is to show women we are in this together." The juice, dubbed My Life, will be a fruity floral, a pretty standard category in the land of celebrity fragrances. What will be different, however, is how the product will be distributed. To find out more about what Mary has to say about the new way of doing things, just keep reading.


Instead of being sold through traditional department or specialty stores, My Life will launch exclusively on HSN. But why would you sell a scent nobody can actually smell? The people behind Mary's fragrance hope consumers are affected by the singer's story through commercials, direct mail, and appearances by the star, especially on the shopping channel. (Where's the Smell-O-Vision when you need it?)
The scent is named My Life after her 1994 album of the same name. "So the title, the album, and my entire movement in my career has everything to do with why this perfume is called My Life. My entire movement has been about women rising up from the ashes like phoenixes and giving their life, giving themselves a shot and not beating themselves up," Mary said.
For every bottle sold, $1 will be donated to the Foundation For the Advancement of Women Now, a charity Mary cofounded that helps empower women by providing resources to enable them to reach their potential.