Matte Nail Polish Trend for Fall 2010
It's a Matte Matte Matte Matte World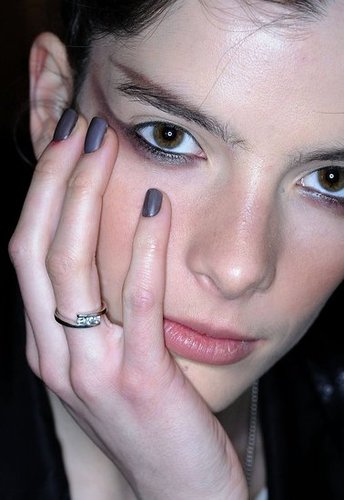 If you thought the matte nail trend was a blip on the beauty radar, guess again. The no-shine look is popping up at show after show.
At Alexander Wang, an opaque neutral earned an urban edge thanks to Butter London's matte topcoat. Knock Out Cosmetics highlighted gloss-free blues and putties at DKNY, and at Behnaz Sarafpour, CND created a cashmere effect based on warm pinky-beige Desert Suede. Rounding off the list? Malandrino's cool heathered manicure (pictured), which you can recreate by applying CND polish in Dark Ruby, layering it with Copper Shimmer, and finishing with Super Matte top coat. (Subtract the shimmer shade and you've got the same look of Twinkle.)
See? Pure matteness.