Mattese Scented Nail Polish Smells Like Cocktails and Candy
Booze-Scented Nail Polish Is Surprisingly Tempting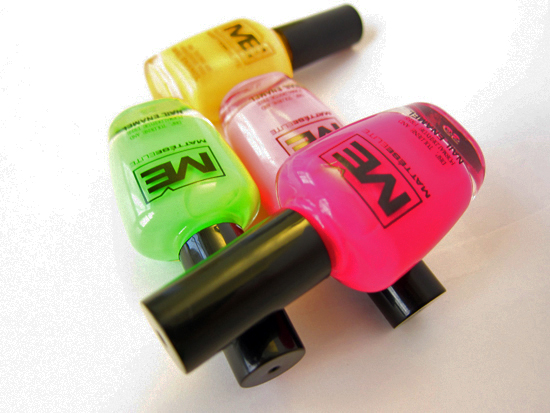 Usually, I wear nail polish in part because having pretty, polished fingers makes me less likely to nibble at my digits. I just tried the Mattese Elite Happy Hour collection ($6 each) of scented nail polishes, however, and now I'm having a hard time not ravaging my fingertips.
The colors aren't anything crazy — they're bright, summery, and easy to wear. It's the scents, which actually do last long after the polish is dry, that are driving me insane. Shirley Temple, the bubblegum pink shade, smells like tutti-frutti with a hint of Yipes Stripes gum in it, and the magenta shade, Cosmopolitan, smells like pink Shock Tarts. My mouth literally starts watering every time I get them near my face.
It's a cool idea, and they certainly do work (and smell very tempting, if not exactly natural). But for a former big-time biter like me, it's enough to throw me off the wagon. I like these, but for my own safety I think I'll only be wearing them occasionally. Plus, they don't really taste like their scents, so it's eternally frustrating.