Melon Nail Polishes
Ease Into Spring With a Soft Melon Polish
As warmer weather is upon us, coral everything seems to make a big bold return, from blush to lipstick to nail polish options. While I love coral nail polish, as it's the perfect blend of both pink and orange, sometimes I'm not feeling the brightness of it all, and that's where I look to a more subtle melon-toned shade instead. This version has still got lots of the lovely mix of the pinks and the oranges, but with a little less intensity. To get the look, keep an eye out for softer shades of apricot, mango, salmon, or tangerine, which all go rather nicely with most skin tones. Play around with the finish to get different effects: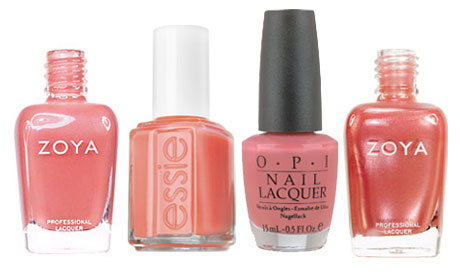 For the office — Try Essie's Tart Deco ($8), a light coral crème, or Color Club's Coral Cascade ($5), a peachy crème.
For a night out: Try Zoya's Cassi ($7), a soft, shimmery peach or Calypso ($7), a warm tangerine with plenty of glittery metallic sparkle.
For a laid-back weekend: Try OPI's Melon of Troy ($7), a frosted apricot, or Zoya's Willow ($7), a slightly shimmery mango tone.