Men's Mattifying Products Are Becoming More Popular 2010-07-21 14:00:51
(Non)shiny Happy People: More Men Are Headed to the Matte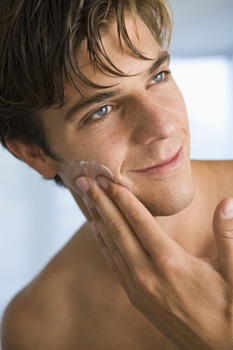 It's no secret that the men's grooming market has peaked in popularity over the past few years. In fact, it's an industry that's jumped from $3.8 billion in sales from 2004 to $5.6 billion in 2009. It's also a fact that thanks to the composition and thicker nature of men's skin, they tend to produce more oil. Enter the rise of the men's mattifier.
"Men are not going to powder their faces or walk around with those oil-blotting tissues that women carry, but a mattifying moisturizer is something you can just slap on in the morning," GQ's Jason Chen told The New York Times. With a rise in offerings from brands like Kiehl's, which has a Blue Astringent Herbal Lotion ($11-$27), and the Matte For Men line on the market, the oil-absorbing products business is booming.
I think 42-year-old lawyer Karl Gerstheimer said it best when he told the NYT, "I don't want to look like Mr. Oily Face." Sager words were never spoken, sir.