Metallic Blue Eyeliner
Who Knew? Bold Blue Eyeliner Can Look Kinda Subtle
As POPSUGAR editors, we independently select and write about stuff we love and think you'll like too. POPSUGAR has affiliate and advertising partnerships so we get revenue from sharing this content and from your purchase.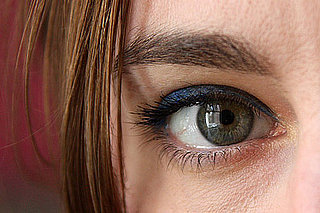 Blue eyeliner can go two ways. In the worst-case scenario, you resemble Dee Snider from Twisted Sister. (No offense, Mr. Snider.) Wear blue eyeliner well, though, and you'll have a more daring and unexpected look.
Yesterday I tried out Cover Girl LiquiLine Blast ($8) in Blue Boom, a metallic royal blue dreamed up by makeup guru Pat McGrath. I applied it close to the lash line, then gently smudged it upward to create the illusion of a smoky eye. Many compliments were had. So the idea that blue eyeliner has to look totally '80s? We're not gonna take it anymore.