Michelle Phan on Her Glam Bag Service and Ipsy
Michelle Phan on Her Glam Bags, Latest Site, and Video Dos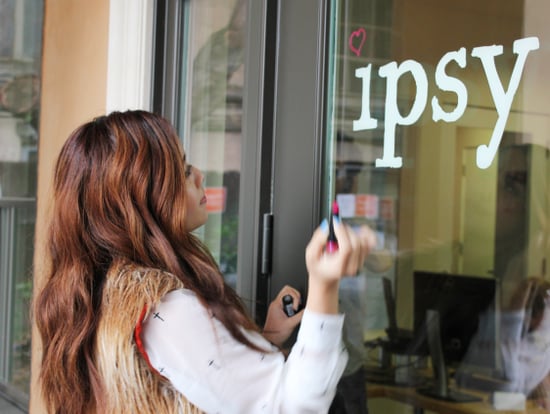 Michelle Phan has been dazzling the world on YouTube for over five years with her mesmerizing, almost dreamlike video tutorials and impressive makeup talents (have you seen her transformation into Angelina Jolie?). But the beauty guru hasn't stopped there. An ambassador for Lancome, Michelle is also the cofounder of ipsy.com, a newly launched website where beauty enthusiasts can visit to provide and gather inspiration. "Ipsy is the beauty community where you go to share your interest with other like-minded people," Michelle explains. "It's about discovering beauty all over again and finding people who you can really relate to — or other people that you may not really relate to," she says. "You're intrigued and you are so interested in what they're producing, the content that they're making, and the content that they're curating."
And it's Michelle's other entrepreneurial effort, Glam Bag, that thrives on the community-based site. Launched last December, the monthly subscription service comes with four to five deluxe-sized samples or full-sized beauty products chosen by Michelle and her team. "Anything you're putting on your hair or face is pretty much all we give and we provide," she explains. In addition, themes are actualized around each bag's launch. "So if it's a Summer look, we want to make sure that the brands we're working with are designing bronzers, highlighting colors, and warm colors, and colors should be brighter, more vivid," Michelle notes. Find out more about the bag, along with Michelle's advice for creating successful beauty videos, when you read more.
Most importantly, curated products are carefully chosen to reflect customer tastes. "We actually listen to what our customers want, so if they want more glitz and glamour, we put that in, or if they want more skin care or more polish, [we put that in, also]." From there, Michelle and her team of stylists create corresponding videos featuring the contents of the delivery.
Above: Michelle working behind the scenes at ipsy.
"I think what makes us different is I find that it's not just about the beauty products, but it's really about bringing women together," Michelle says. Each month when the packages arrive on subscribers' doorsteps, Michelle likens it to Christmas. "They [the subscribers] express their love, interest, curiosity, and excitement for beauty all over again, and that's what we want to do."
As for those interested in developing and starring in their own beauty videos, Michelle recommends creating a feeling of camaraderie upfront. "In this day and age, it's so hard to get your name out there, because so many other people are doing it," she says. "So to really stand out, you have to be part of a community where people find that your content is genuine, innovative, and it's pushing boundaries." Michelle also suggests investing in a relatively good camera to add polish to your onscreen tutorials and beauty shares.
And if Michelle's success is any indication, you never know where your love of the craft will take you. Says Michelle, "Every day I wake up and I get excited, and that's how it should be: getting excited to tackle on your job. It shouldn't even feel like a job."