Miranda Kerr's Makeup Routine
Want Skin Like Miranda Kerr? Start With a New Shower Filter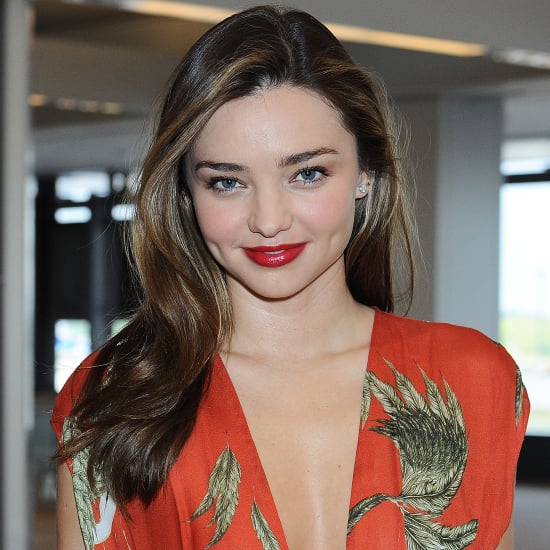 For Miranda Kerr, a healthy life is a happy one, and that shows in how she fills her home. "Being healthy is the way that I am. I try to keep a healthy house," the model recently told Into the Gloss. Aside from alkaline water filters in her kitchen sink and showerheads, Miranda keeps a certain type of plant in her home. "All the plants in my house are oxygen-producing and air-purifying plants," she said. This organically minded attitude was the driving force behind her skin care line, Kora Organics, which is made with certified-organic products.
While she relies on her own line for her picture-perfect complexion, she gets a little creative with her hair and makeup. "When I do it myself, I keep it simple," she says. "I just throw on a lip color and my sunglasses, so I don't have to worry about anything else. RMS Lip2Cheek ($36) is really good because you can use it on the lips and cheeks....I find a red lip just lifts my face, like Le Métier de Beauté Colour Core Moisture Stain Lipstick ($32) in China Beach." Miranda also knows the importance of good eyebrow maintenance. "I groom and pluck them myself, and use Bobbi Brown eyebrow gel ($22) to keep them in place."
To get more of Miranda's beauty secrets, just keep reading.
Coconut oil and apple cider vinegar help Miranda maintain the gorgeous luster of her hair, which she keeps natural for the most part. "This is all my natural color, except for a tiny bit around my face, which was just bleached for a shoot to make it look sun-kissed." Her handbag contains some of the more typical essentials, like floss, eyedrops, and tweezers. But the one thing she always makes sure to have on her? "I've also got . . . scissors for my nails in my bag; I'm really a freak about my nails," she explains. "Orlando [Bloom, her husband] and I share a nail thing — he has a bit of a foot fetish."
But for all of this organic- and natural-minded effort, Miranda is pretty down-to-earth about the important things. "You don't have to be 100 percent strict with yourself," she said. "I try to avoid saying 'always' and 'never,' because we're human beings, and it's not always possible."