Miss J Interview: ANTM's Jay Alexander Talks About Skinny Models
Bella Exclusive! ANTM's Miss J Talks About Skinny Models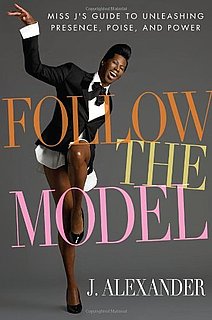 From his beginnings in the Bronx, J. Alexander has always been an original. After walking the runway for designers like Jean-Paul Gaultier, he became one of the fashion industry's top runway coaches. Now, most people know him as Miss J, who steals practically every scene he's in on America's Next Top Model. We caught up with him before a signing of his book Follow the Model, and he was just as hilarious and outspoken as you'd expect. For his thoughts on Top Model, on skinny models, and on being a role, um, model, keep reading.
So many people adore you for being out and proud. Do you find that a lot of people see you as a role model?
Role models? I think role models should be people you can touch. I really do. People see someone on TV and say, "Oh, she's my role model." But it's a bit scary when she has a lollipop head.
Speaking of lollipop heads, what do you think about this discussion about weight on the runway?
Honestly from the shows I've seen, a few girls that I know who used to be stick figures actually have a little bit of crayon on them — they have a little bit of extra stuff. And I didn't want to say "Oh my god, you look great with weight," because that's the word. So I say, "You look good, girl! Your titties have filled out, your ass fills out the dress." But I catch myself because weight is that secret word that one doesn't speak about because then the girls become paranoid. They think, "Oh, I look fat."
What we must bear in mind, too, is you're looking at 15-, 16-, 17-year-olds. It's easy when you're doing five shows a day in New York City and you're running from show to show, not to eat and to burn off the weight. Then you're doing fashion week in Milan and then fashion week in Paris – it's a lot. And when you gain a little bit of extra weight, people start to notice and then it's, "Oh my god, I can't fit the clothing!" Because you can't fit the sample size that they make, then you think, "Okay, am I going to keep this weight and lose out on five grand for the show? Or am I going to lose the weight and make the money back?" And by the time you lose the weight the quickest way possible, there's another girl right on your tail, because there are so many girls wanting to model.
Also, I'll talk about the black model issue, black models on the runway. People can hire who they want, and it shouldn't be just black or white, it should be a mixture. Because black people do wear clothes, as do white folks. For every black girl on the runway, there are probably 20 white girls — because there are more white girls being models than black girls.
My friends and I talk about how Top Model is more diverse than your average fashion runway.
Yeah, but Tyra makes it happen. ... My problem is that if you're going to put one black model in a fashion show and then I see that one Asian girl creep up behind her, I kinda go, "Okayyyy, you did that just as a token." If we have one black girl, I'd probably think, "Oh, they have only one black girl." But we have the Asian girl and I go, "Okay, that's the token: [imitating designer] 'You see? We have one of each!'"
But you were talking earlier about having more diversity. Doesn't it help to have more Asian models and more black models?
Yes of course, Baby Phat. Kimora Lee Simmons always, from when I worked with her first show, insisted on it.
What advice do you have for feeling confident in a world that doesn't always encourage that?
Look, being a 6 foot 4 black gay man growing up in New York City, South Bronx... it was faggot, sissy, fudge packer, cathedral queen, shirt lifter, homo. You name it, I was called it. And I'm all those things — tell me something I don't know! Call me a white homosexual so I can get upset: "What?! I'm not white!" Then I'll start a fight. [mimics opponent] "Black faggot!" And?
I never had a problem with who I was. So I just say, do your thing. Do you, be you. People may look at you a bit weird, people may say strange things to you. As long as you like you, you can surpass all that extra stuff. I mean, the horrible things people say about you — it's probably some of my family members who I owe money to. [laughs]
Do you read about yourself on the Internet?
Well, you have those friends who send things to you. They say, "Did you read what someone said about you?" I say, "Listen, bitch, you probably wrote it!"
What can you tell us about the next cycle of Top Model? I love how you come up with a new fashion theme for panel each time.
Because I'm bored to death if I just sit there! Sometimes even before the cycle I'm already thinking about what I'm going to do. Now that my role has changed on the show with Andre Leon Talley coming in, I'm a little more tailored. A lot of Marc Jacobs, and Blood Sweat &Tears, which is a black couple out of Atlanta; they make all my jeans, they're made to fit.
One last question: When you see people walk down the street, can you tell anything from the way people carry themselves?
Girl, we can't print that. I'm a sissy, I'm a black gay man. We can't print that! [laughs]