Missoni-Style Zigzag-Pattern Nail Art
Get These Missoni-Inspired Nails in a Flash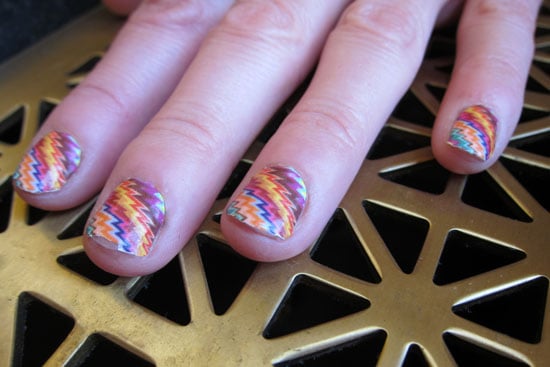 Painting zigzag patterns on the nails would be a painstaking process, requiring several hours to get each colorful streak right. But you don't have to have your MFA in painting to get this Missoni-like nail art look. Nail Couture Los Angeles (NCLA) has a wide array of artsy stick-on nails, such as the flashy The Ray and the Ro ($16) design pictured above. They're easy to apply, long-lasting, and they just look plain cool. To find out about the application process and more, just keep reading.
If you're a longtime reader, you'll know that we have a fondness for Sally Hansen Salon Effects. And while the NCLA nails are quite similar, they're a bit easier to peel off from their backing. Also, instead of just sticking them straight to your nails, you need to put a clear coat of polish on both before and after application, which seems to help in making them wear a little longer. (I've had my NCLAs on for about four days now, and there's only just a little chip on the left middle finger.)
One other benefit is that you get 44 nails total, instead of Hansen's 16. Hansen's, however are easier to stretch and mold, and file down more smoothly. But for the cool factor, selection of unique patterns, and price, I say grab these stick-ons fast.