Models Loved The Skin Care at Chris Benz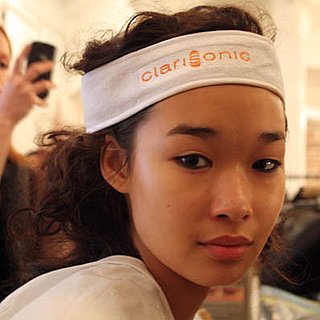 While some fashion shows definitely need sponsorship to happen, sometimes it can be a little overwhelming to take it all in. (Seriously, even shipping services are branded.) But other times, a sponsorship is a no-duh perfect fit. At Chris Benz's presentation, Team Clarisonic was preparing models' skin before they headed into makeup. Time is of the essence before a show, and the method shipped them off to the makeup chair quickly and efficiently. The models seemed to get a kick out of the sonic cleansing, though many of them looked too young to have ever experienced a blemish in their lives — and for one crabby model, it was clearly not enough to keep her from causing drama.
I believe Chris Benz when he calls the gadget "delightful." Sure, they're helping him with the show, but not even dreamy designers are immune to the sonic charms. Truth be told, this was the first backstage space I've seen where the skin care was getting decent, well, buzz.