Music Festival Packing List | Beauty
All the Beauty Essentials to Pack For That One Last Music Festival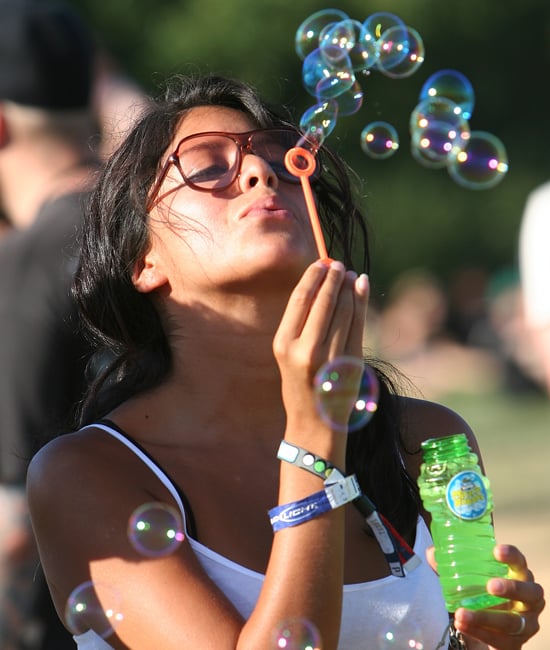 The calendar may be moving forward, but there's still plenty of music festival action to be had. Labor Day weekend is prime time for some fairground fun. But before you break out your cutoffs and top your tousled braids with a floral-wreath headband, here are all the beauty essentials you need to pack to stay (and look) cool:
Skin: Even if you don't have oily skin, packing a gel cleanser and wipes is the best bet for a trip where sweat is imminent. One thing you can leave at home is your anti-aging regimen. Retinols and alpha hydroxy acids can make your skin more sensitive to the sun. A few days of sticking to the basics is fine, but you shound not leave home without a powerful sunscreen for face and body. Do pack eye cream. After all, you'll need something to disguise tired eyes after your late nights . . . er, socializing.
Makeup: Stick to heat-resistant basics: waterproof mascara, BB cream with SPF, lip stain, and blush for the concerts. You can add a little extra oomph for the afterparties with colorful eyeliner, bright lipstick, and a dab of iridescent bronzer.
Hair: Leave the blow dryer and flat irons at home and rely on headbands, bobby pins, hair ties, and scarves instead. If you have humidity-prone hair, then you'll need a host of festival-ready hair accessories to tame your tresses when frizz descends. You'll also want to throw a minican of dry shampoo into your carry-on to help keep your hair clean no matter what circumstances you run into (outdoor camping, smoke, etc.).