Nail Art: How to Make a Cute, Easy Drip Manicure
Manicure Monday: Get These Cute Lava Lamp Nails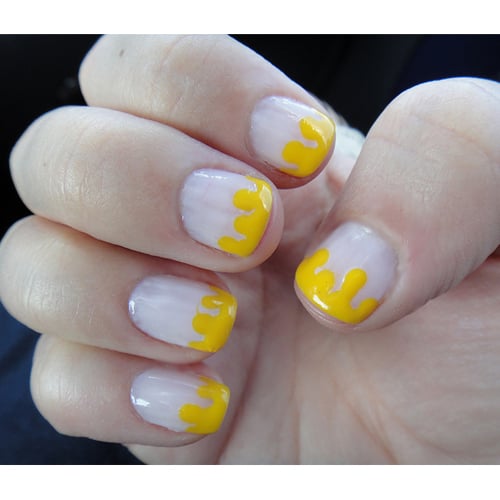 Making this adorable "lava lamp" nail art might look tricky, but it's actually exceedingly simple if you know a couple of tricks. All you'll need is a small, point-tipped object (like a pencil, ballpoint pen, or orange stick), plus your preferred nail polish shades and topcoat. To see how even the least manicure savvy among us can create this look without a hassle, just keep reading.
First, just paint on your "background" color. In the photo above it's pink, but you can use anything. Let it dry, put on another layer if you need, and then seal it with topcoat. Once your initial color is all dry, give your nails thick French-style tips using the color you want for your "lava" blobs. These don't need to be neat, so if you aren't an expert painter, don't worry about it.
Now you'll do your blobs using your point-tipped object of choice. Dribble a little of your polish onto a piece of paper, and dab the tip of your stick in it. Then, gently dot the polish onto your nail, pulling it down so that it elongates and blends with the tips. You can cover up any painting goofs with a dot, too. Just let everything dry for about 20 minutes, then slap on some more topcoat and you're all finished.
Source: Flickr User Debs (ò‿ó)♪