Nail Art Painting Tips
Nail Artist Maya Pixelskaya Shares Her Painting Advice and Top Techniques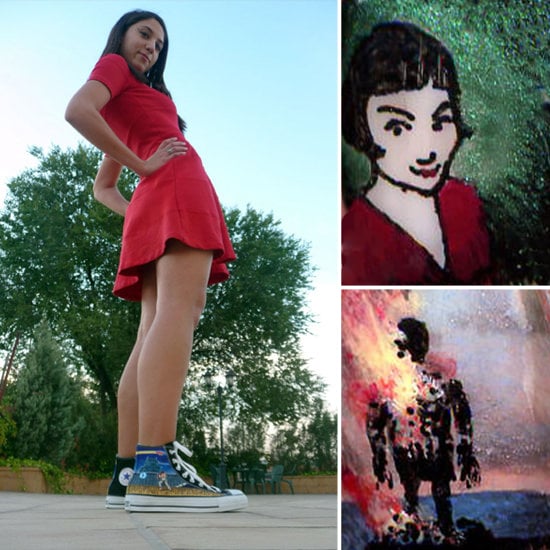 Artist Maya Pixelskaya has been creating amazing pop culture nail art since 2003, and she's done up her thumbs in homage to everything from Amelie to Street Fighter. Impressed with her work, we asked her for a few tips on how to get the best nail art results, what polish she uses, and more. Check out her awesome tips now.
BellaSugar: If someone wants to try their hand at serious nail art, where would you suggest they start?
Maya Pixelskaya: They should start by making sure they have a whole morning or evening for themselves. You can't paint something like that in a hurry; it would be a guaranteed disaster. To me, a day of painting while watching movies and listening to music is absolute bliss. You must enjoy what you're doing.
BellaSugar: What's your technique like when you approach one of these drawings?
MP: All my nail art is made with nail polish, with just one exception: the Street Fighter nail. I'm not picky with the polish; I've used Chanel and Dior, but I've also bought from one-dollar brands that offered the right shade of yellow. Of course, better brands give better results because they get less sticky and last longer, but since I mix them all and paint many layers, it doesn't really matter. As for brushes, I always used the same little old brush.
BellaSugar: What piece of nail ephemera has been your favorite so far?
MP: My Wicker Man nail. The Wicker Man is a cult movie from the '70s, one of my favorite films, actually (not to be confused with the terrible remake from 2006). It's my favorite nail not only because of the subject, but because of the technique as well. I had already painted so many scenes that my nail polish mixing skills had improved a lot, so I was able to paint the sunset and the clouds with a higher level of detail. I know it sounds weird, but try to mix colors using nail polish. . . . It dries really quickly and gets sticky, so details are really tough to make.
BellaSugar: Have you ever had a nail art request that you've just been like, "No way!" on?
MP: Of course: porn movie nails. They might actually be pretty fun, but the color of flesh is not very popular among cosmetic companies . . . and I don't want to censor my nails when in public.