Blushy pinks, matte neutrals, and bold metallics all popped up alongside the international Fashion Week collections, and that's not just for makeup. You'll love the following nail polish looks for Spring so much that you won't be able to wait to get them on your fingers. Click through to see the top hues and techniques from the New York, London, Milan, and Paris runways.
Photo courtesy of IMAXtree [1]
Vivienne Westwood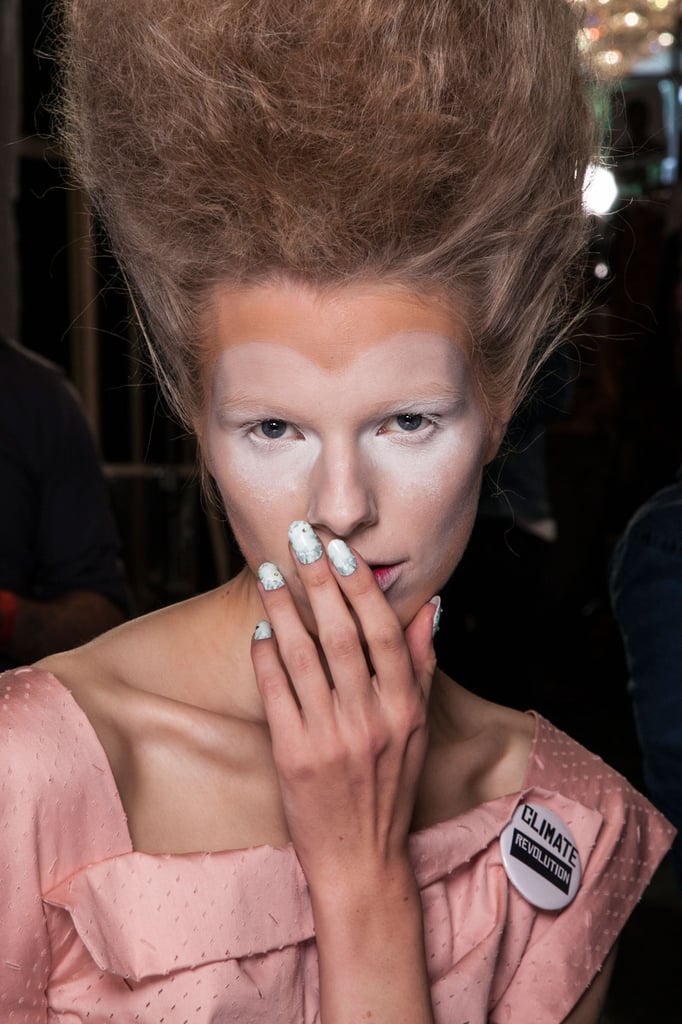 The makeup was like something out of Alice in Wonderland at Vivienne Westwood, and the nails were dressed in dreamy white and gray prints.
Veronique Branquinho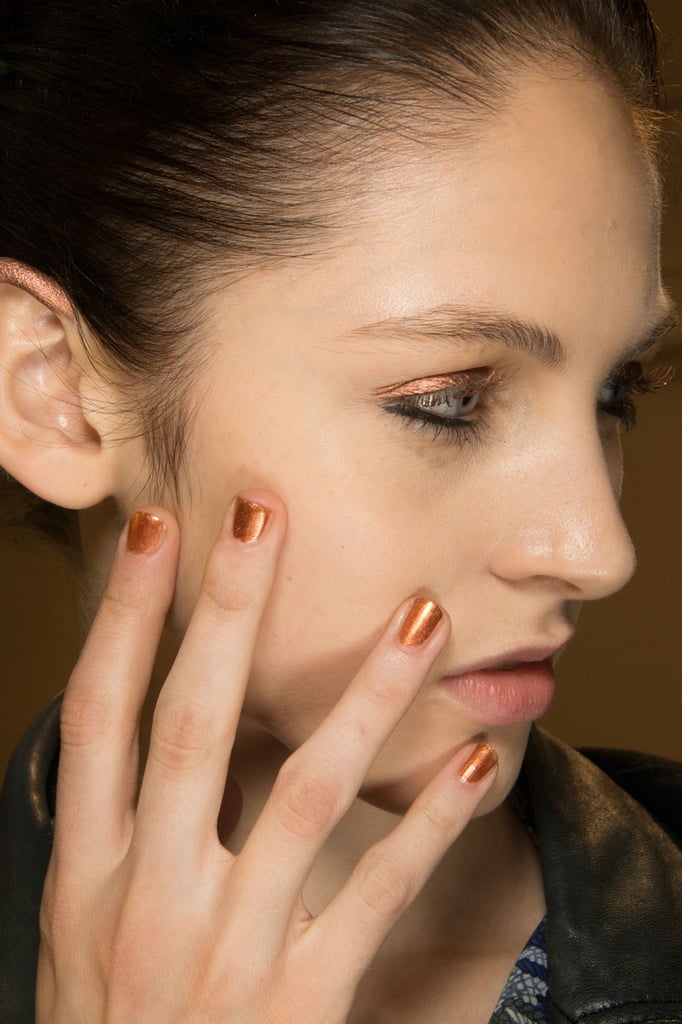 Models were thoroughly bronzed at Veronique Branquinho, from eye shadow to lashes to nails.
Tsumori Chisato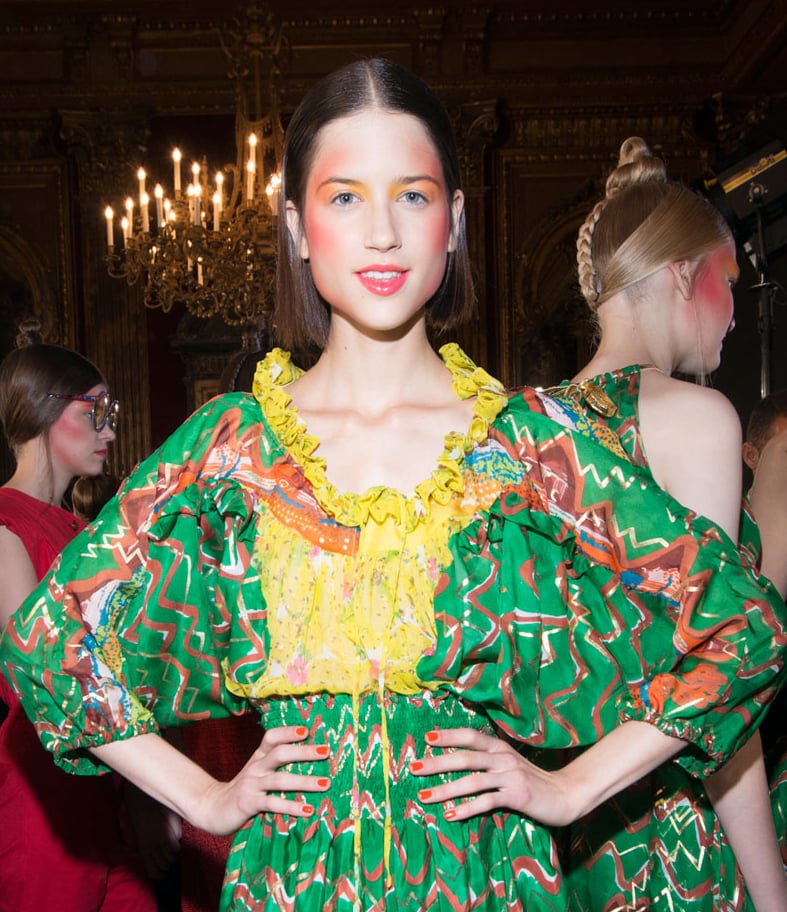 The bright orange nails were just one in a kaleidoscope of colors that went down the catwalk at Tsumori Chisato.
Anne Valérie Hash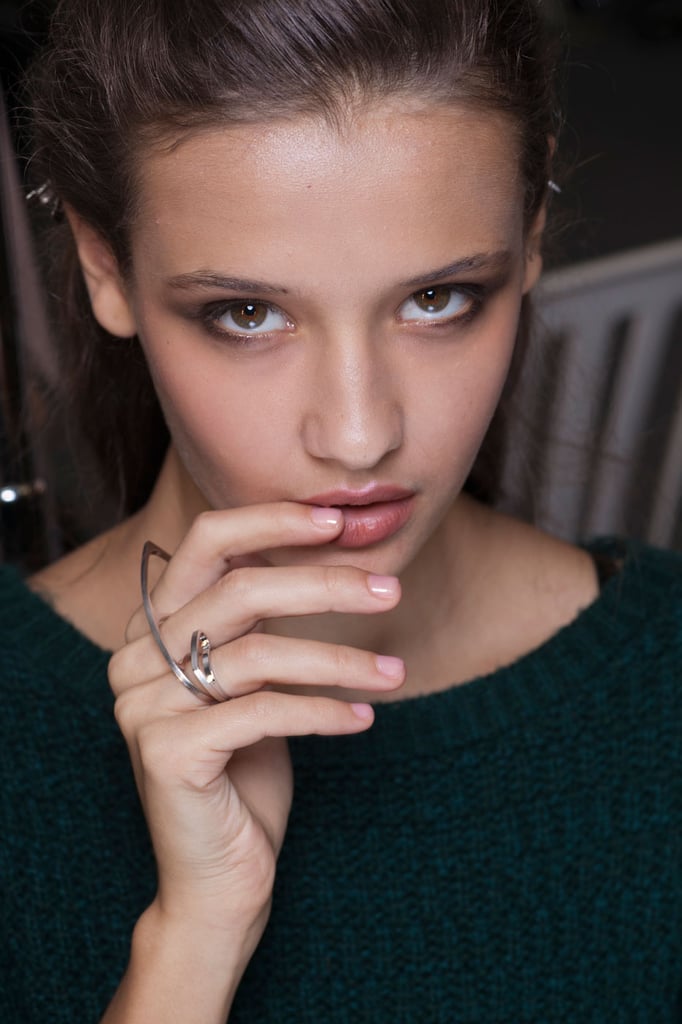 Nails were tempered with a sheer blush shade at Anne Valérie Hash, a perfect accent to the graphic jewelry.
Alexis Mabille
It was a modern take on the French manicure at Alexis Mabille, where black tips were painted in a reverse V shape.
Jean Paul Gaultier
Jean Paul Gaultier's Spring 2013 runway featured 1980s pop star look-alikes from Madonna [2] to Michael Jackson [3]. This red lipstick and nail combination is certainly a classic.
Issey Miyake
At Issey Miyake, the tips of the nails were painted blue and the eyelids done in a contrasting powdered white.
Chanel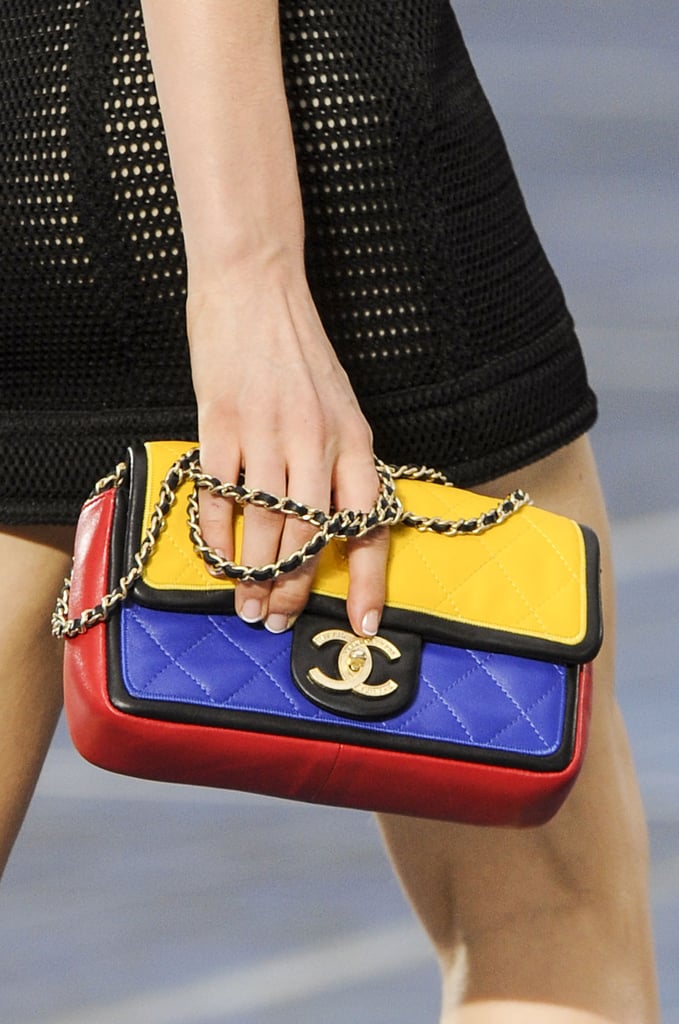 Chanel has been setting nail polish color trends for seasons now, but this time around the luxe beauty brand went for a classic French manicure.
Fátima Lopes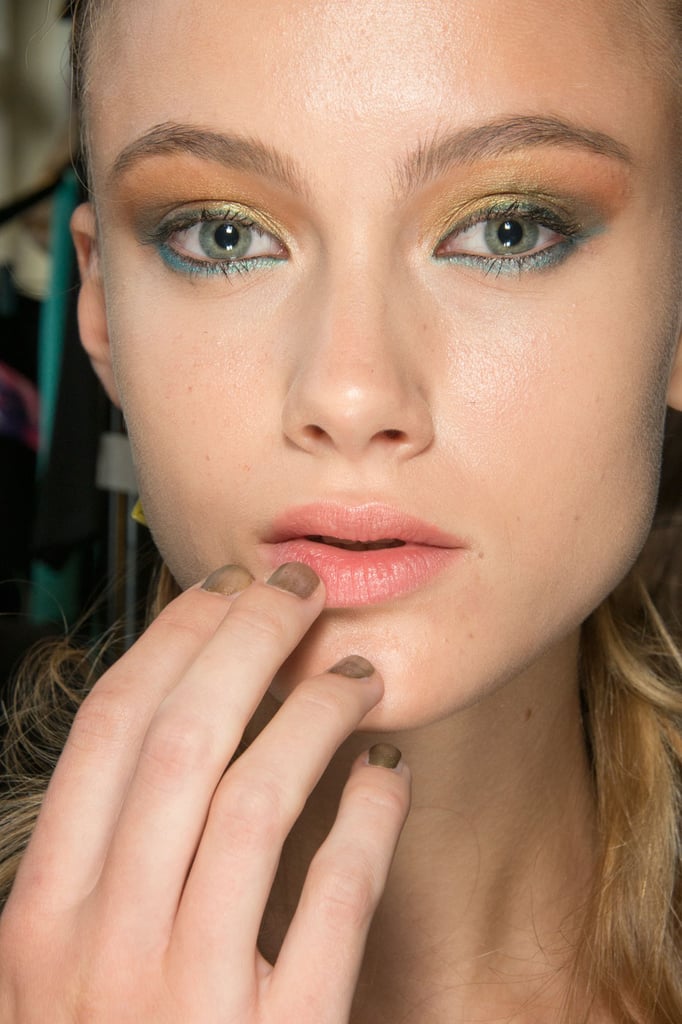 The makeup at Fátima Lopes had a beachy aura, and the sandy-metallic nails were the perfect complement.
Kenzo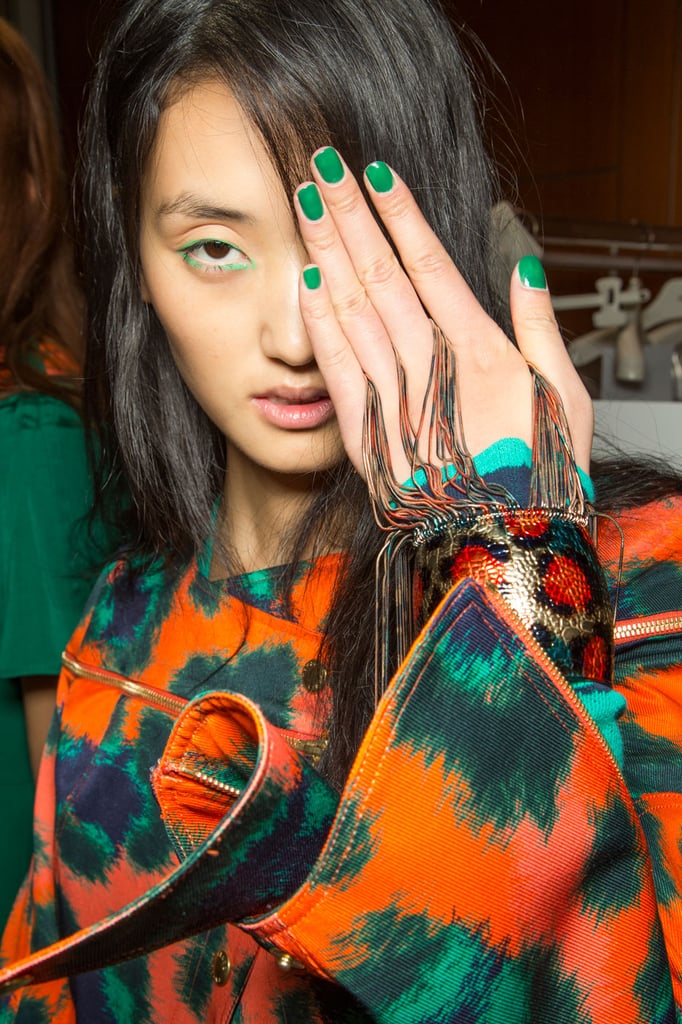 Kenzo proved that you can match your nails to your eye makeup . . . and your dress.
Roland Mouret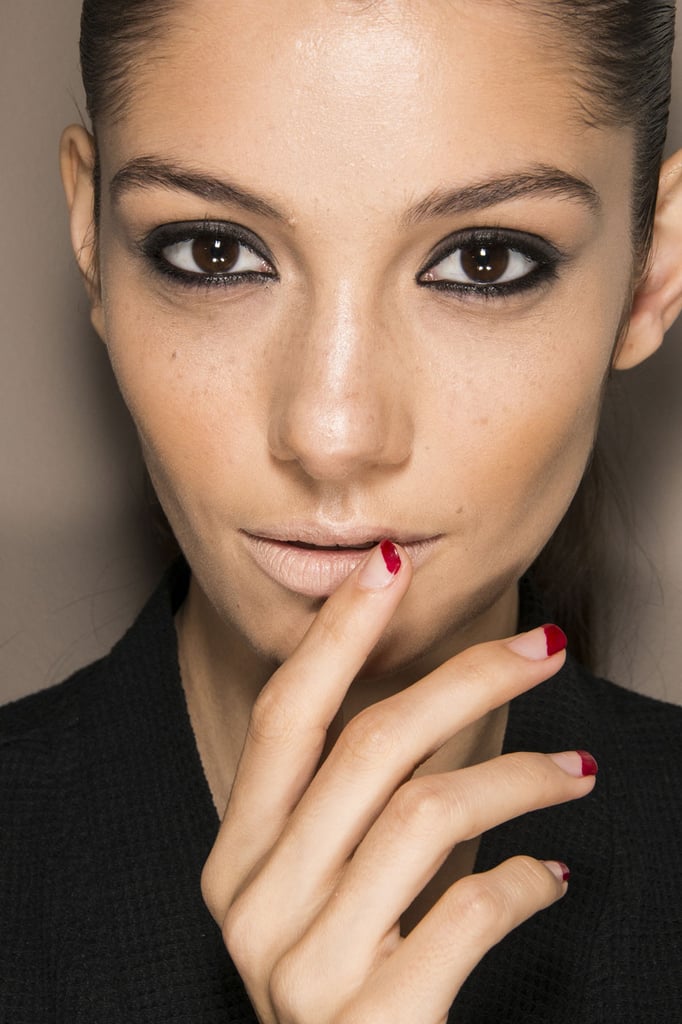 Oxblood-red polish was painted on a diagonal at Roland Mouret.
Rue du Mail
A model painted another model's nails this moody, dark green hue at Rue du Mail.
Thierry Mugler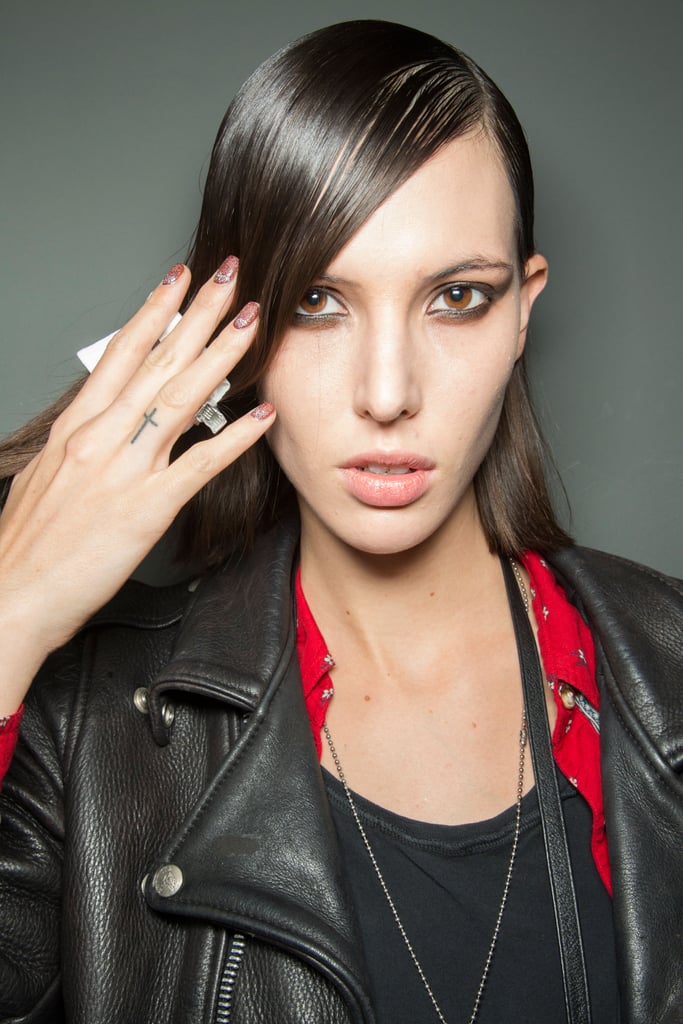 Coffee-colored nails were dusted with a silver glitter top coat at Thierry Mugler, but the cool factor didn't stop there. A half-moon effect was achieved by concentrating extra metallic polish near the cuticles.
Sacai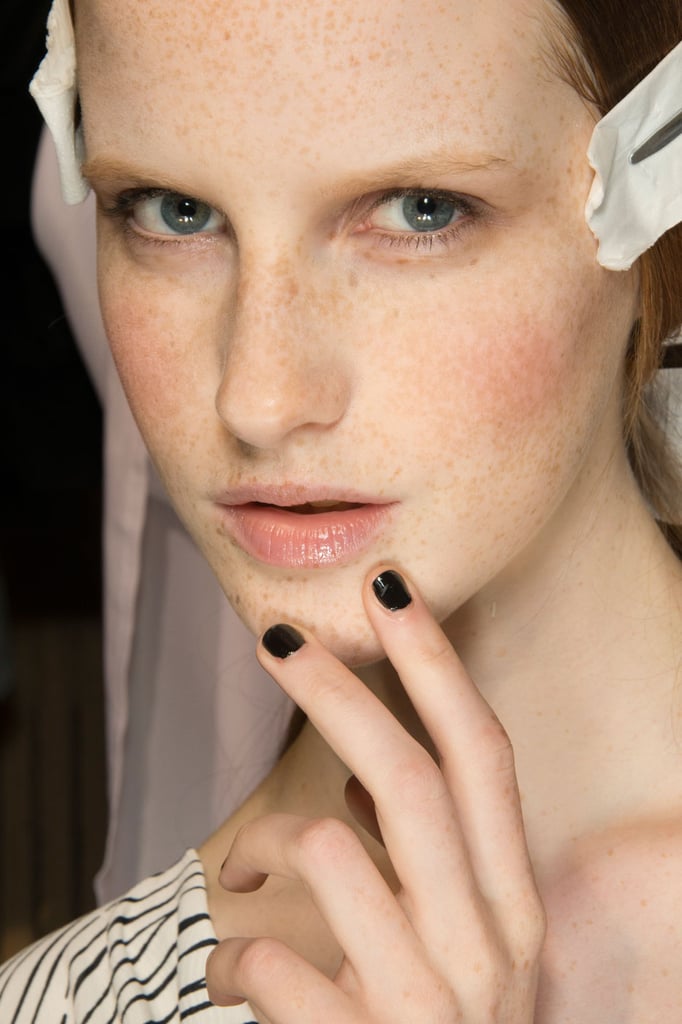 The makeup may have been barely there, but a few coats of black nail polish kicked things up at Sacai.
Moschino
Lips were bright orange at Moschino, where chalky white eyeliner and nails gave the intense hue a mod vibe.
Alviero Martini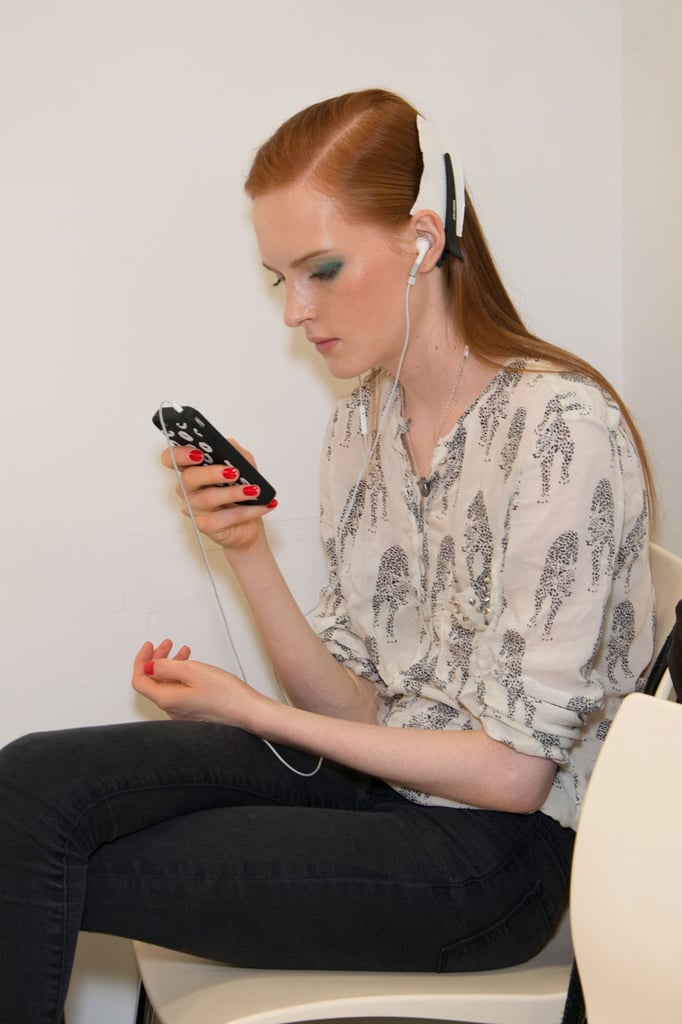 Red-orange polish was selected for the models at Alviero Martini, while eyes got a contrasting pop of green on the creases and bottom edges.
Dolce & Gabbana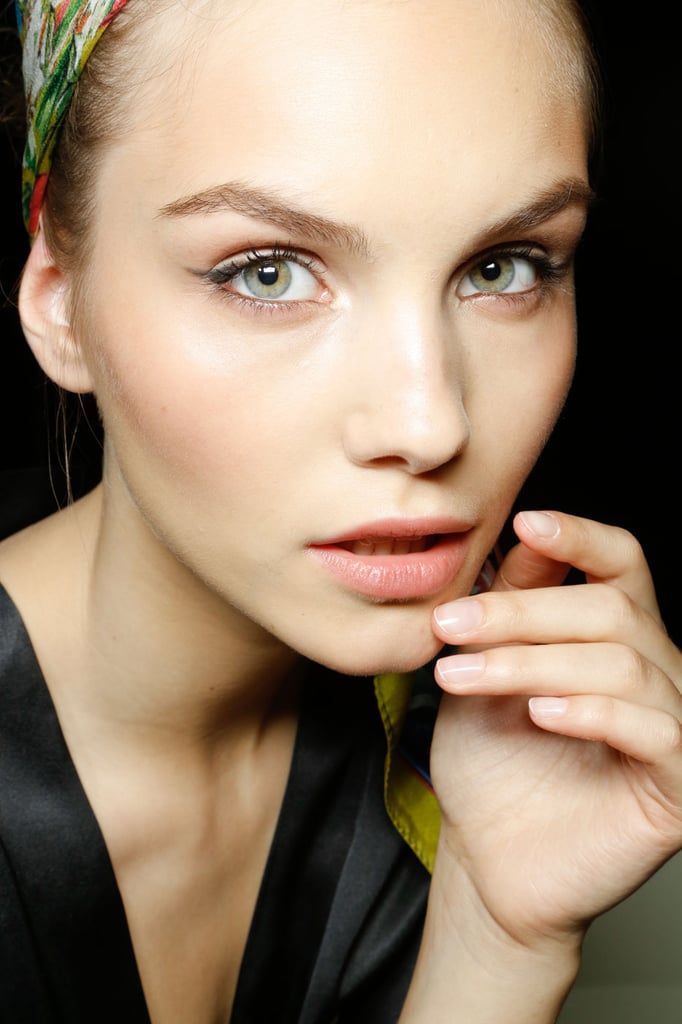 The Dolce & Gabbana runway was bursting with intricate prints, patterns, and jewelry, but nails were kept clear and neat.
Paola Frani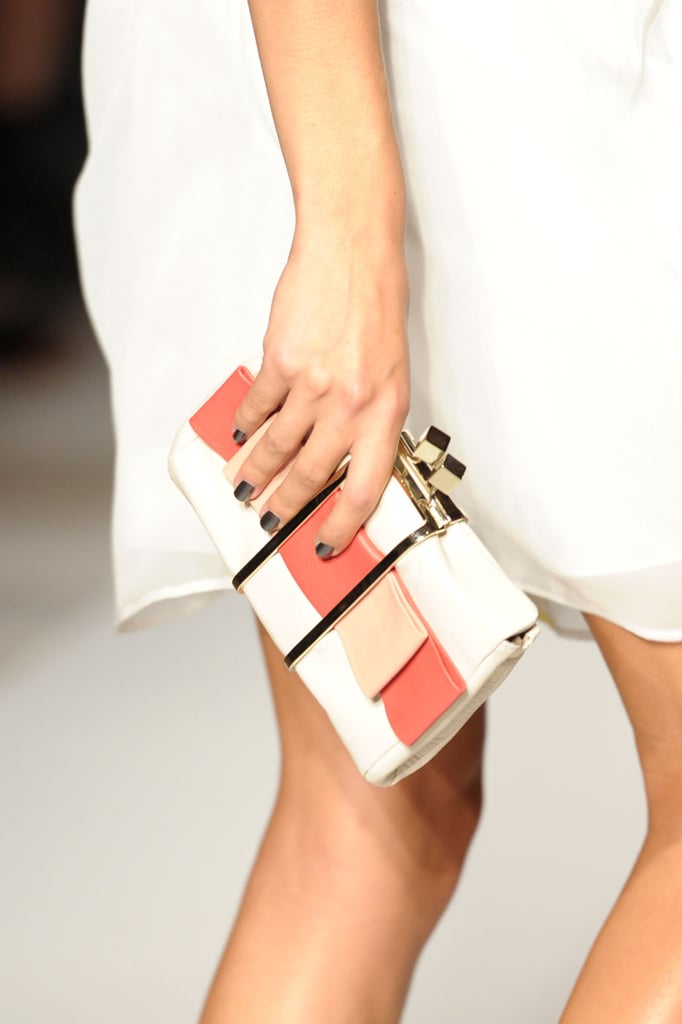 Metallics aren't just restricted to the silver and gold shades. At Paola Frani, the nails were painted a reflective, gray-shaded carbonite.
Luisa Beccaria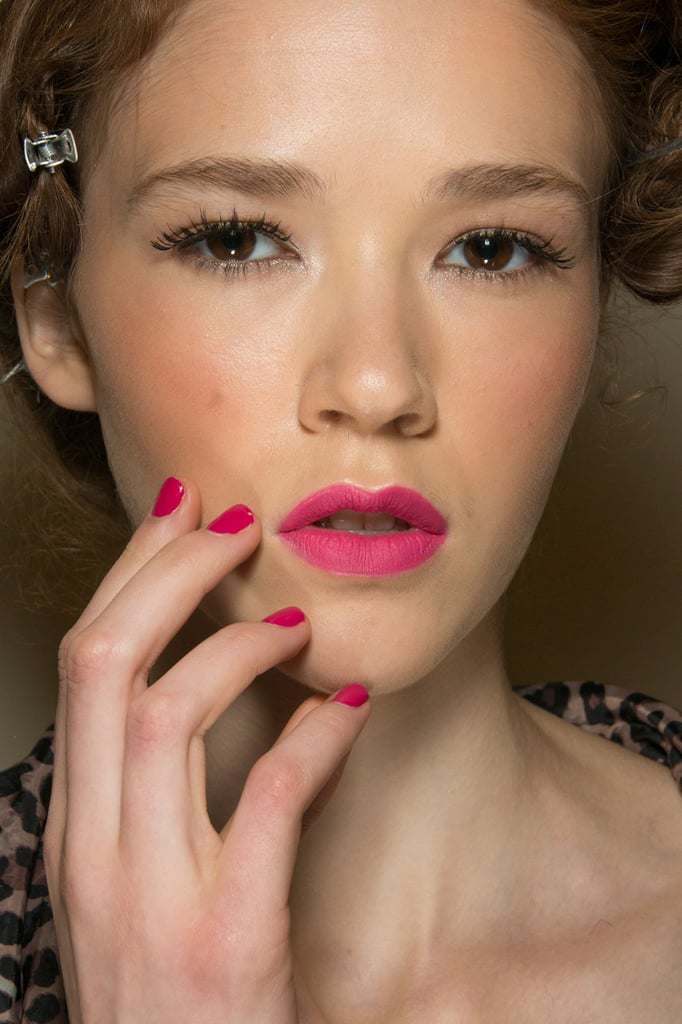 Luisa Beccaria went for a matchy-matchy beauty look with coordinating pink lips and nails.
Cividini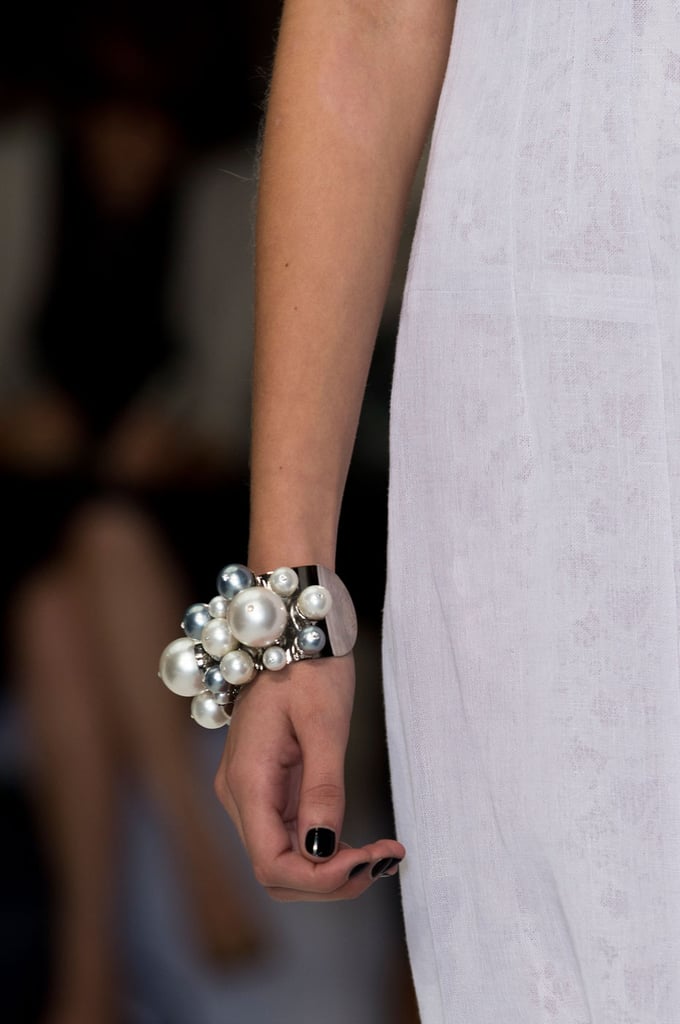 Sending models down the catwalk with black nails, Cividini embraced the darker side of the color spectrum.
Angelo Marani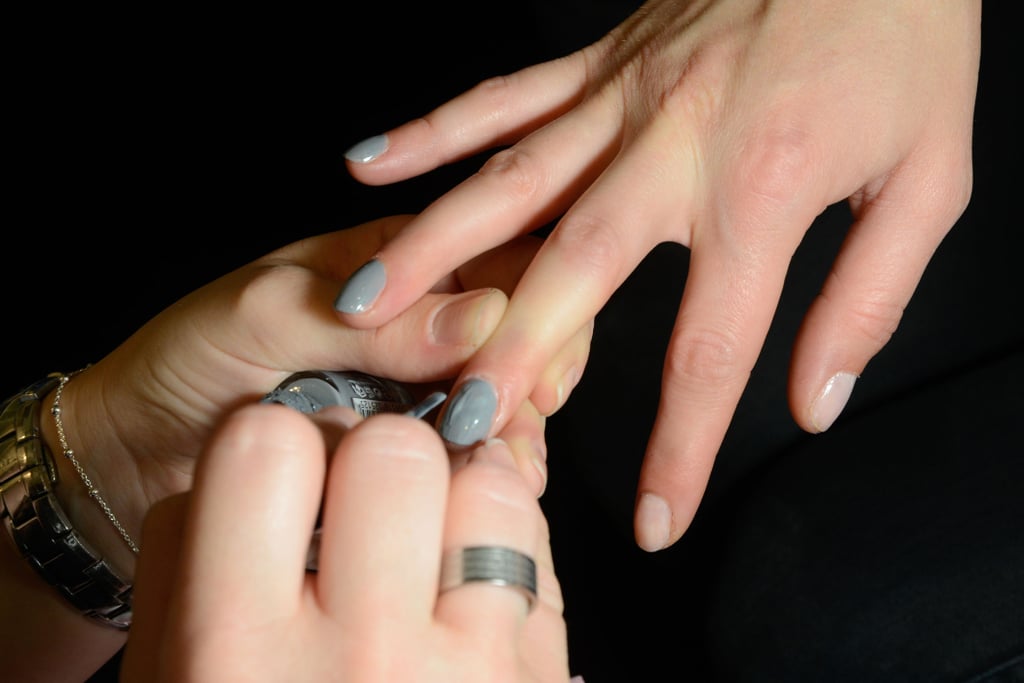 At Angelo Marani, the nails were painted a slate gray, a shade that's erupting as a very wearable, modern neutral.
Roberto Musso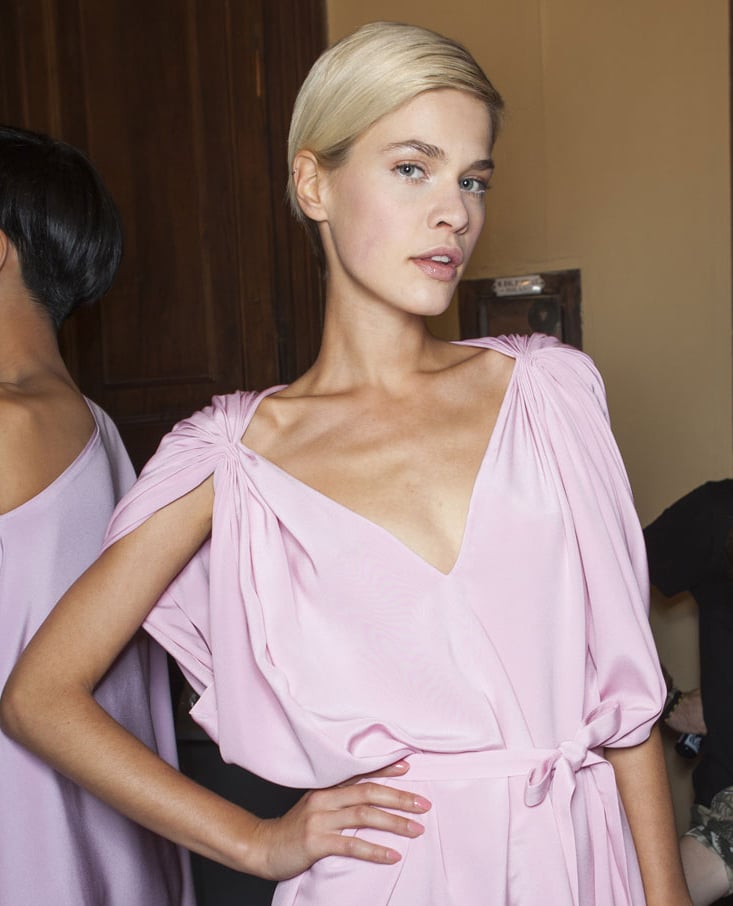 The nails at Roberto Musso were feminine, pastel, and pink, which played off his pretty Spring designs.
Antonio Marras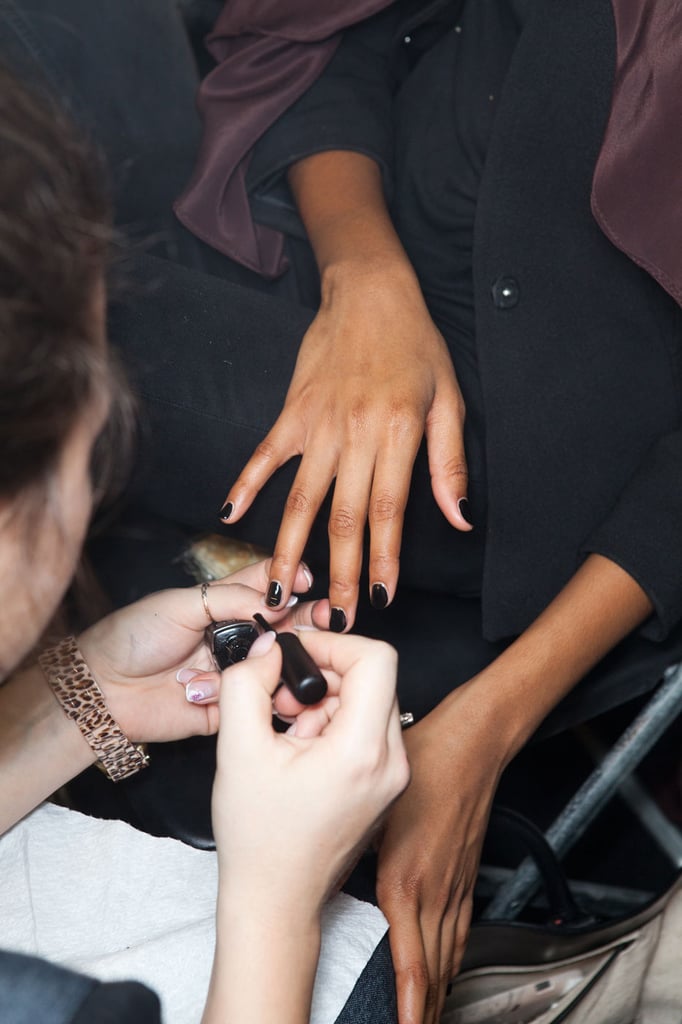 Heady black nails were the best bet to accompany the graphic pastel prints at Antonio Marras.
Versus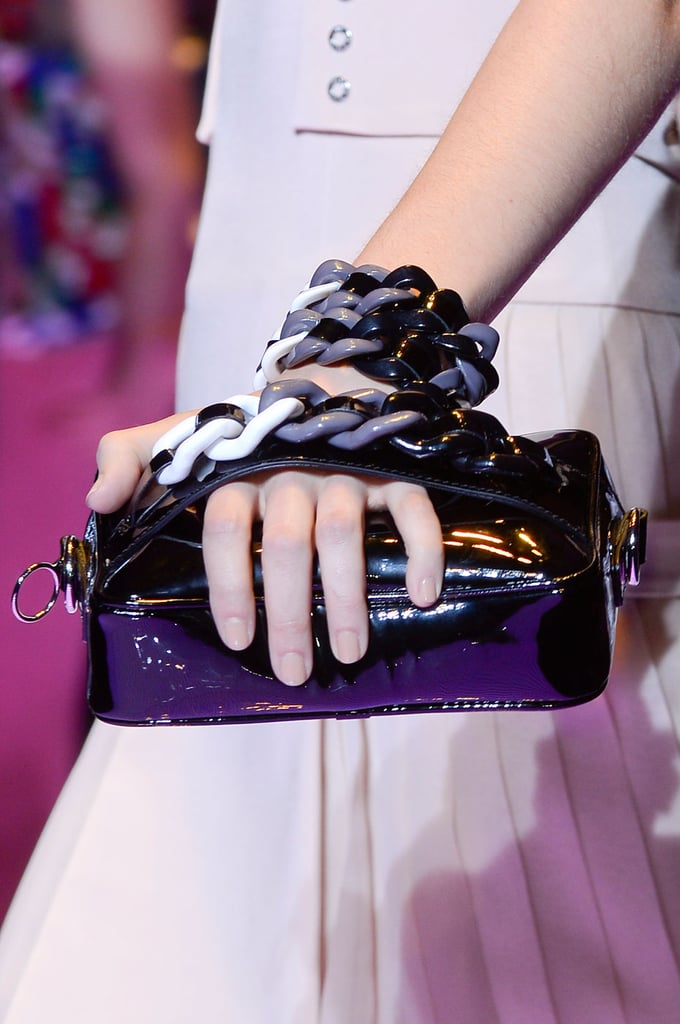 Nails practically disappeared on the Versus catwalk. With this skin-tone shade was hard to tell were the nails began and the fingers ended.
DSquared2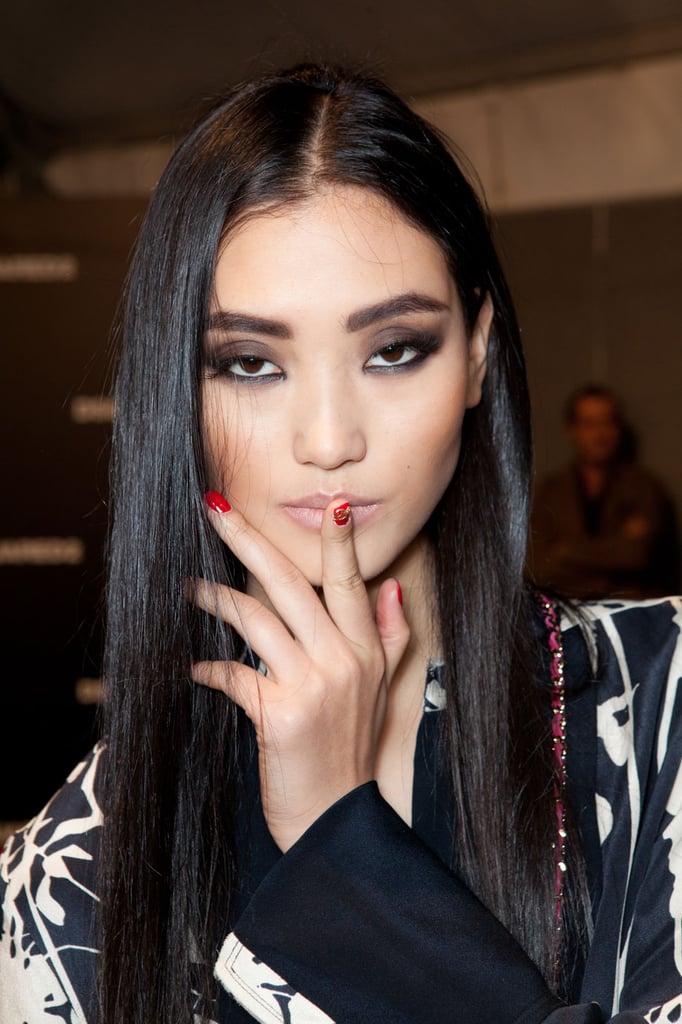 DSquared2 didn't settle for a plain red manicure. A golden design was added on the index finger to give this classic color a modern lilt.
Fendi
At Fendi, the polish was a creamy melon shade picked up from the accessories in the designer's Spring 2013 collection.
Aquilano Rimondi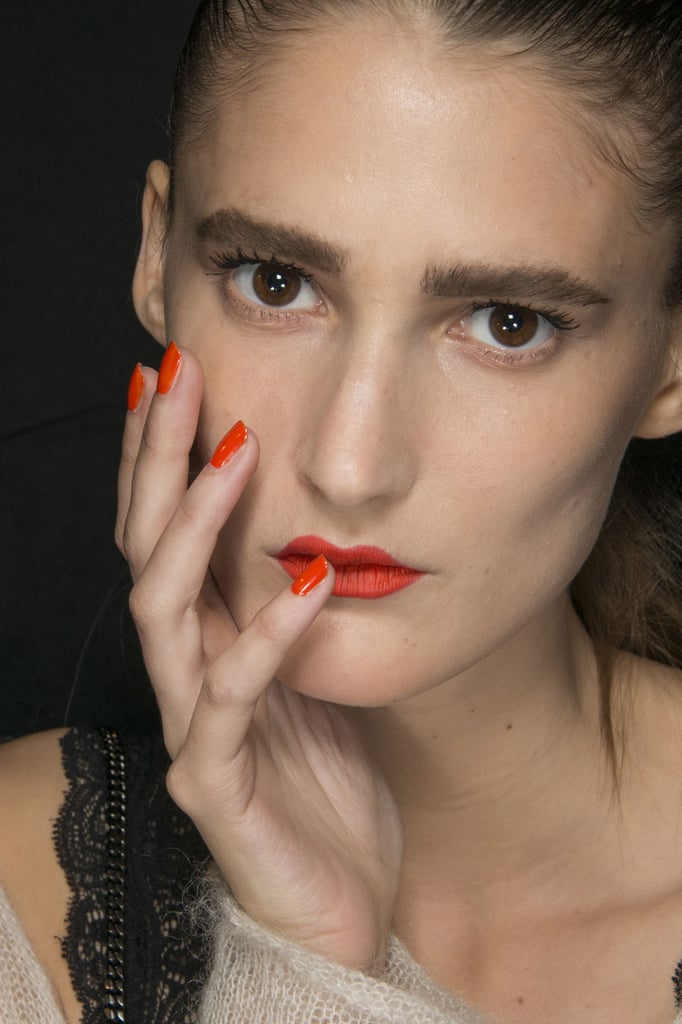 Poppy was the shade for lips and nails at Aquilano Rimondi, further proving that matching one's lipstick to one's polish is a trend that's here to stay.
Philipp Plein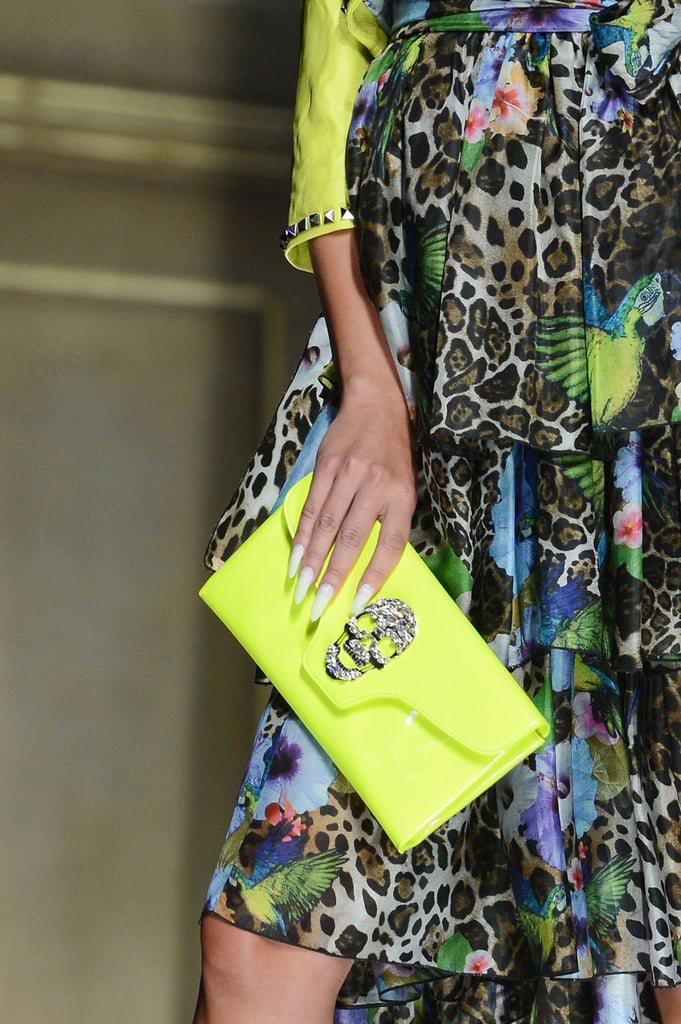 Seeking Halloween [4] manicure inspiration? Look no further than the nails at Philipp Plein. These ghostly white tips are dangerous, for sure.
Normaluisa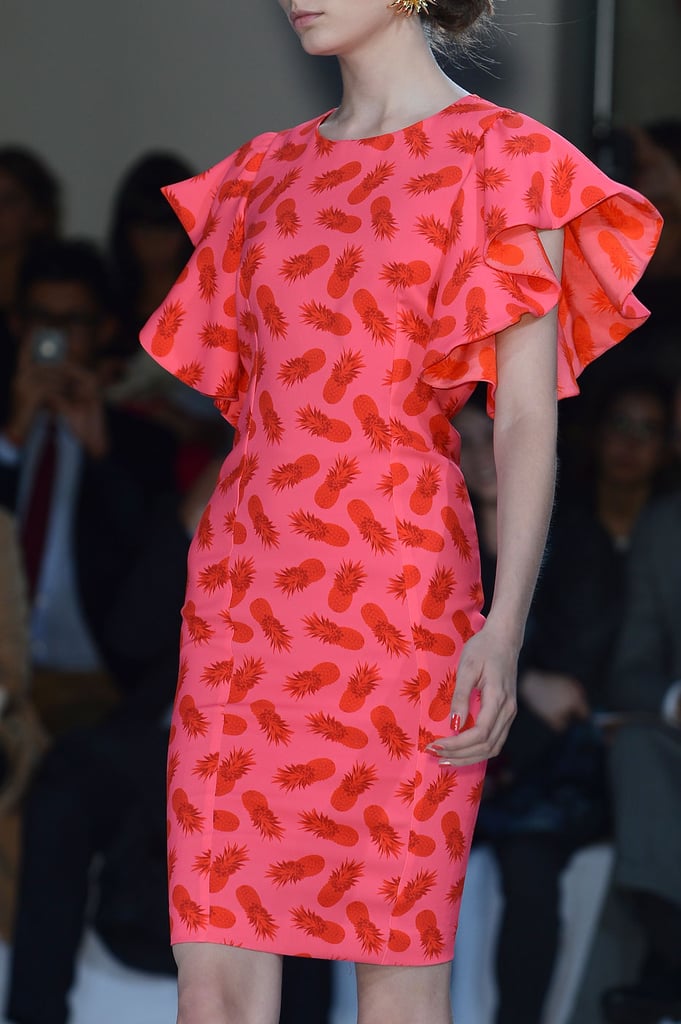 This Normaluisa print was full of red pineapples, and the manicures were painted crimson to match.
Roccobarocco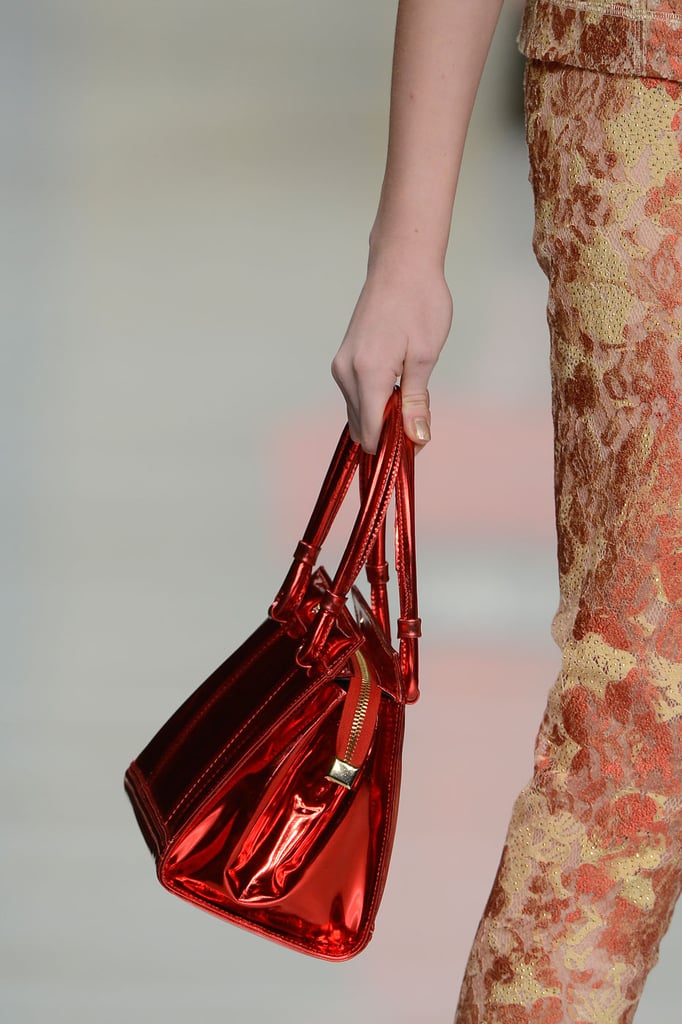 There were plenty of sheer, golden designs at Roccobarocco, and manicurists created a similar nail look with a complimentary gilded, see-through effect.
Aminaka Wilmont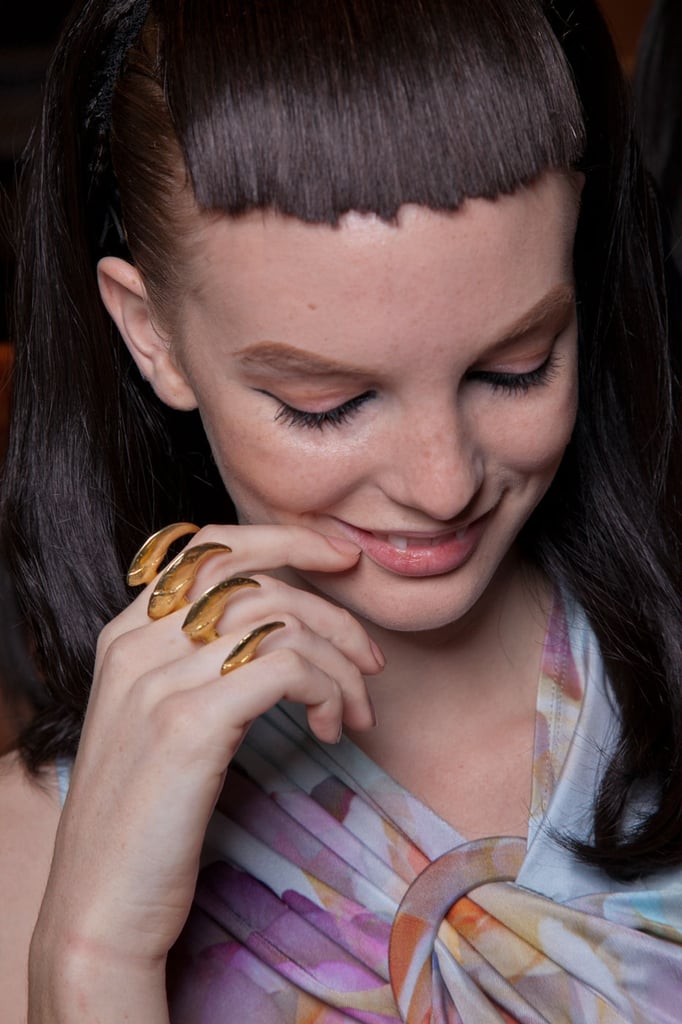 At Aminaka Wilmont, models were covered in floral body paint, and the putty nail polish and claw-like rings tapped into the fierce nature theme.
Mark Fast
Manicurists at Mark Fast created a U-shaped design featuring silver as the base and turquoise on the outer rim.
Caroline Charles
Caroline Charles's team went with an electric tangerine shade that blended well with the bright fabrics featured in her Spring 2013 lineup.
Ashish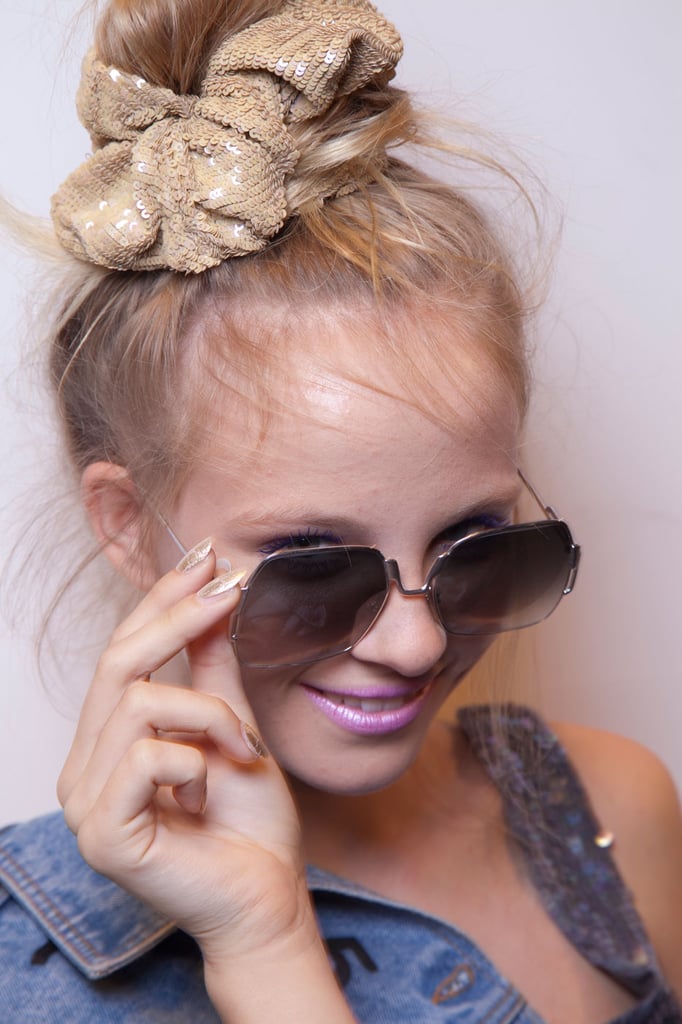 Ashish plotted the comeback of the scrunchie, and the manicurists matched the gold lacquer to this sequined hair accessory.
Antoni & Alison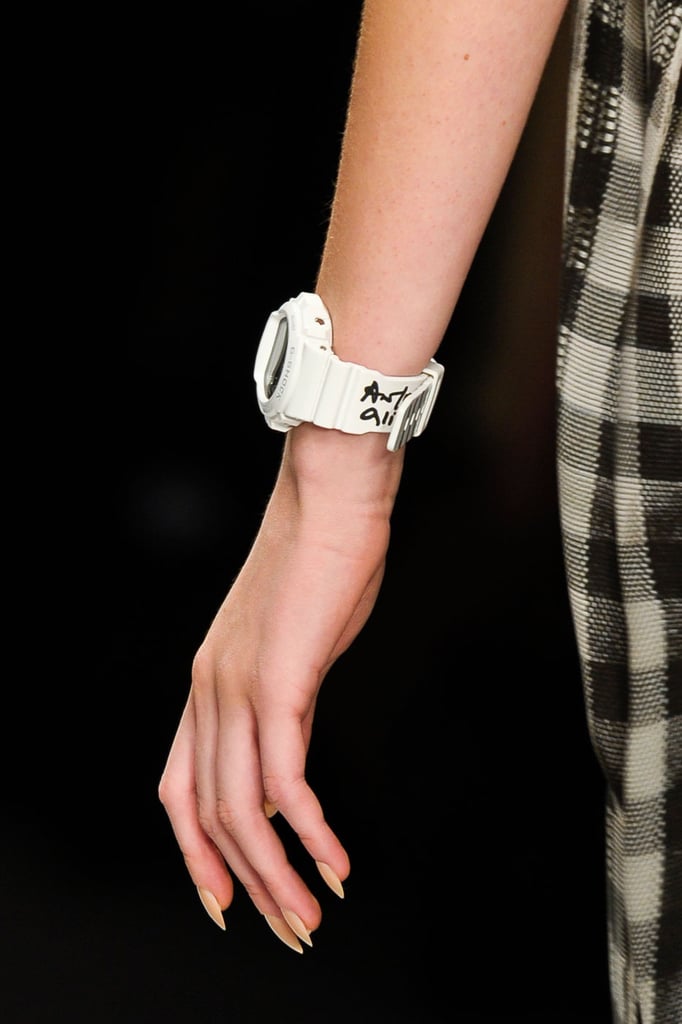 The long talon trend thrived on the Antoni & Alison runway, where they wore long beige nails against the brand's plaid patterns.
Giles
The hue of choice at Giles was a bright fuchsia seen on both nails and lips.
Daks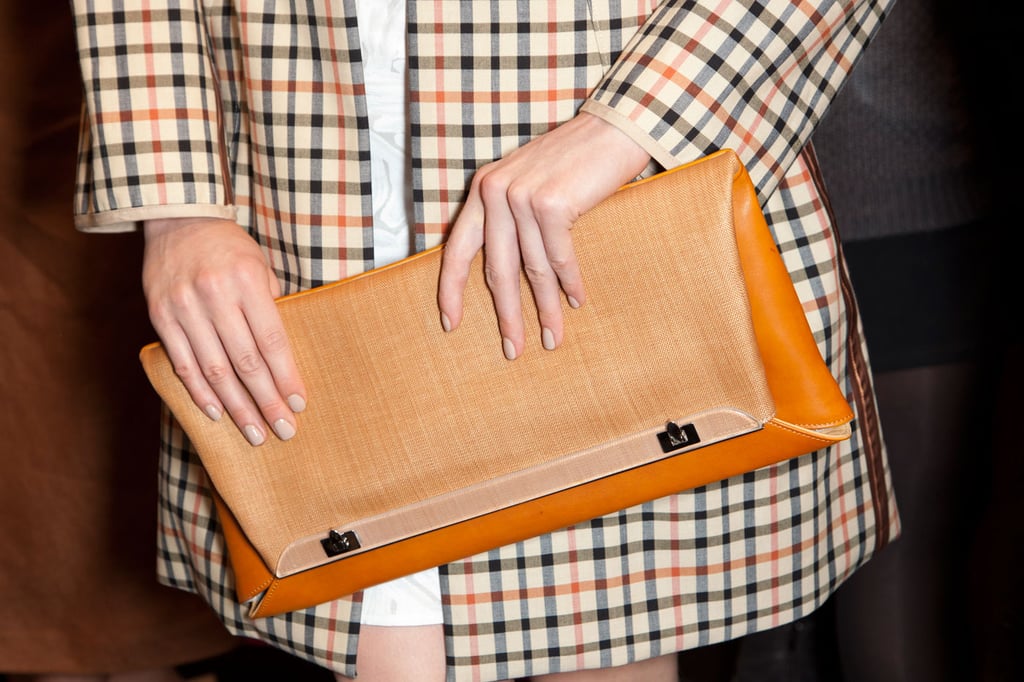 Eggshell-toned nail polish at Daks gave a crisp finish to the brand's khaki-hued designs.
Jonathan Saunders
Gray is the neutral to try next year, as Jonathan Saunders proved. Models at his show took it up a few notches, however, wearing a pale version of the shade with plenty of white and blue undertones.
Antonio Berardi
At Antonio Berardi, a bright orange-red shade stood out next to his colorful, geometric prints.
Issa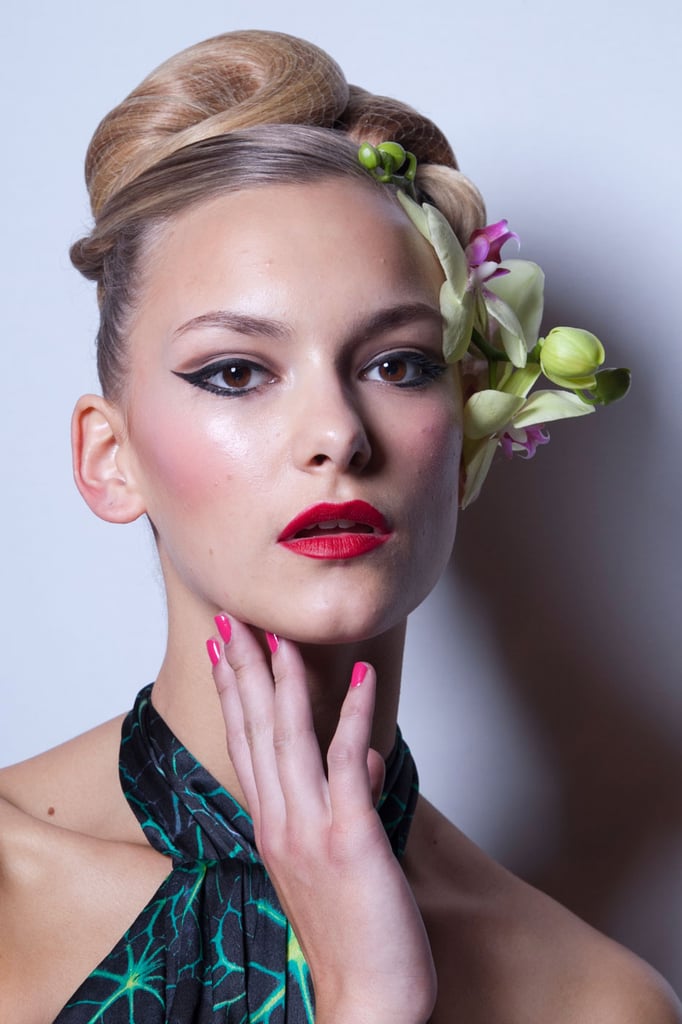 The models at Issa were elegant beauties emanating a beachy persona, where nails were brightened with hot pink or dark purple polish.
David Koma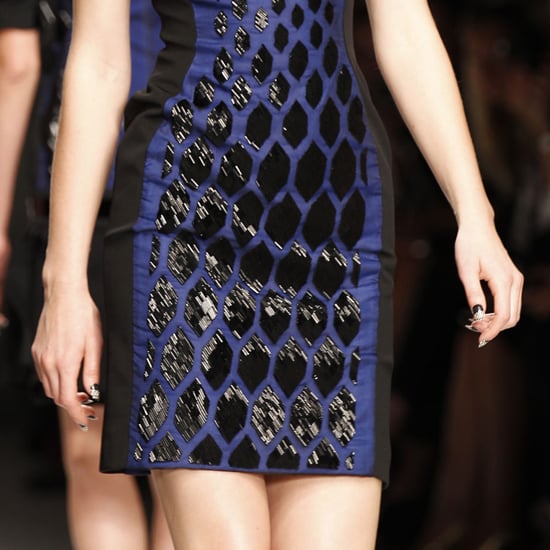 David Koma converted the tennis-inspired prints from his fashion line into nail art. The designs varied in either black or white with gold accents.
Meadham Kirchhoff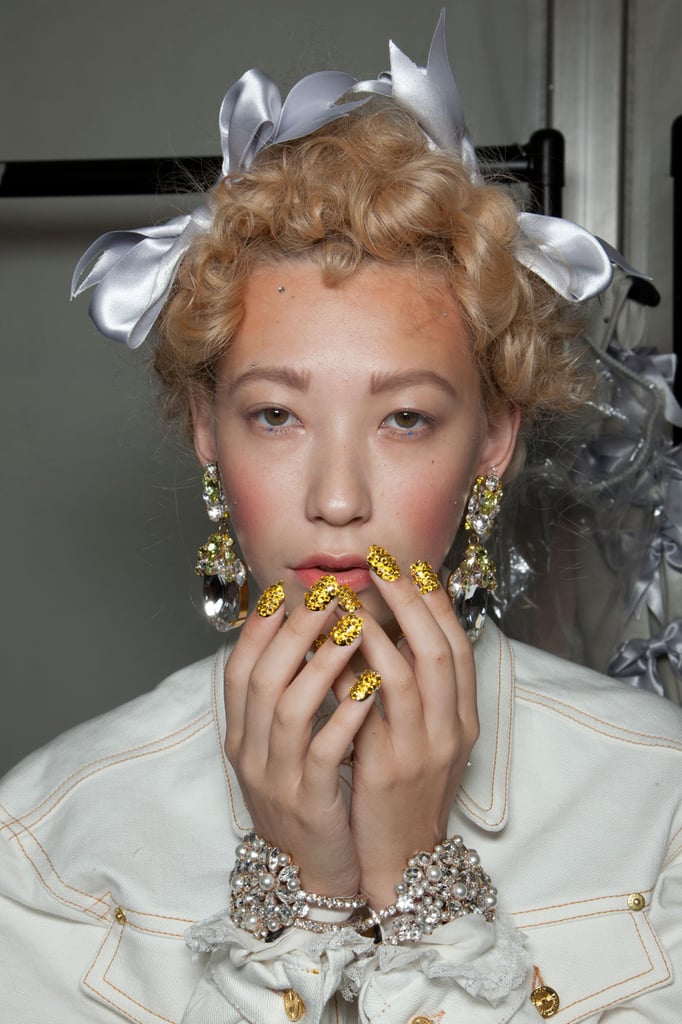 Meadham Kirchhoff couldn't have enough shiny jewels. There were studs on the body, cascading costume jewelry, and even bedazzled nails.
Richard Nicoll
This manicure wasn't quite half-and-half or half-moon; the models at Richard Nicoll wore a splash of orange polish near the tips.
Clements Ribeiro
Clements Ribeiro went with an artistic approach on nails. Bare nails were spotted with black polish just near the cuticle: not too perfect, but statement-making all the same.
PPQ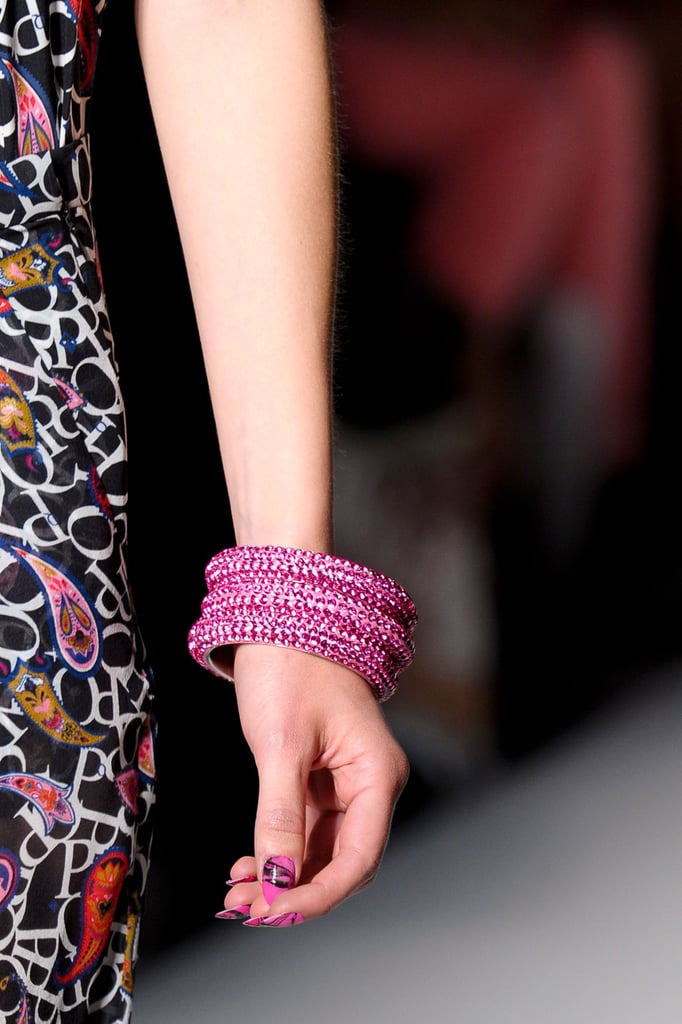 The nail art at PPQ had an architectural flair with random black lines placed on a pink background.
Christopher Raeburn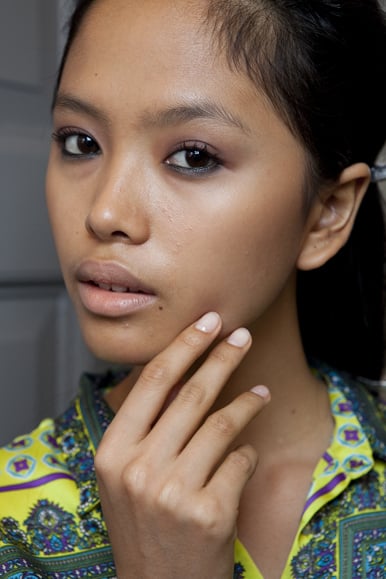 "The Christopher Raeburn girl is nonchalant, boyish, and cool," said lead manicurist Jenny Longworth, who opted for a sheer nude look using just one coat of Revlon Enamel in Sheer Blush.
Source: Revlon [5]
Vivienne Westwood
The nail wraps at Vivienne Westwood were a mix of orange, pink, and coral shades with a white, half-moon design.
Maria Grachvogel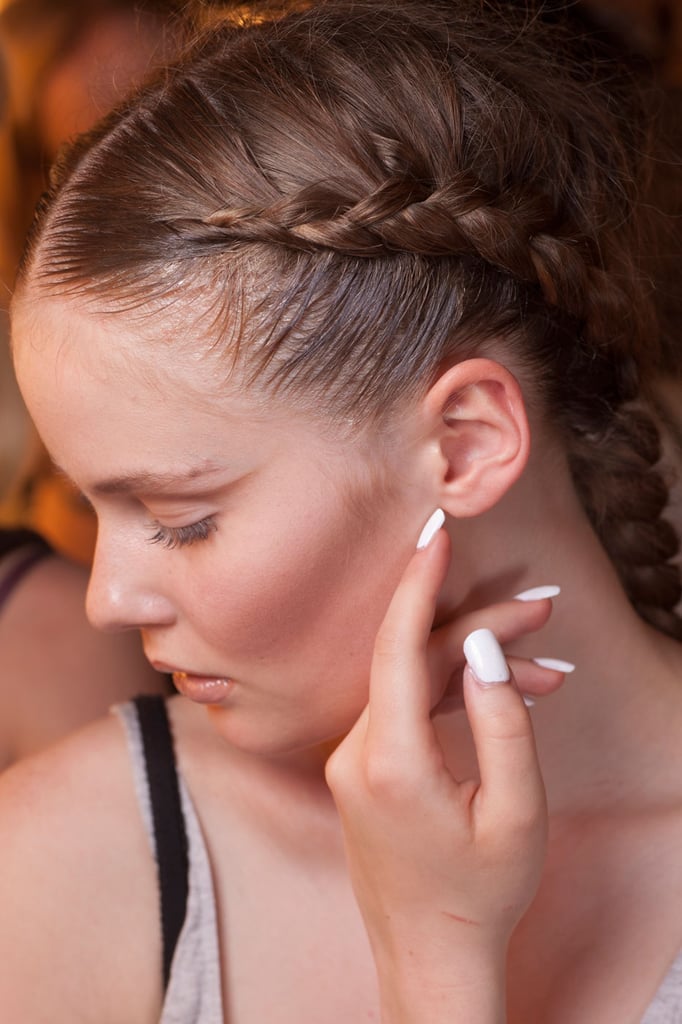 Maria Grachvogel sent bronzed and braided models down the catwalk, while white nails provided a pop of brightness.
Holly Fulton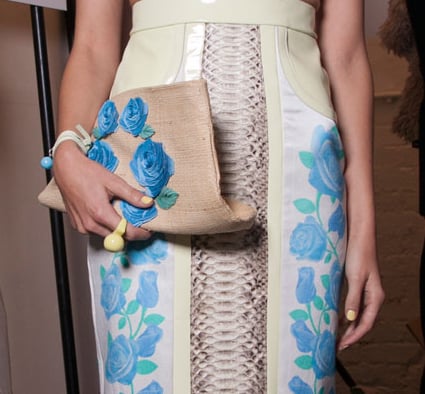 A pastel maize polish fit right in with the vintage feel of Holly Fulton's ensembles.
John Rocha
What better way to support the grunge hair and makeup look at John Rocha than with a classic, angst-ridden black polish?
Nanette Lepore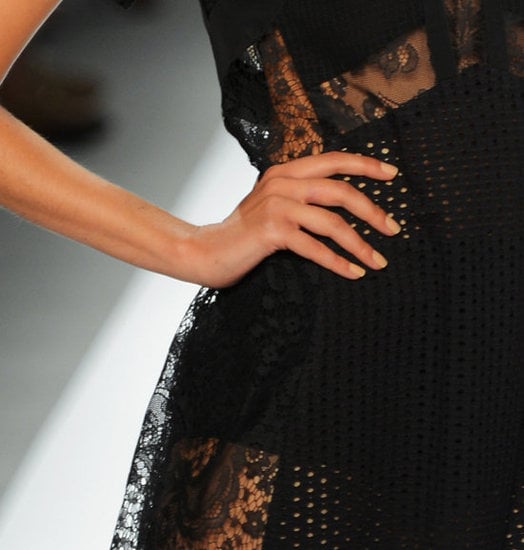 Nails were kept flesh-colored and painted in MAC's Coffee Break or Skin ($16 each), depending on the models' skin tone.
Douglas Hannant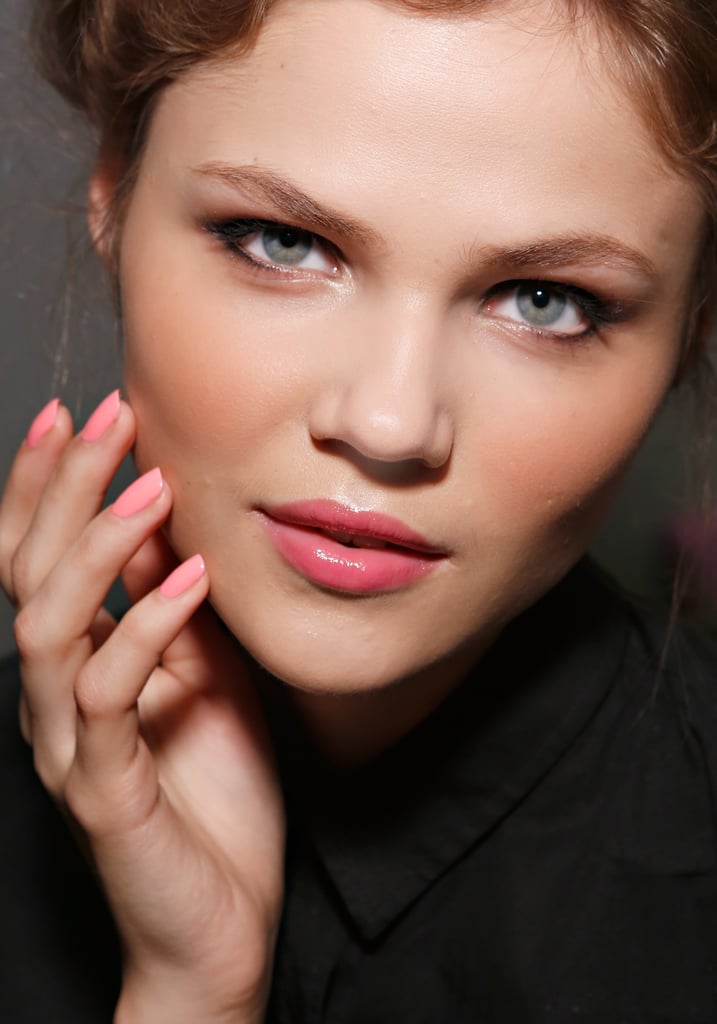 The Douglas Hannant collection was filled with feminine fabrics, and Essie's Knockout Pout (a petal pink) perfectly matched this ladylike feel.
Anna Sui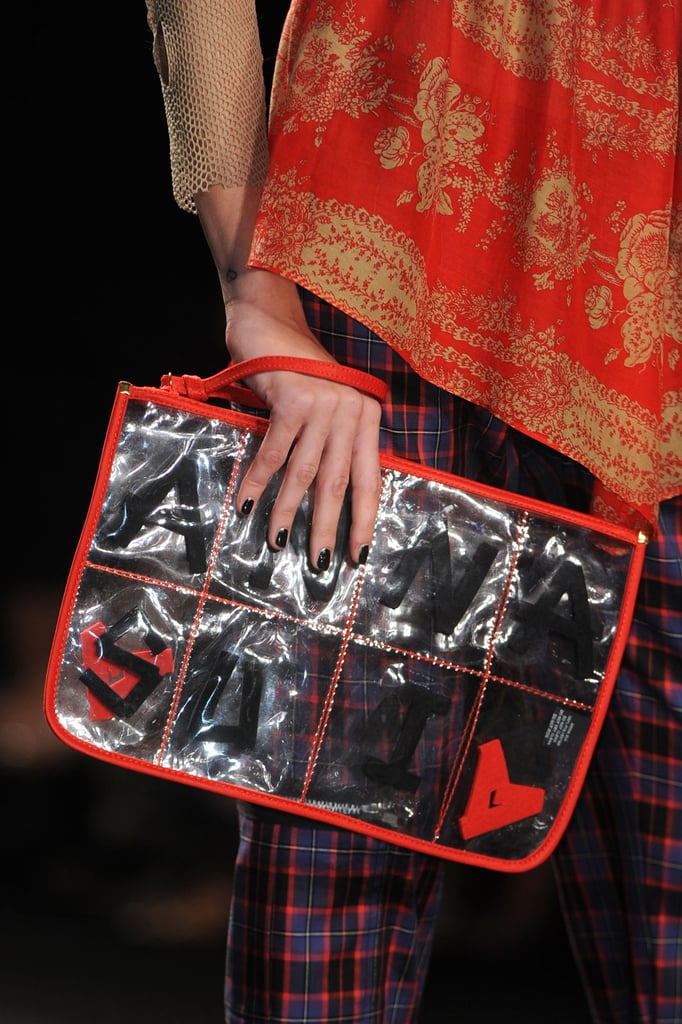 The girls at Anna Sui wore black polish from the designer's collection, further enhancing their punk beauty look.
Marc Jacobs
Manicurist Elisa Ferri mixed Zoya's Blossom, Olivia, Cho, and Adele shades to come up with a custom hue for Marc Jacobs.
Proenza Schouler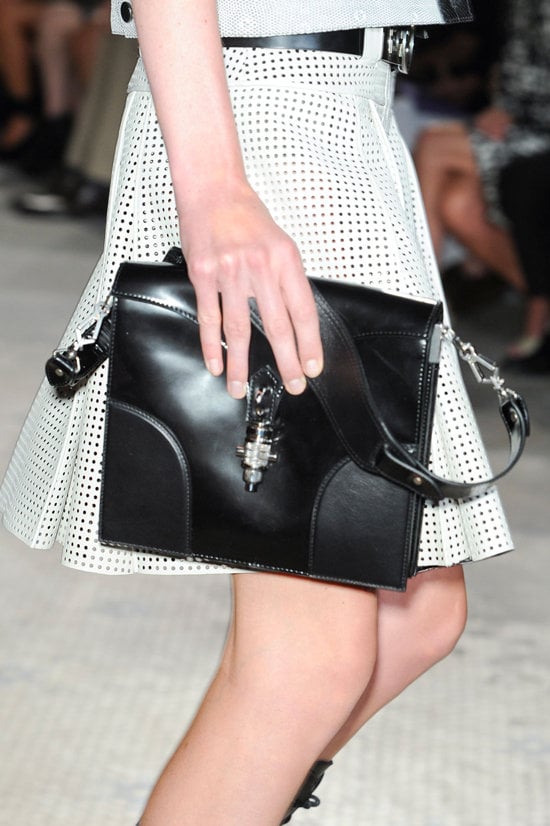 Nail artist Marian Newman wanted the nails to look just like the texture of skin at Proenza Schouler. She used a finish mixed with an oil for a semimatte result.
Marchesa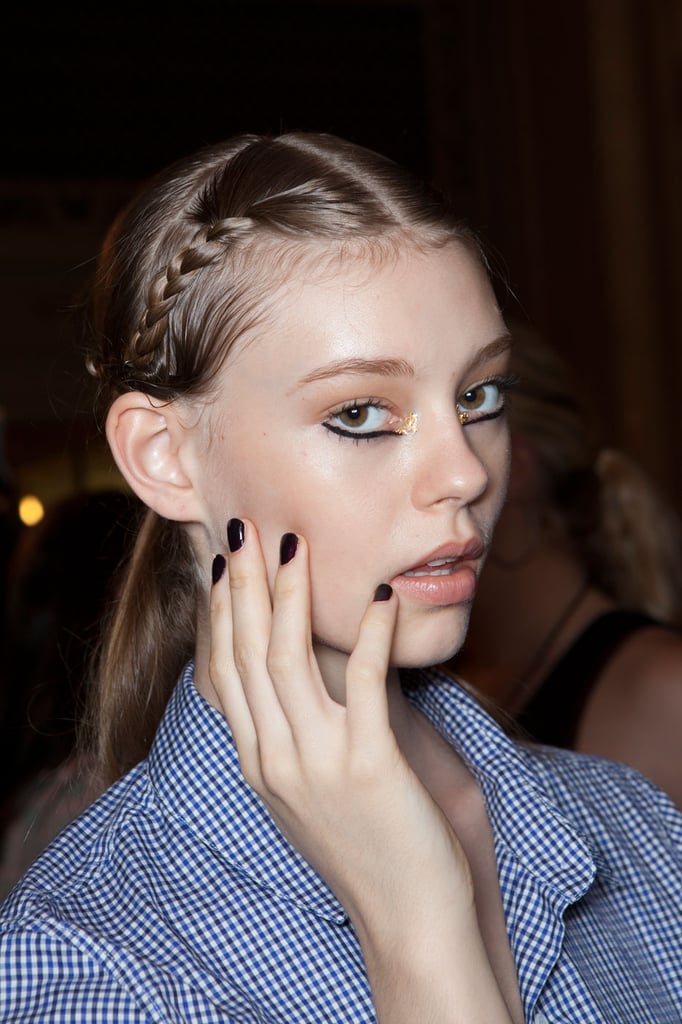 At Marchesa, Essie manicurists used two coats of Ballet Slippers under one coat of Luxedo to really bring out the purple undertones of the almost-black polish.
Bibhu Mohapatra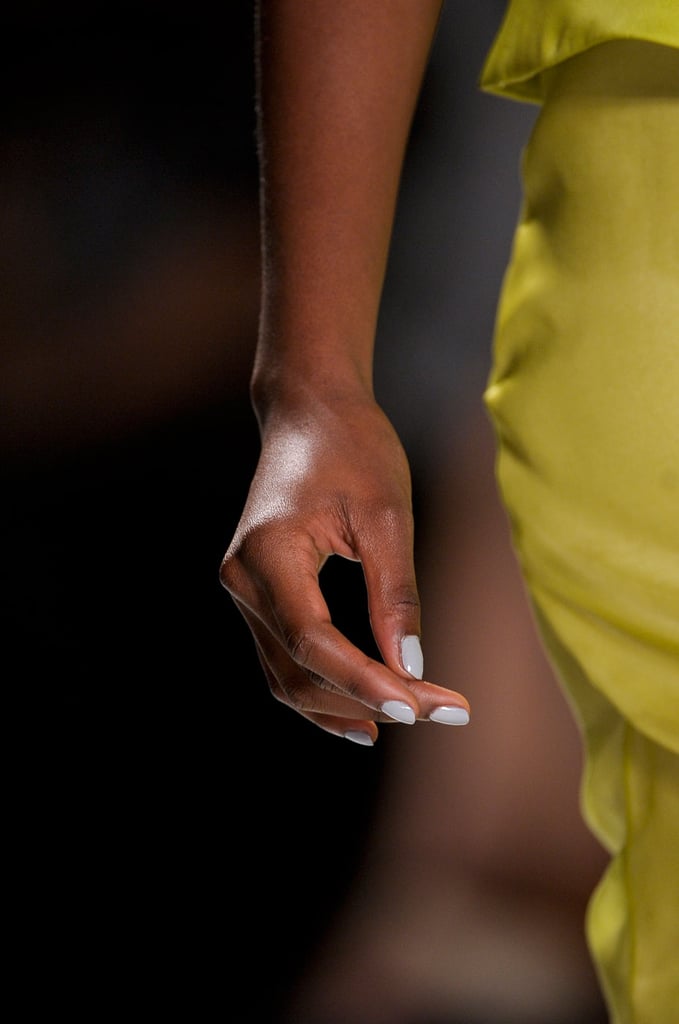 A light gray polish, Maybelline's Audacious Asphalt, stood out against the bold prints seen on the Bibhu Mohapatra runway.
Katie Gallagher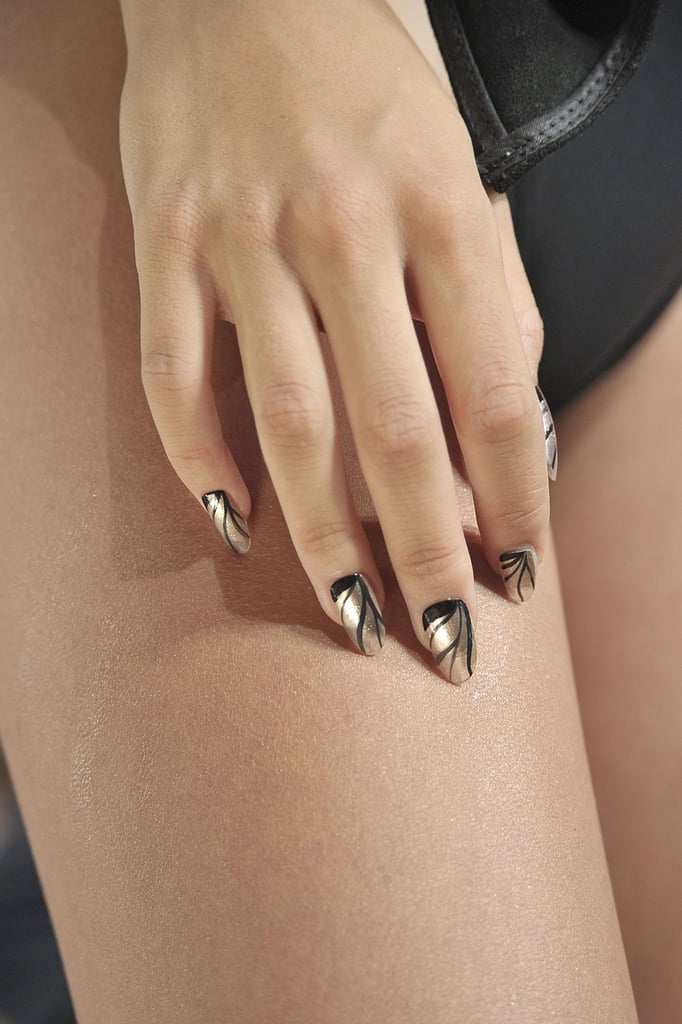 At Katie Gallagher, the Julep nail team used the theme "chasing dragonflies" for various nail art looks that used cream, black, and metallic polishes.
Rodarte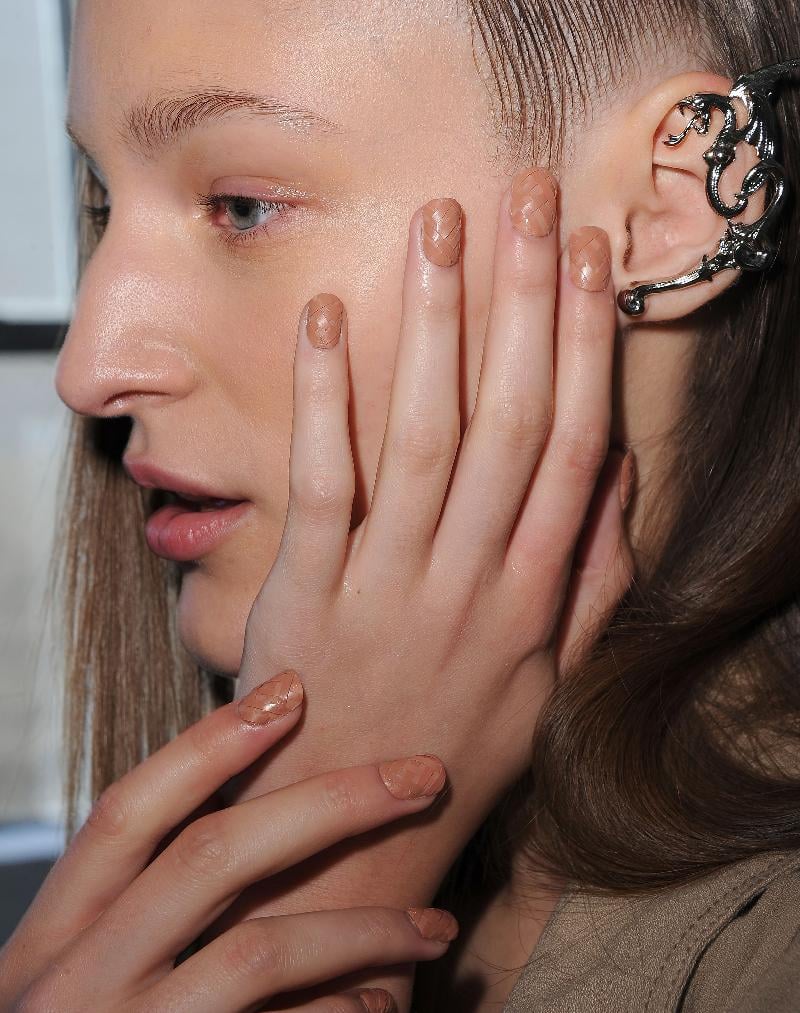 This criss-cross manicure was a new take on the standard nude nail. CND artists custom-blended polishes to create this lattice design, which took over 150 hours of manpower to do!
Photo courtesy of CND [6]
3.1 Phillip Lim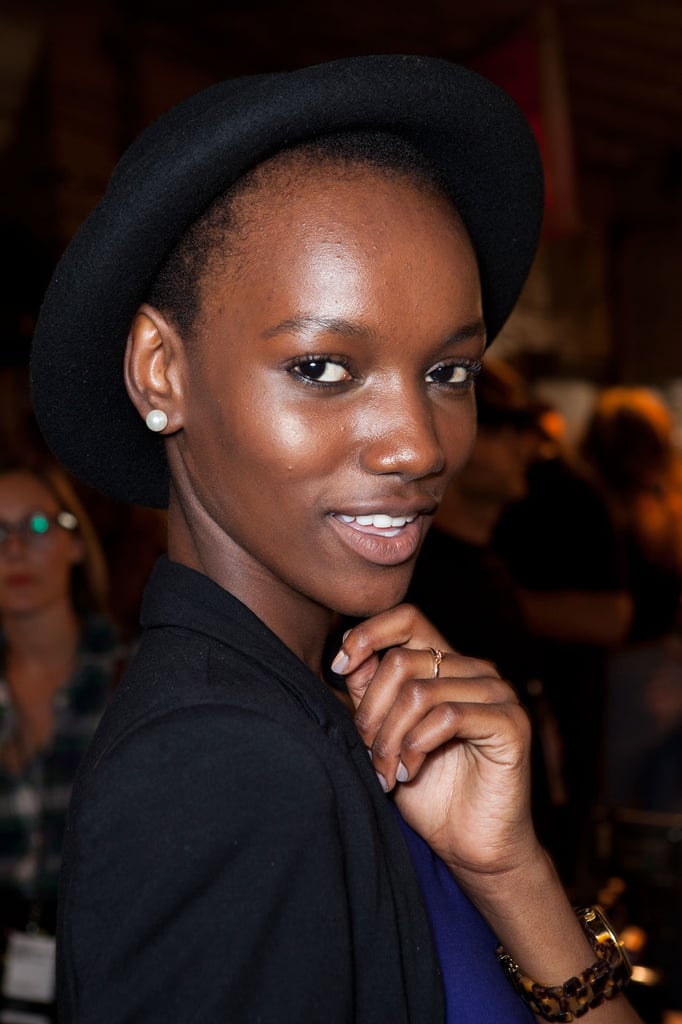 At 3.1 Phillip Lim, a half-and-half manicure by Essie created a shadow effect: one side was Brooch the Subject (a creamy cashmere), and the other was Chinchilly (a granite gray).
Monika Chiang
This racing-stripe manicure at Monika Chiang was done using a base coat of Lancome Corail in Love, and the metallic strip was Essie Nothing Else Metals.
Naeem Khan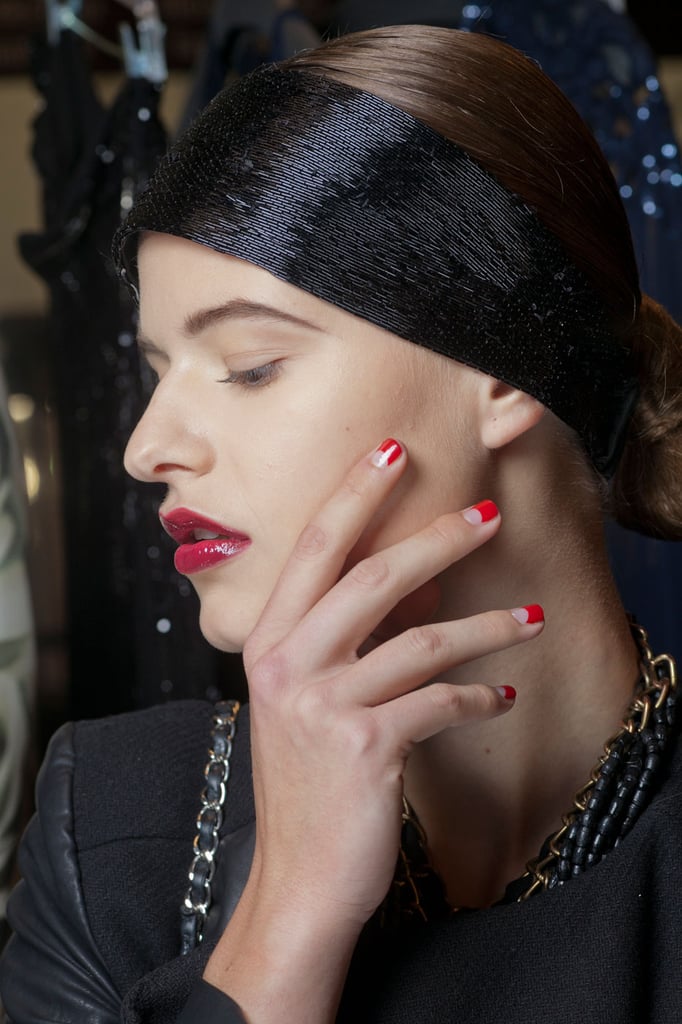 This red, half-moon manicure fit right in with the retro feel at Naeem Khan.
Vera Wang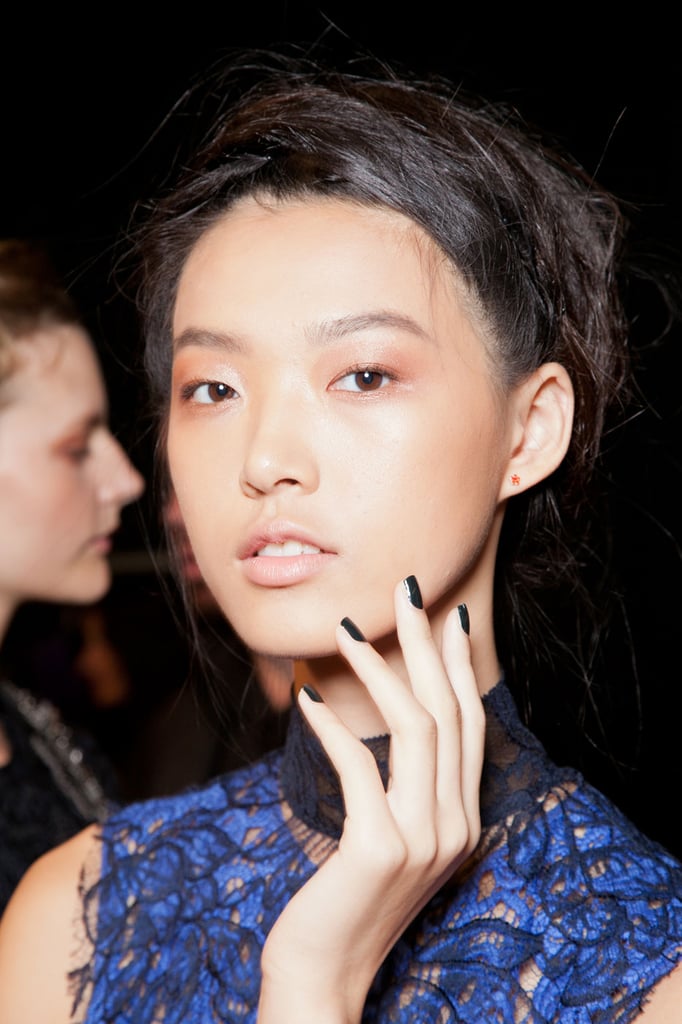 To contrast with Vera Wang's colorful collection, models wore Incoco nail strips in Midnight.
Mathieu Mirano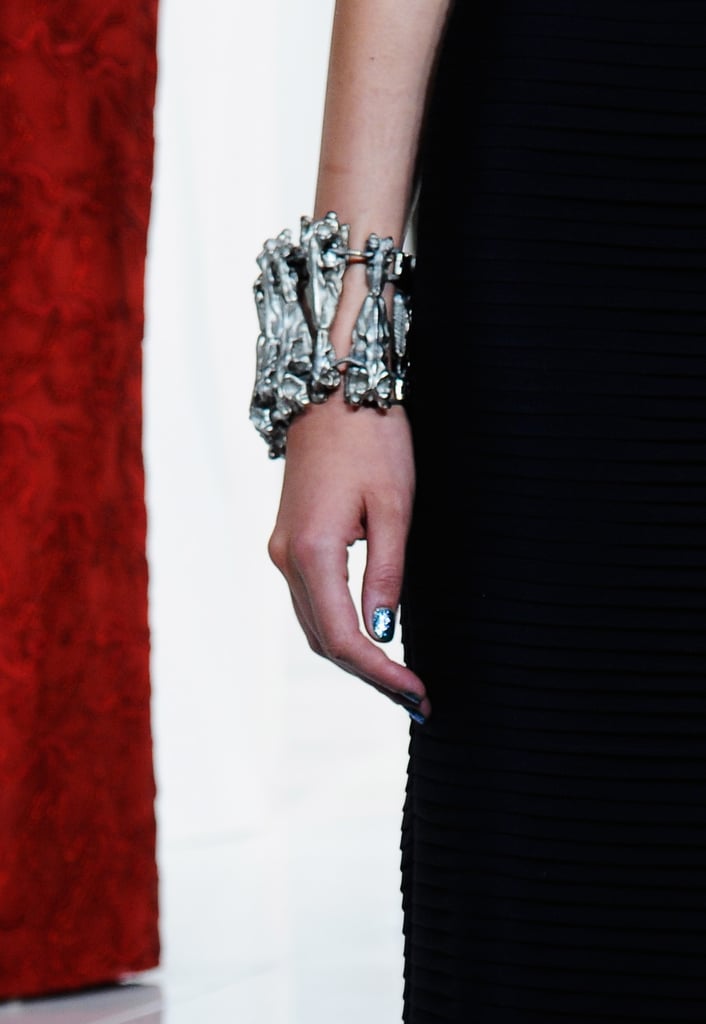 The Essie team topped two coats of Going Incognito (a kelly green) with Stroke of Brilliance (a blue glitter), to embrace the reptilian theme at Mathieu Mirano.
Jenny Packham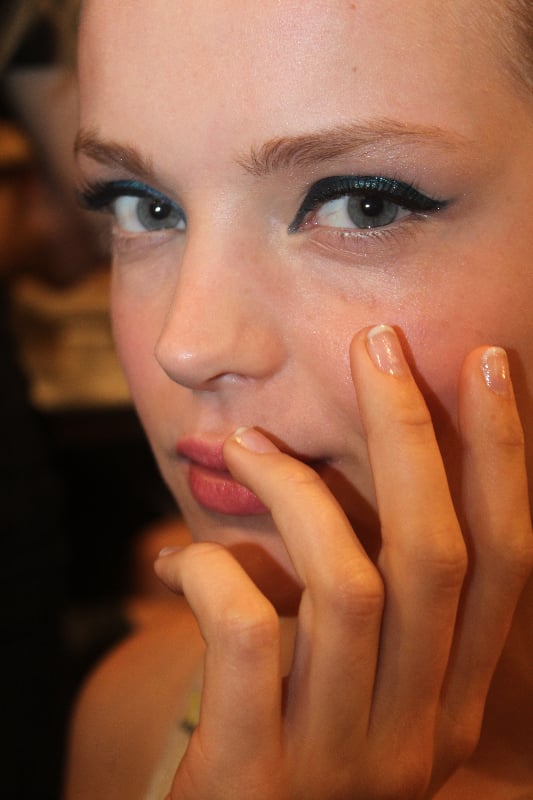 Essie created a French manicure in shades of white, painting Waltz [7] ($8) as the base and Marshmallow [8] for the tips. A coat of Pure Pearlfection [9] ($8) on top gave a diamond-glitter effect.
Carlos Miele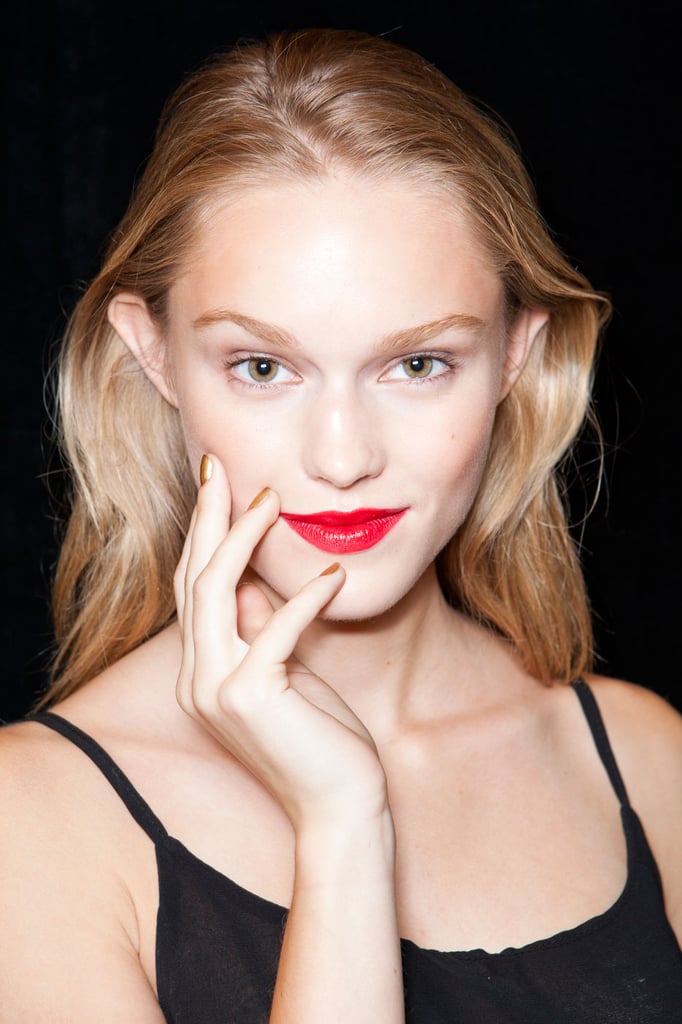 Manicurists used Maybelline Color Show nail polish in Bold Gold to complement the metallic eye makeup at Carlos Miele.
The Blonds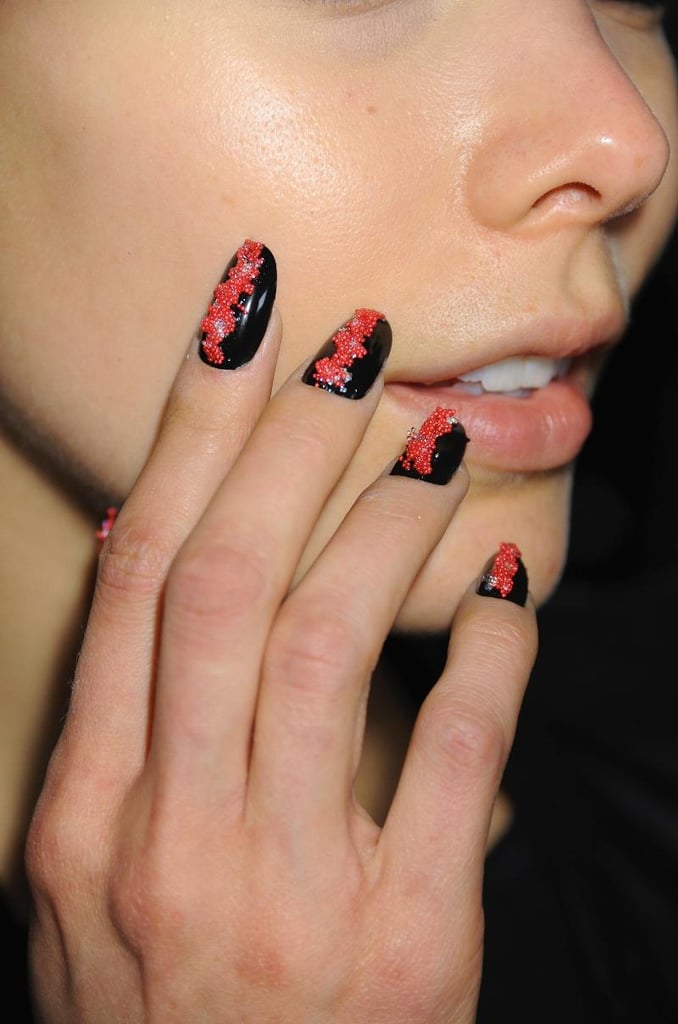 The Blonds runway show was inspired by a "Psycho Beach Party," and the nails were equally psychedelic. Check out this red caviar design.
Photo courtesy of CND [10]
The Blonds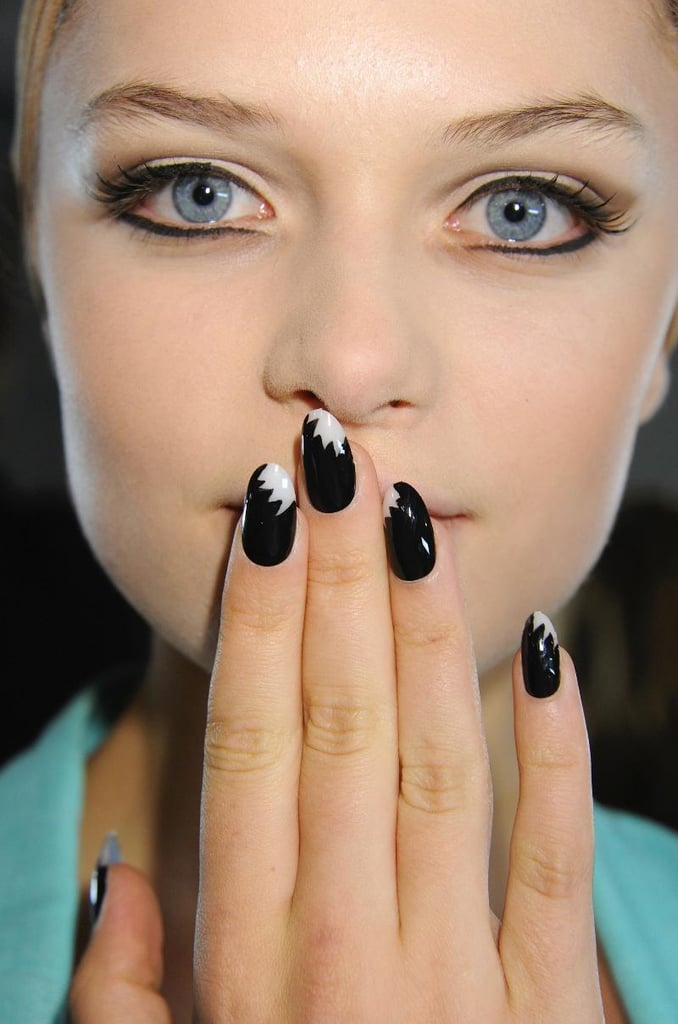 And shark bites!
Photo courtesy of CND [11]
The Blonds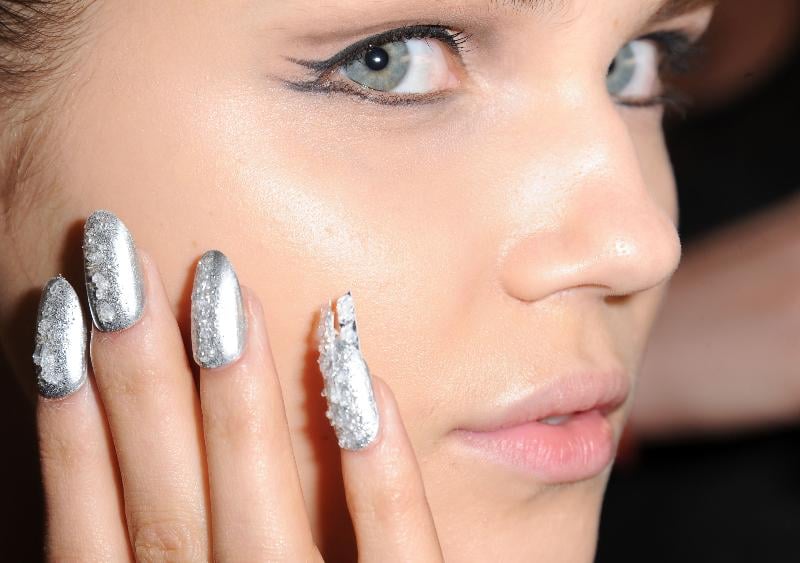 And this cracked pinky finger detailing.
Photo courtesy of CND [12]
The Blonds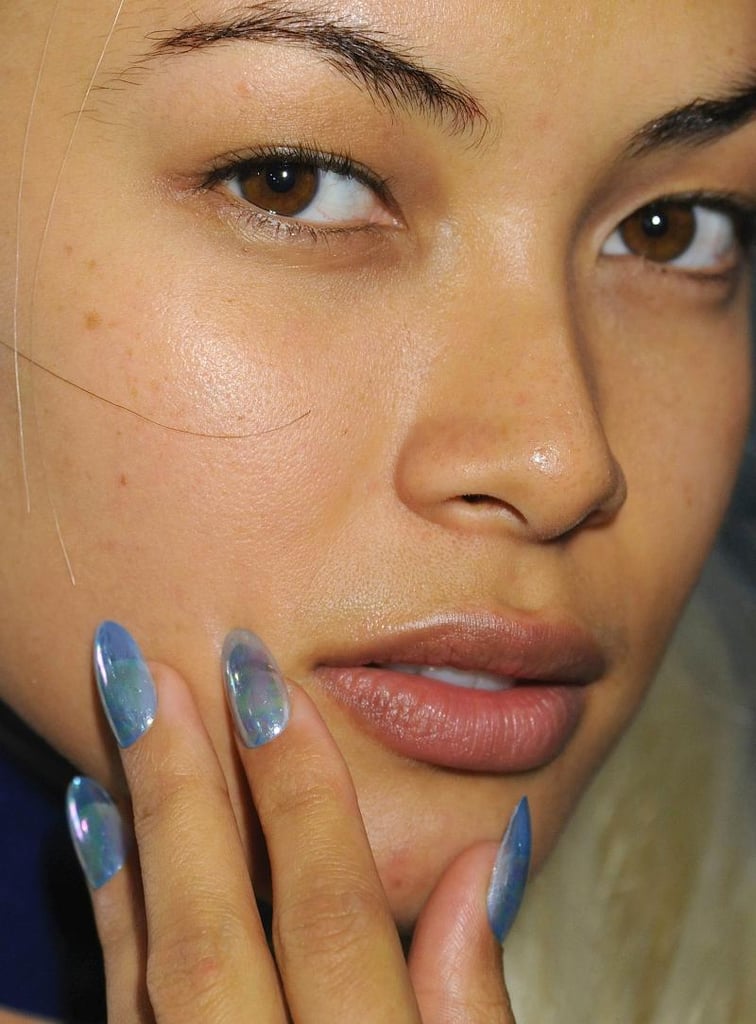 And skinny dipping.
Photo courtesy of CND [13]
Badgley Mischka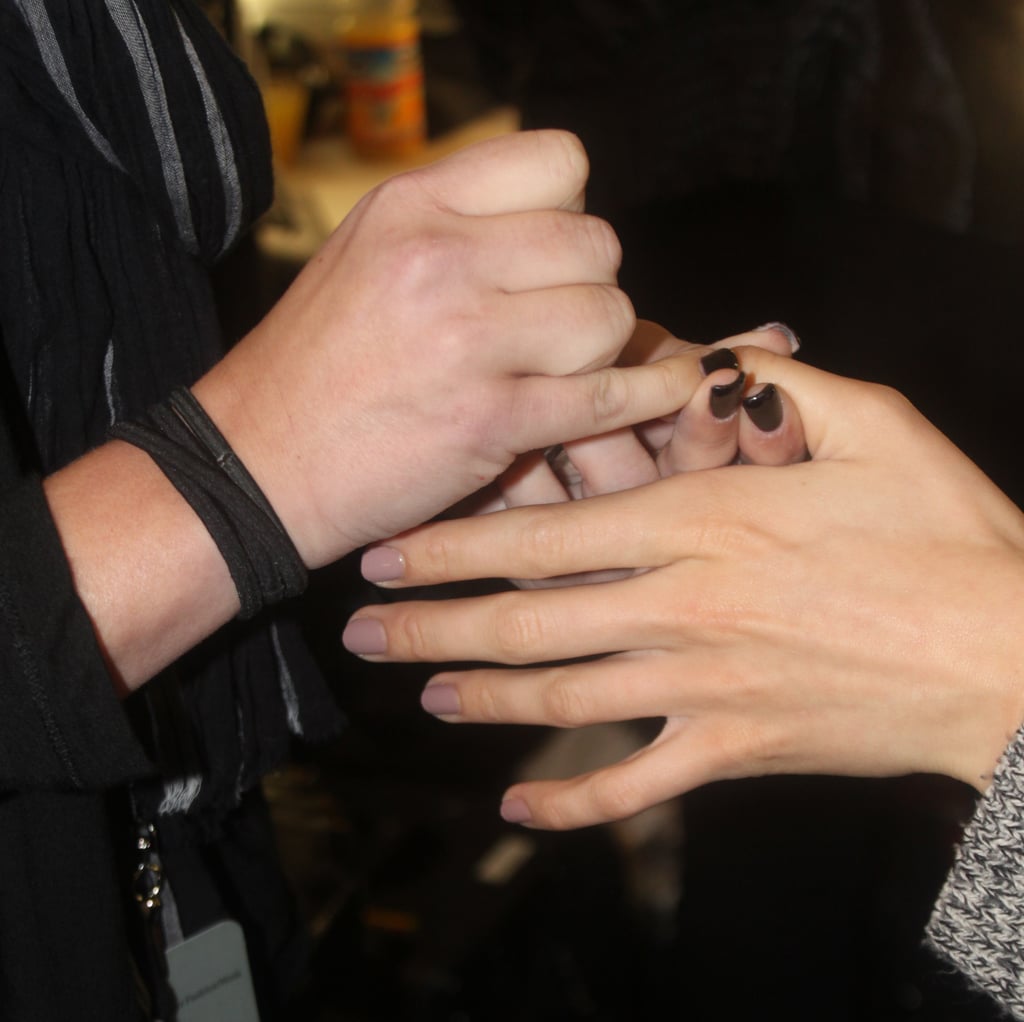 "I think mauve is the new nude," lead manicurist Deborah Lippmann said at Badgley Mischka. Models wore two coats of her brand's Modern Love [14] ($16) topped with Addicted to Speed Top Coat [15] ($20) for high shine.
Betsey Johnson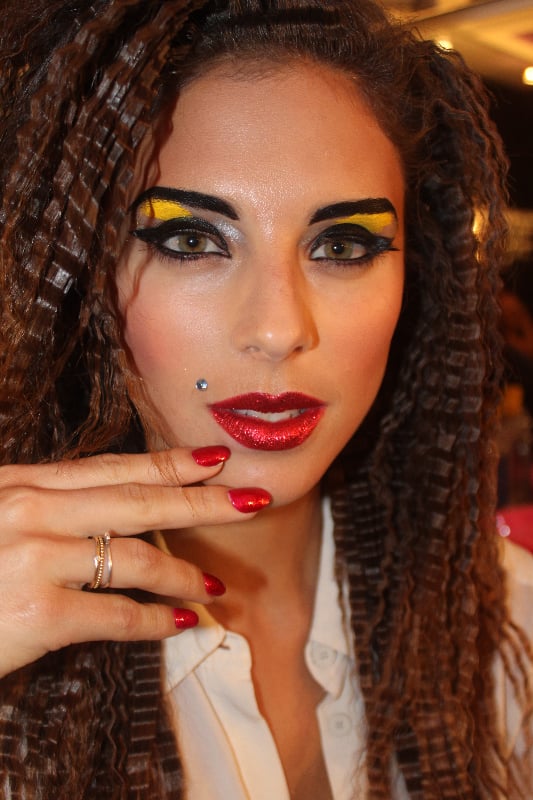 Lead manicurist Gina Edwards for ImPress Press-On Manicure shaped about 300 nails for Betsey Johnson's show, which featured glittery red nails — and lipstick to match.
Elie Tahari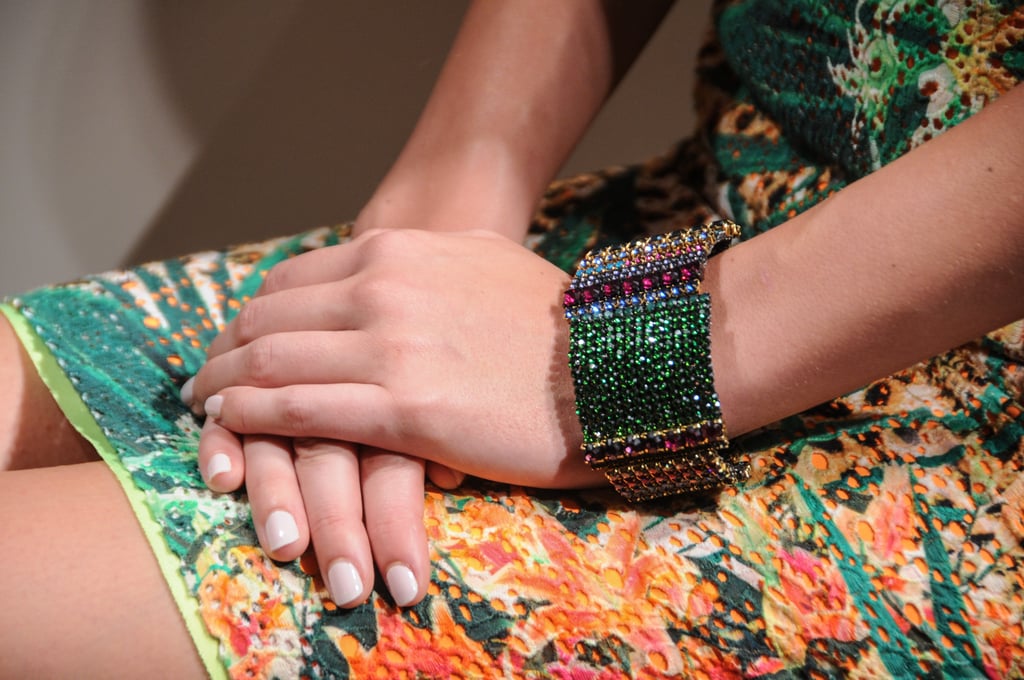 Baby pink nails were the perfect anchor for Elie Tahari's otherwise vibrant collection.
Ohne Titel
Nails matched the eye makeup at Ohne Titel, and both were a punchy tangerine color. This Priti NYC shade in Flame of the Forest looked great with a matte top coat.
Donna Karan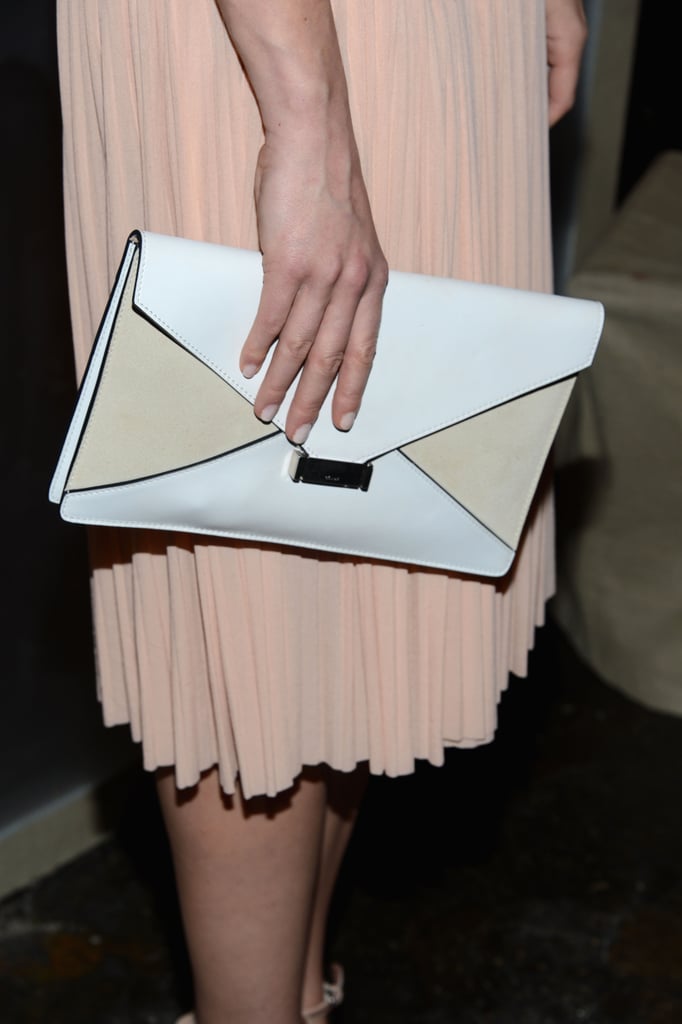 Donna Karan stuck to the subdued with a dusty pink color on her runway that matched the pastels in her collection.
Alice + Olivia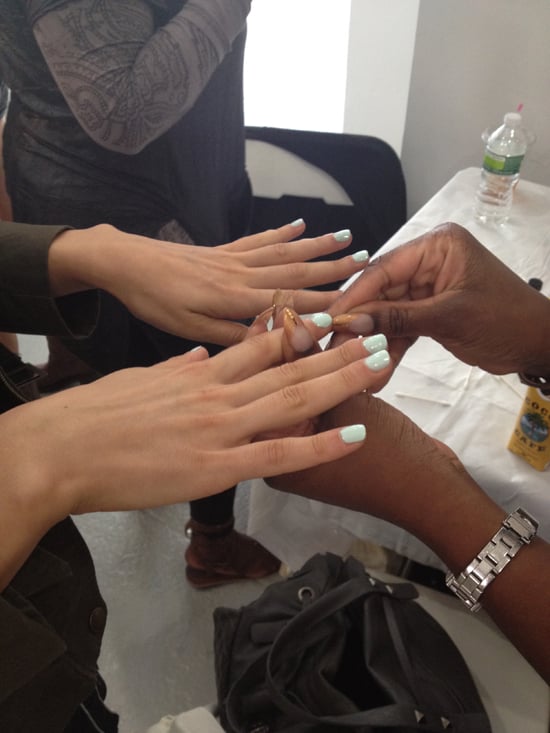 Perfect Formula concocted this custom color (dubbed Icebox) that was pulled from a swatch from the Alice + Olivia collection.
Joy Cioci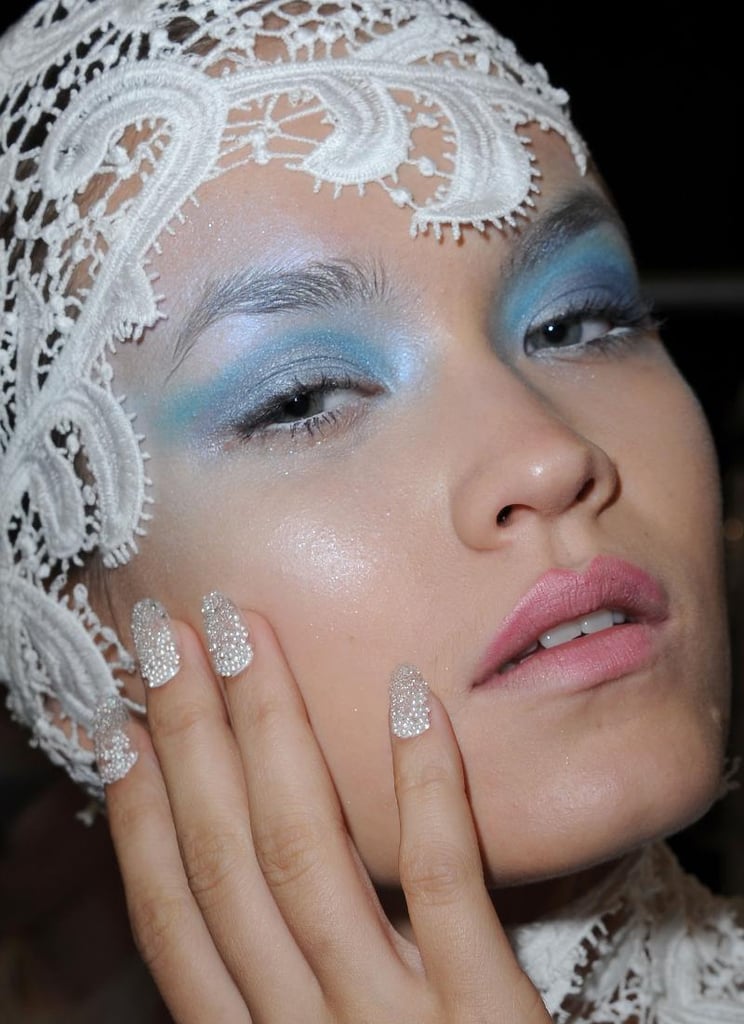 CND created bubble nail art at Joy Cioci. Pearlescent microbeads were applied to nails immediately after a wet base coat to create this 3D look.
Photo courtesy of CND [16]
Karen Walker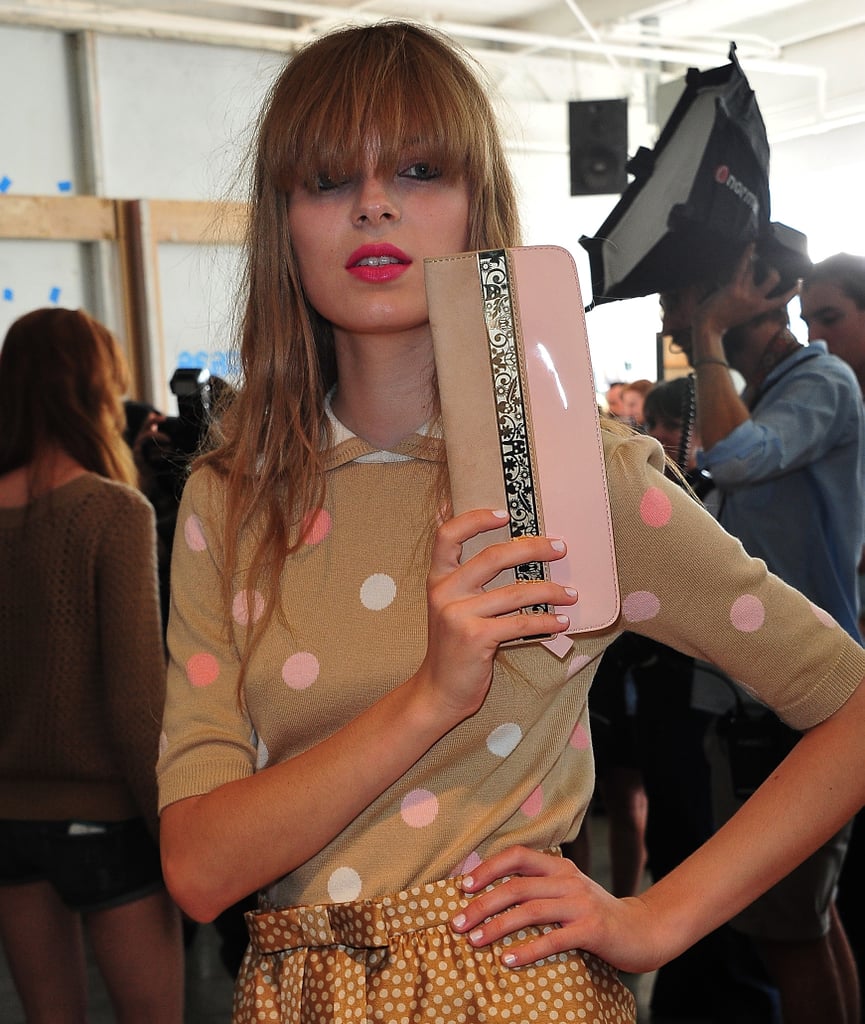 CND manicurist Angi Wingle designed a Milky Way-like manicure using a matte top coat over the brand's Studio White polish.
Timo Weiland
The Dashing Diva team used ColorFX in Naked & Sacred on just the tips of the nails to complement the taupe undertones of the clothing at Timo Weiland. It's the new nude French manicure.
Christian Siriano
Models at Christian Siriano previewed a new shade by CND, Grapefruit Sparkle, that will be available in Spring 2013.
Photo courtesy of CND [17]
Emerson
The models at Emerson wore a grayscale manicure; the colors were light near the cuticle and darkest at the tips.
Erickson Beamon
The nails at Erickson Beamon were long and metallic, made to match the extreme eye makeup.
Chris Benz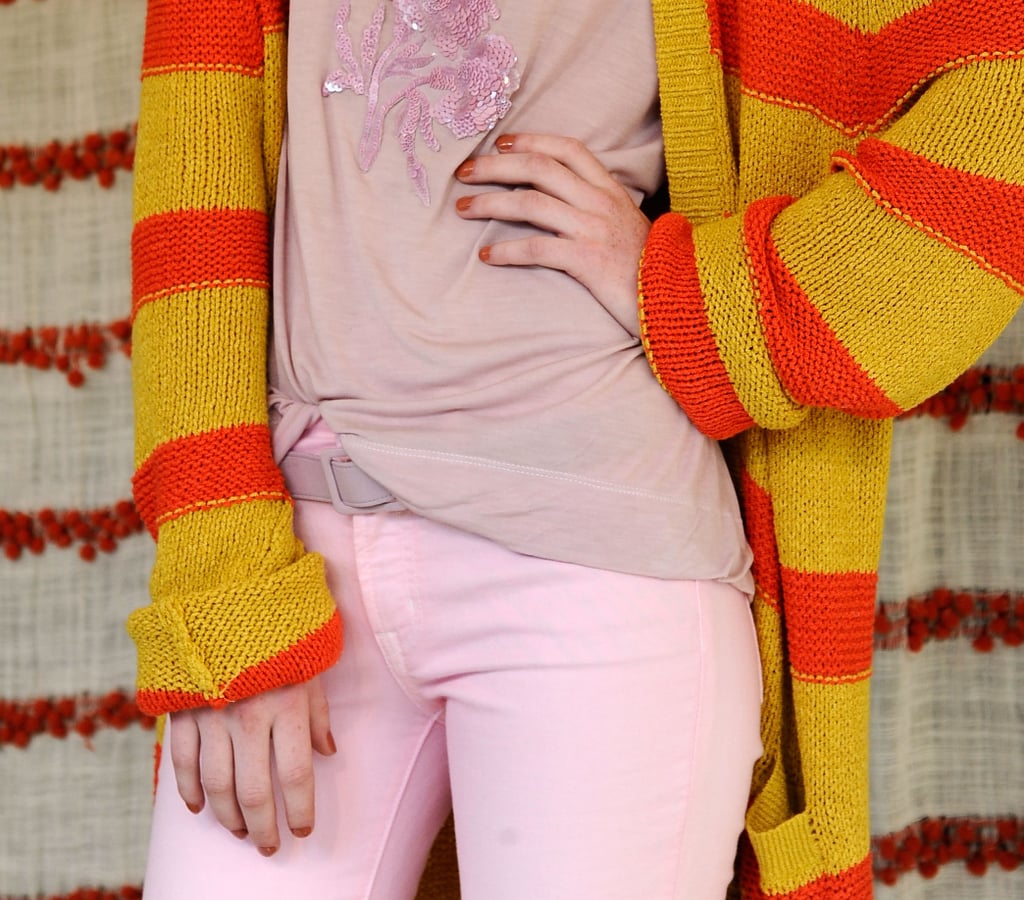 Taupe nails at Chris Benz blended in the background against his bright-colored collection.
The Row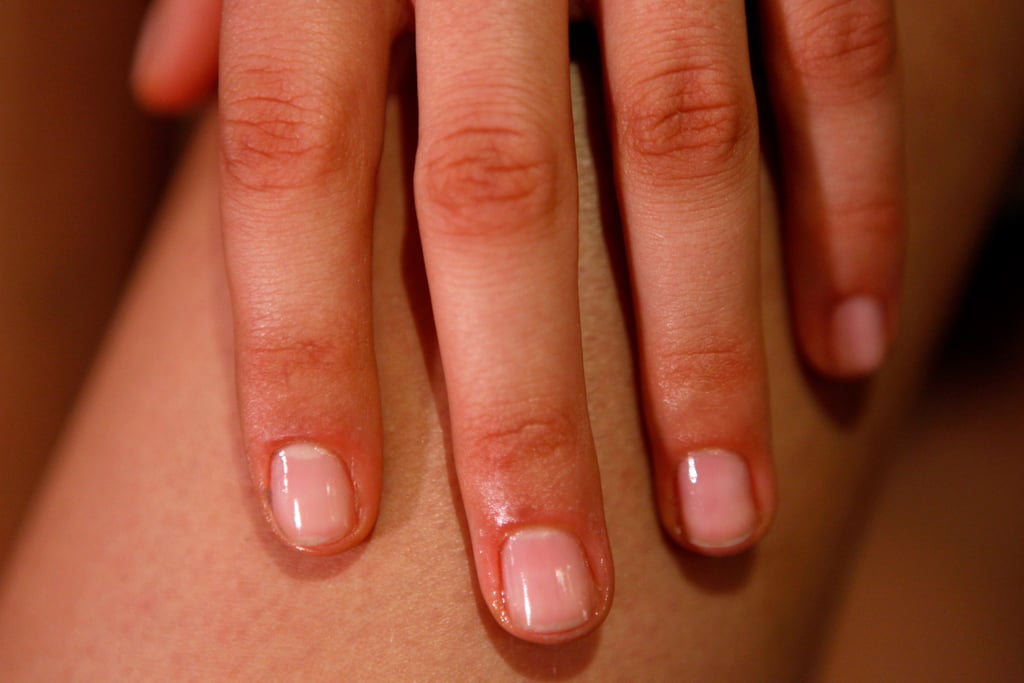 At The Row, Butter London's Katie Hughes applied the brand's Horse Power ($20), a nail strengthener, and finished with a layer of the fast-drying top coat Hardware ($18) to add shine.
Angel Sanchez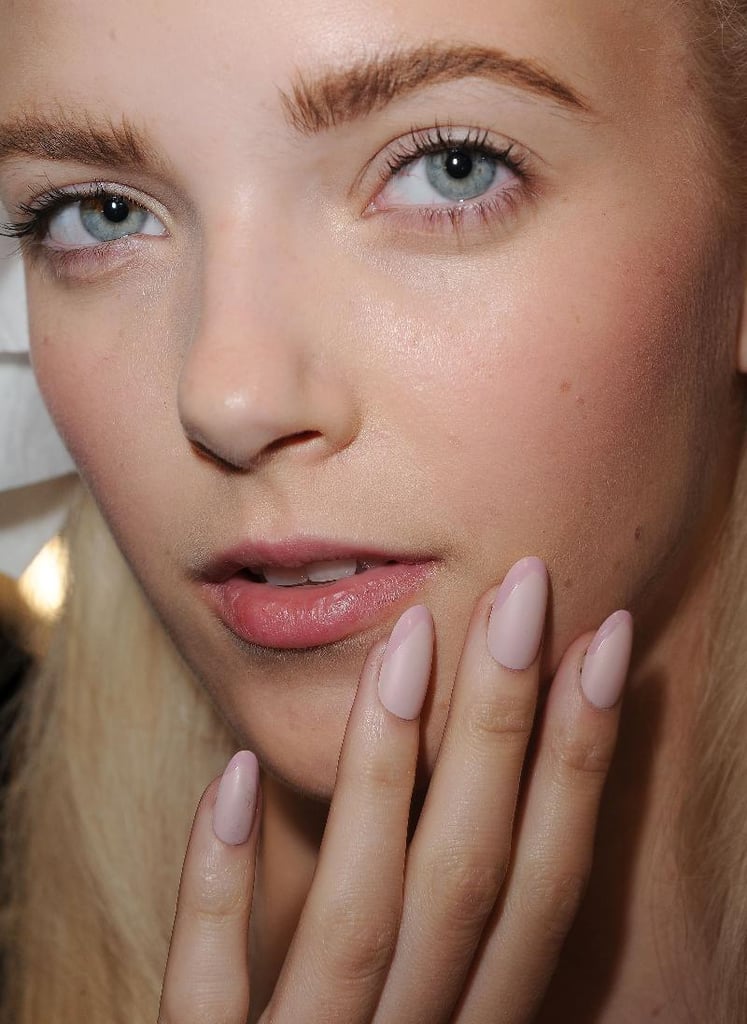 This oval French manicure was perfectly pink. CND manicurist Shelena Robinson mixed over four different colors to create the two pink shades for the Angel Sanchez runway.
Photo courtesy of CND [18]
Tibi
Manicurists at Tibi used the Dashing Diva ColorFX in Petal Pusher. These appliqués have all the benefits of gel with an acetone-free removal — but you'll have to wait to try these nail wraps until later this Fall.
Rachel Antonoff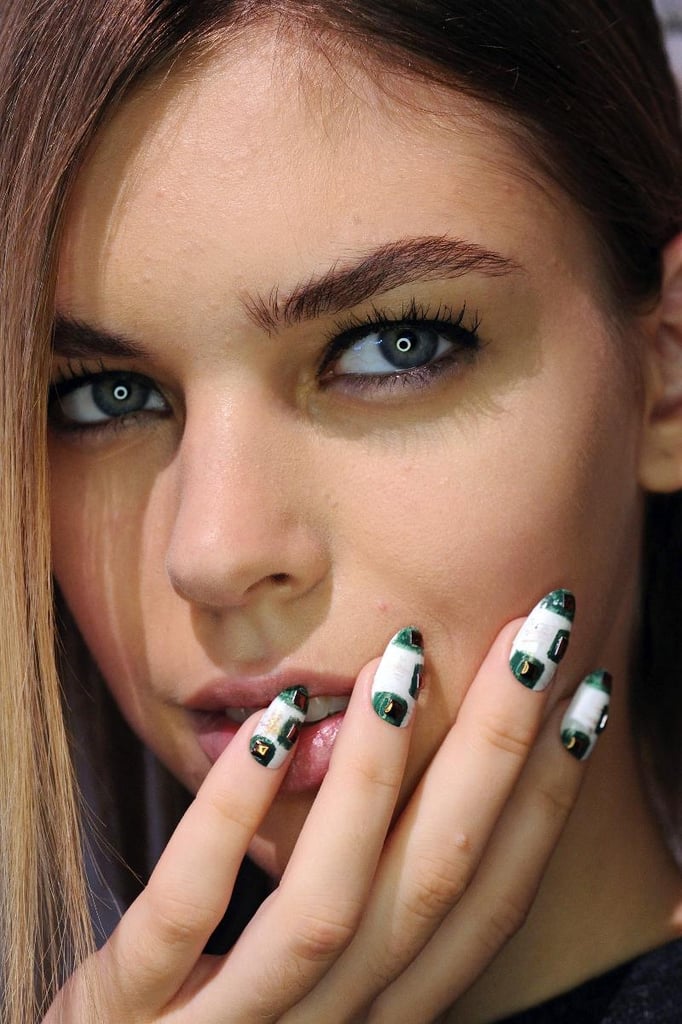 The nail art for Rachel Antonoff was inspired by a garden party. This "Aerial Nail" was meant to resemble a map of Versailles.
Rachel Antonoff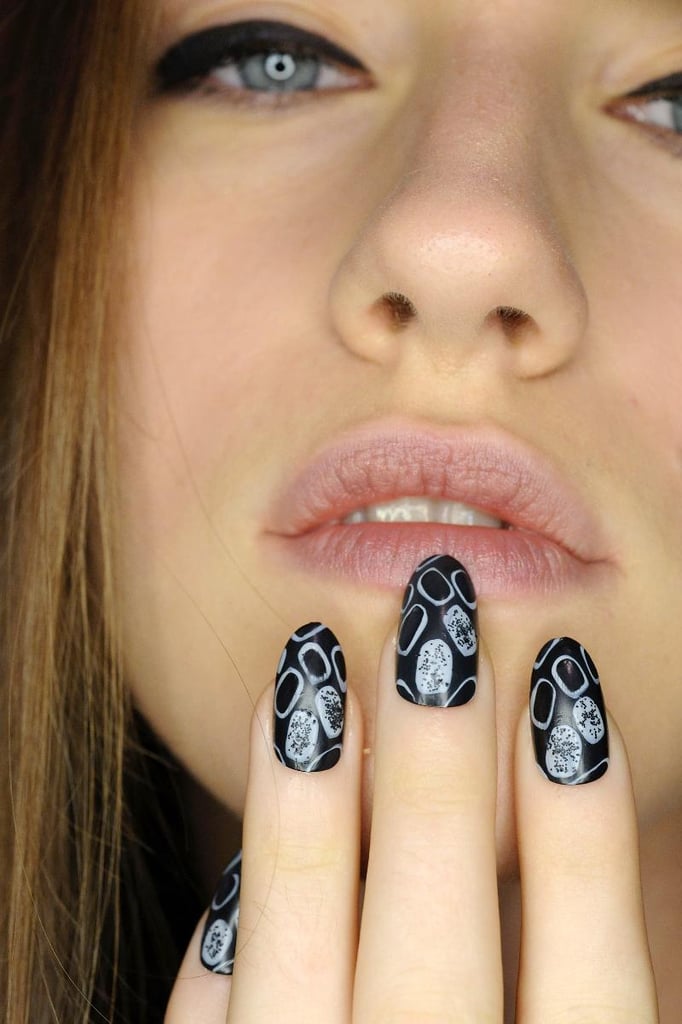 This garden-inspired nail mimicked a labyrinth.
Photo courtesy of CND [19]
Rachel Antonoff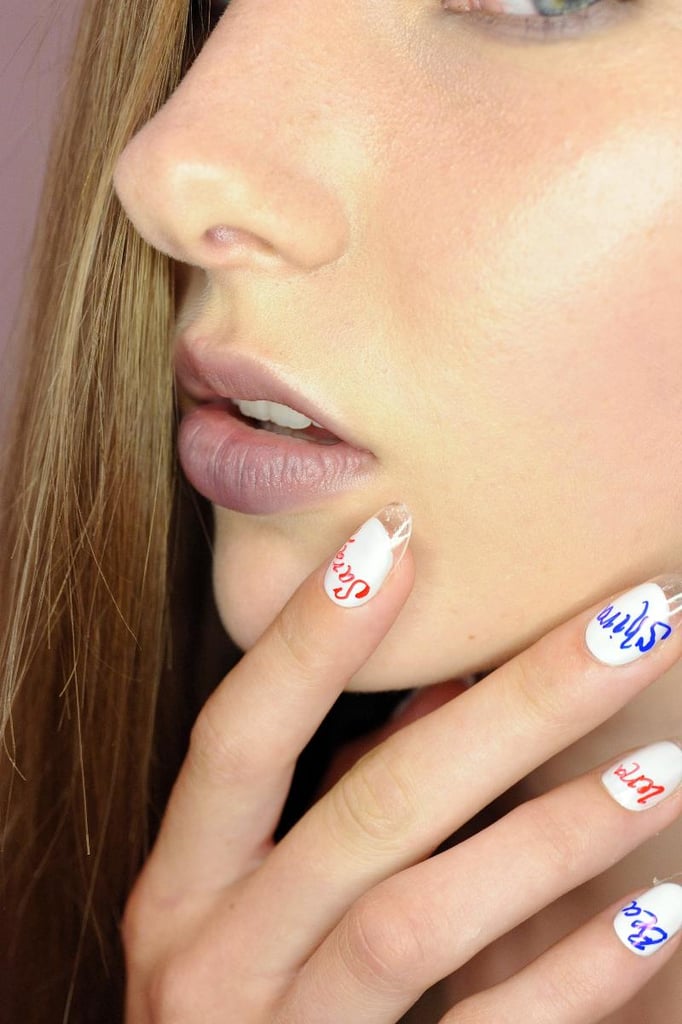 Finally, some models wore minitributes to the designer's family and friends. That's some scrapbook!
Photo courtesy of CND [20]
Tommy Hilfiger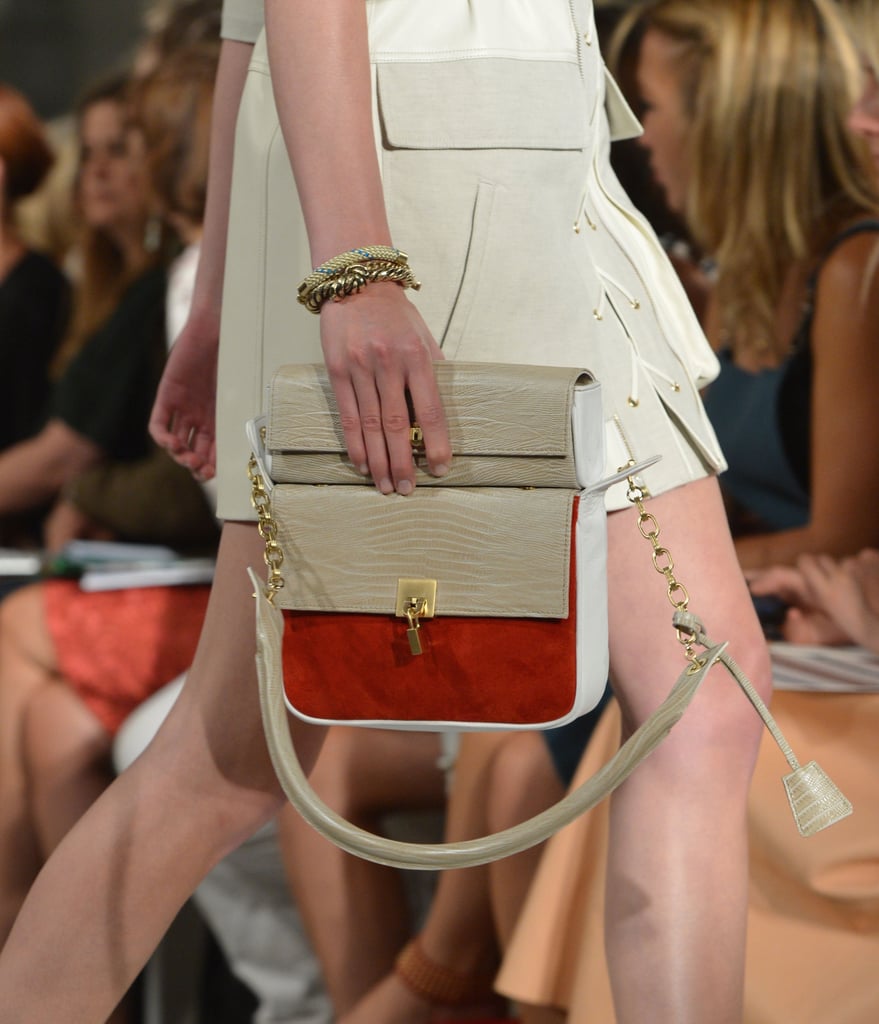 These nude nails match all the creams and khakis that are signature to the Tommy Hilfiger girl. Get the look using Shirley Temple Peony by Priti NYC.
Victoria Beckham
A blend of CND's Putty and Desert Suede created a nearly nude nail that transitions perfectly from workday to weekend.
Photo courtesy of CND [21]
Binetti
Nails took on the look of oyster shells at Binetti, where a triple-tier manicure that exposed mini pearls in between each layer.
Source: CND
Malandrino
CND mixed up a custom concoction for Malandrino, creating a tin foil-like sheen on models' fingertips.
Source: CND
Tracy Reese
Step aside, half-moon manicures. Tracy Reese opted for half-triangle manicures on tallon-like nails. Each girl sported a different color combination.
Monique Lhuillier
The nails at Monique Lhuillier were painted a custom opal color that had just a hint of lavender to resemble the inside of an oyster shell.
Prabal Gurung
Oxblood is still in for Spring 2013 for nails at least. Sally Hansen artist Tracylee used a stringer brush (found a the local art supply store) to drip Angel Bite ($8) polish to the cuticle creating a bloody manicure. The new shade plus two others (Resurrection and Apparition) will be available in Spring.
Veda
Nails were alternated with mauve (Toff) and olive (Sloane Ranger). Then a stripe of black polish was placed in the center of the nail. Finally, Butter London manicurists then used a Knackered top coat to give a holographic effect.
Photo courtesy of Butter London [22]
Rag & Bone
Nails were all white and neutral at Rag & Bone. You'll be able to get this new white polish, called Spirit, from Revlon in early 2013.
Kaelen
Butter London created a two-toned and two-textured manicure for Kaelen. Union Jack Black [23] was topped with a matte coat, then a khaki Yummy Mummy was applied to create a half-moon design.
Photo courtesy of Butter London [24]
Rebecca Taylor
MAC tapped Marian Newman, a London-based nail artist, to do the nail design for Rebecca Taylor. She used one coat of a metallic silver color called MAC Screaming Bright ($16) — not even a topcoat was used.
Mara Hoffman
The nail forecast was cloudy at Mara Hoffman. With a blue and purple mix drizzled halfway towards the cuticle.
Ruffian
Models at Ruffian wore gold filigree appliques over various shades of polish. MAC nail artist Keri Blair customized each piece of nail jewelry.
Behnaz Sarafpour
The nails at Behnaz Sarafpour were touched by fairies. CND's Shelena Robinson created a half glitter design by mixing Spectrum Shimmer and Antique Bronze metallic dust over a clear top Coat.
Photo courtesy of CND [25]
Charlotte Ronson
Three blue stripes were painted on the nails of models at Charlotte Ronson, where turquoise-blue cascaded into a deep metallic hue.
Rebecca Minkoff
Light green is still in at Rebecca Minkoff, with models getting manicures that matched their minty eye shadow.
Nicole Miller
Black nails adorned with a green kaleidoscope design complemented the complex colors of the collection at Nicole Miller.
Kate Spade
Nails at Kate Spade mimicked the designer's famous prints, like preppy polka dots . . .
Kate Spade
. . . and neon yellow tartans.
Costello Tagliapietra
To match the ultrafeminine look at Costello Tagliapietra, nails were coated with Essie's Minimalistic ($6), a rose-petal pink.
Photo courtesy of Beauty.com [26]
Houghton
In one of the most decadent moves at New York Fashion Week, nails at Houghton were painted with one coat of OPI's Don't Pretzel My Buttons ($8) and then topped with the brand's limited-edition, 18-karat-gold-flaked top coat, The Man With the Golden Gun ($38). Gilded fingertips might just be Spring's ultimate accessory.
Photo courtesy of OPI [27]
Peter Som
The designer tapped Zoya to create three signature colors [28] ($24) to be used in the show. Look for Jacqueline, Neely, and Sharon in the trio.
Jason Wu
Jason Wu broke from the typical pinks-and-neutrals of Spring and opted for reinvented black nails: OPI's Suzi Skis in Pyreness ($8). This rich blue-gray color popped against the girlie frocks of his collection gorgeously.
Photo courtesy of OPI [29]
BCBG
Blushy pink nails — CND's Colour in Pink Lily — were the style at BCBG, perfectly complementing the models' rosy lips.
Photo courtesy of CND [30]
Richard Chai Love
A bronze-metallic shade adorned the nails at Richard Chai Love.
Lauren Moffatt
Models' nails were painted with a diagonal orange tip at Lauren Moffatt for a nostalgic but modern look. OPI's Don't Touch My Tutu served as the base, while A Roll in the Hague ($9) and Don't Talk Bach to Me ($9) were swapped off for the diagonal.
Photo by Hannah Thompson
Nicholas K
Fingernails were painted metallic blue at Nicholas K for a look that was both pretty and modern.
Jenni Kayne
Mustard-yellow tips gave the French manicure a modern twist at Jenni Kayne.
Honor
Nails were painted bone white at Honor to go along with the overall anatomy theme of the show and collection. Deborah Lippmann's Like a Virgin ($16) and Amazing Grace ($16) were used to get the milky-white color.
Erin by Erin Fetherston
Bold, metallic silvers adorned the models' nails at Erin by Erin Fetherston to match the shoes in the collection.
Creatures of the Wind
The look was retro-inspired at Creatures of the Wind, with nails painted using a matte top coat to cut down on shine. Essie's Topless and Barefoot ($8) was the color du jour.
— Additional reporting by Jessica Cruel