Nail Trends For Fall 2013
3 Fashion-Forward Fall Nail Trends to Try Right Now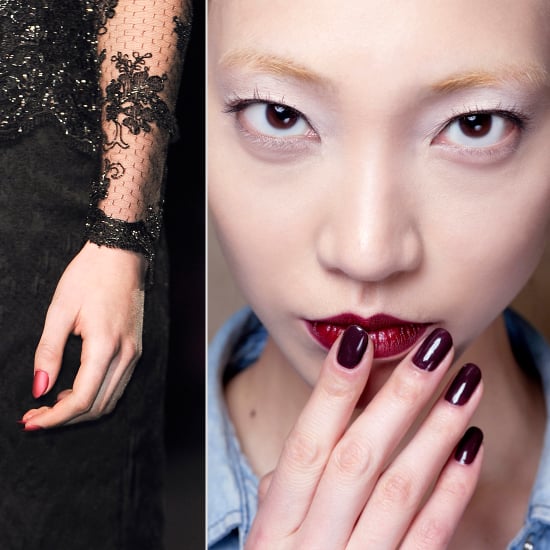 As you fully embrace Fall beauty trends this month, don't forget about your nails. Sure, you can just trade in your Summer hues for darker polishes, but there are a few other fresh ways to update your manicure look right now.
1. Go for deep royal shades. "Not jewel tones but darker, edgier tones of purple, teal, red, and brown," says Danielle Candido, the lead nail pro and educator for Gelish.
2. Nail art is still in. "Nail art is no longer confined to painting intricate designs on an individual nail," Candido explains. "Now, nail art is more conceptual and driven by the current fashion and textile trends." She recommends trying a matte top coat to give your manicure an edgier texture or leathered appearance. She also adds, "Bits of mylar and glitter added to gel polishes give the surface a chunky and gritty feel."
3. Dress up your nails for Halloween. "Beginners can make a spooky impression just by adding a matte top coat instead of a shiny one," she says. "A more advanced style is to drop little droplets of shiny top coat at the free edge." And for the very skilled DIYer, Candido recommends trying a tricolored fade of yellow, orange, and red, with holiday-themed appliqués of spiderwebs and ghosts on top.