In a world where terms like "natural" and "organic" are taking over the beauty aisle, many different ingredients are being called into question. Sulfates, phthalates, and parabens have all been put on the naughty list. Are silicones next? When you turn over your hair and skin care products, it's chemicals like dimethicone that give the serums that silky feeling. But we've got questions: Do they clog your pores? Can they cause buildup in your hair? Are they bad for the environment? Sometimes your products really can feel too good to be true. We answer all your questions and bust some myths ahead. Plus, there's a complete list of silicone synonyms (over 25!), so you know exactly what chemicals are lurking in your favorite beauty buys.
What is a silicone?
All silicones are derived from the element silicon (that's Si on the periodic table for those of us who slept during grade school science). Silicon oxide is a natural substance. It can be mined from things like sand, quartz, amethyst, and opal. Silicon-based polymers were first introduced into beauty products in the 1950s when dimethicone was created. The Environmental Working Group (EWG) describes dimethicone as a skin conditioner, protectant, antifoaming agent, and lubricant in the Skin Deep Cosmetics Database [1]. It's noted to have a very low hazard for humans, but silicones' effect on the environment has yet to be determined.
The benefits of silicone are mostly superficial. It's the ingredient most commonly used to give your beauty products a silky feel and spreadable texture. Think of it as a lightweight coat. Your favorite trench helps to seal in heat just as silicones help lock in moisture. However, they also keep the moisture out like your favorite coat, too. Your hair and skin need hydration!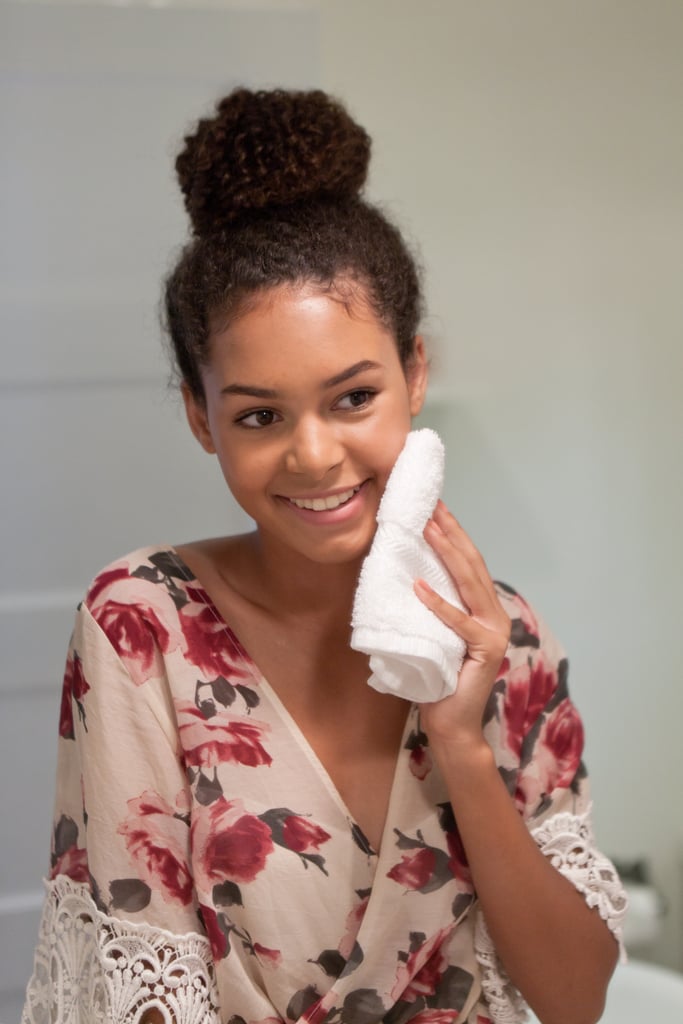 Pros
In hair products, silicones create a lightweight coating over each strand that temporarily gives high gloss and a silky feeling. They also help make detangling easier for coarser hair types. The hair serums featuring silicones smooth down the cuticle and allow hair to resist humidity and frizz by locking in moisture. The silicones form a protective barrier that strengthens the strands from heat damage.
In skin care, silicones are used as a slippery, lightweight base for active ingredients. The silicone stays on the surface as a protectant, while the important ingredients melt deeper. Silicone makeup primers also create a layer of protection on the top of skin by filling in crevices and smoothing out bumps. Despite the rumors, silicones DO NOT clog pores. The chemical makeup doesn't allow the ingredient to enter pores, merely sit on top.
Cons
So why do cones have a bad rap? While there are silicones that evaporate easily, some (like dimethicone) can be resistant to wash away, especially if you're layering a silicone-based conditioner, mask, and serum. In the end, the only thing that can remove the buildup is sulfate shampoo — and surfactants have their own set of issues. If you decide to go cone-free with your beauty routine, pure oils are an acceptable substitute.
Amino Bispropyl Dimethicone
Aminopropyl Dimethicone
Amodimethicone
Amodimethicone Hydroxystearate
Behenoxy Dimethicone
C24-28 Alkyl Dimethicone
C30-45 Alkyl Dimethicone
C30-45 Alkyl Methicone
Cetearyl Methicone
Cetyl Dimethicone
Cyclomethicone
Cyclopentasiloxane
Dimethicone
Dimethicone Copolyol
Dimethiconol
Dimethoxysilyl Ethylenediaminopropyl Dimethicone
Hexyl Methicone
Hydroxypropyldimethicone
Lauryl Methicone Copolyol
Methicone
Phenyl Trimethicones
Polydimethylsiloxane
Stearamidopropyl Dimethicone
Stearoxy Dimethicone
Stearyl Dimethicone
Stearyl Methicone
Sterile Dimethicone
Trimethylsilylamodimethicone
Vinyl Dimethicone
Pin It!