Natural Hair and Skin Care Tutorial 2010-01-14 13:00:44
The Natural, Week 3.5: Clarifications and Homemade Makeup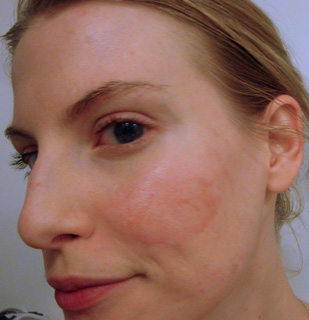 I promised to post the results of my experiments with using cherries as cheek and lip stain this week, so here they are. I literally just walked around rubbing some bing cherry halves on my face, much to Mr. Bella's bemusement. The results were pretty great, and the rest of the bag of cherries was delicious (om nom nom nom). The color was really natural and lasted several hours, and although it was a little sticky at first, it dried completely in about 10 minutes. Just remember to blend or else you'll end up with doll cheeks.
I tried this with pomegranate seeds too, but it didn't work and the juice was way runny. I've also seen a lot of comments asking me to detail exactly what I'm doing now, since I've adapted my recipes so much over the past few weeks. To see that list and hear about my less successful makeup-making attempts, just keep reading.
On to not-so-great cosmetic creation. After my success with the cherries, I got overconfident and tried to make rudimentary kohl eyeliner/mascara out of black sesame seeds and soot. But A) turns out making soot is surprisingly hard, and B) also turns out black sesame seeds are white on the inside and really hard to crush up into suitably fine powder if all you have is a fork. So back to the drawing board on that one. Anybody got a better recipe?
As far as what I'm currently doing goes, I apologize for all the switching up — it's just that I'm trying to develop a routine that works well for me. So here's what I'm using as of right now:
Lemon dilution hair rinse (for acid to help pH balance, shine, light cleansing)
Twice weekly baking soda dilution hair rinse (for base to balance pH, oil absorption)
Salt dilution hair rinse/spray (for daily, gentle base to balance pH, body, volume)
Argan/neem oil (both for hair detangling and softness, argan as my facial moisturizer)
Geranium oil (a couple drops in final rinse makes hair smell great and softens)
Almond oil (yummy-smelling body moisturizer)
Twice weekly awesome honey cinnamon nutmeg mask (for skin clarity, acne, scarring)
Tea tree oil (for acne spot treatment)
Powdered rice (weekly facial exfoliation)
Bing cherries (rouge)
Raw potato slices (currently experimenting to see if they help with dark circles; will let you know if they do!)