Natural Hair and Skin Care Tutorial 2010-01-19 08:00:49
The Natural, Week 4: Adios, Antiperspirant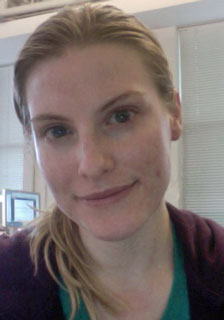 Hi! I'm just one week away from having been natural for a full month, and a ton has changed since I started. If you want to see what beauty recipes I'm using now and see how a cheek and lip stain made of cherries looks, just check out my mid-week post from a few days ago.
Since then, everybody's been on deck at Sugar HQ for all the award shows we've been covering. This week, I kept my goals simple: go antiperspirant-free for the first time ever. It's been an enlightening and sweaty experience, and if you're considering switching I've got  a few tips. I'm also getting ready to make a couple of new makeup recipes, and I'm really excited for them. To find out what I've done and what I'll be doing, just keep reading.
This week, I gave up antiperspirant for the first time in my life and replaced it with tea tree oil and baking soda. I know there are a lot of natural deodorants out there, many of which I'm sure are great, but I wanted the least expensive and most natural possible, and both of these options came reader recommended. I find that they both deodorize well, but they also have their drawbacks, and neither one of them stops you from sweating, so if you've got a big presentation or a hot date, I'd say hold off.
The tea tree oil smells very clean, but it stung going on, and I experienced some underarm redness from it. As far as lasting power goes, it held up well for hours, but then I went for a walk, and when I got back and took off my coat the house was filled with a pungent tea tree and B.O. melange that brought back memories of junior high gym class. I'm torn because it lasted a long time and the initial scent was good, but I'd be pretty embarrassed if I was on the elliptical and it just stopped working.
For the next couple of days, I dusted baking soda under my arms. This one eats odor really well, but it gets on clothes, so I either need to wait a while to let it sink in, put it on the evening before, or avoid pulling any dark-colored clothing over it. It lasted really well and was gentle on my skin, though it did get a little crusty at the end of the day. It also initially absorbed sweat, but it didn't stop it for long.
As a control, I went without any kind of deodorizer for a day. The difference, honestly, wasn't enormous, but I could tell at the end of the day, and that's when it really counts.
As for the makeup I'll be cooking up this week, readers Ishyy and Little Pepper (who also told me about her fab sea salt spray) both have awesome cosmetics recipes that could make me say goodbye to store-bought stuff forever. Ishyy's is a family recipe that uses a mamey (aka sapote) or avocado pit to make mascara. I'm still drying the pit, per the recipe, so we'll have to wait a few days for this one.
Little Pepper tipped me off to a great eyeliner recipe that uses nothing but a single almond and a spoon. I'm doing this one tonight, so stay tuned for pics in the next couple days.