Natural Perfume-Making Is on the Rise
More People Are Making Their Own Natural Perfume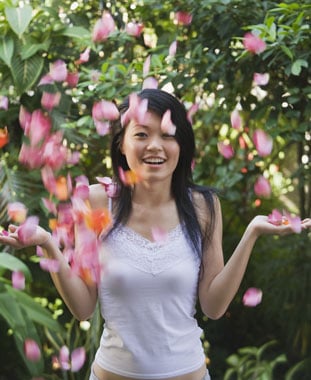 In effort to eschew conventional, overly potent synthetic scents, some people have been hitting the bottle. That would be the 190-proof bottle of Everclear or neutral grape alcohol, which are commonly used as bases for creating homemade scents. As ambitious as it may be, natural perfumery involves mixing or pressing together stems, herbs, and petals to make tinctures, and it's an art that is on the rise.
Call it a modern form of alchemy, if you will. Or just call it a way to become reconnected with what nature has to offer. "People are so often in front of their computer screens and detached from the sensual world," natural perfumer Mandy Aftel told the NYT. Natural perfumes may not be cheap, but they're appreciated. In fact, instructor Jeanne Rose, who teaches fragrance classes throughout the country and out of her San Francisco home, recently added more classes to her roster due to popularity.
And there's also the Internet, where perfumer Anya McCoy offers online classes as well as an outlet for DIY fragrance makers through her Yahoo group. Making your own scent may take some time and practice, but have you ever tried it out before? If not, would you consider becoming a natural perfumer?