Nervo Twins Are the Newest CoverGirl Spokesmodels
Meet Aussie DJ Duo Nervo: The Edgiest CoverGirls Yet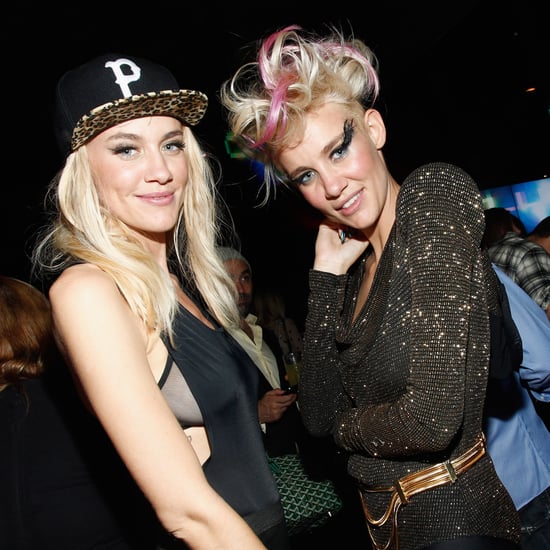 The statuesque Australian DJ duo Nervo are making major waves in the music and beauty scene. They're the newest faces of CoverGirl, and while there are other pop stars with the coveted title, twins Liv and Mim Nervo are the first faces from the electronic dance music (EDM) scene to represent the brand. "We're still pinching ourselves. It's incredible," Liv said of the honor. "It means we're joining the long list of ladies who are leading the way of individuality, being confident in your own skin, and feeling beautiful," Mim added.
To learn more about these beauties, read on.
They're bringing an edgier vibe to the CoverGirl image with their bold, signature beauty looks. "Mim does her mohawk hair every time we DJ. That's her 'I'm ready to go on' thing," Liv said. And you can always spot Liv with a hat on top of her blond hair. "I feel like a lot of people are doing the bowler hats," Mim said. "Liv's been wearing them forever . . . since the womb." Liv collects hats from her travels, but her favorite place to purchase them is through a milliner in New York City's Koreatown.
Another beauty must have? Liquid liner. "We do not go out with out winged liquid eyeliner," Liv said. "We don't feel normal without our liquid eyeliner." And when they're not collecting tubes in their handbags, they also love to play with the CoverGirl Blast FlipSticks ($8). "We've been using them for lip color, but also for blush," Mim said. "If you've got a good base, putting a little bit of lipstick on as [cheek] rouge really stays on for quite a while."
As for their music inspirations, they have a whole list of UK heroes: Fatboy Slim, The Prodigy, Daft Punk, and Basement Jaxx. "Also, I've been listening to Ellie Goulding's album a lot recently," Mim said. "It's just stunning."
The models-turned-musicians are embracing their new CoverGirl titles, and bringing a new international view of beauty to an American brand classic.