New Bare Escentuals Buxom Expandable Mascara Review
The Mascara Equivalent of Optimus Prime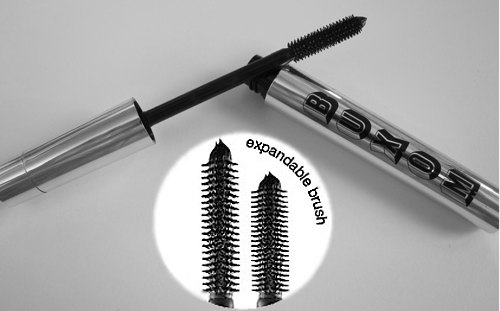 Are you endlessly delighted with dial-a-lash type mascaras, rotating wands, vibrating brushes, and other novelty eyelash-enhancing miscellany? Then you should be delighted about the latest in mascara technology: Buxom Amplified Lash Mascara ($22).
"And why should I be making a run on Sephora for this stuff?" you may be asking. Because it transforms. That's right, the wand on this new product gets longer or shorter with a twist of the cap. I tested the wand at different lengths so you can see whether it really does make a difference, so to see the expandable brush in action, just keep reading.
On the left side of the image, I've applied Amplified Lash with the brush wound as short as it will go, and on the right side, I applied it with the brush fully extended. As you can see, the results are substantially different. With the brush short and thick, lashes come out dark and dramatic, while with the wand fully extended, they're softer and more subtle.
The formula is nice, and the wear on it is good, like most Bare Escentuals mascaras. However, the most interesting takeaway for me is just how much of a difference the brush makes. A good formula is necessary, sure, but the results you get are a lot more dependent on the arrangement of bristles on your wand. So if you find a wand you adore but the mascara it comes with is flaky or short wearing, I'd suggest keeping your brush and simply switching products.