New Beauty Products For 2012
4 New Products to Watch Out For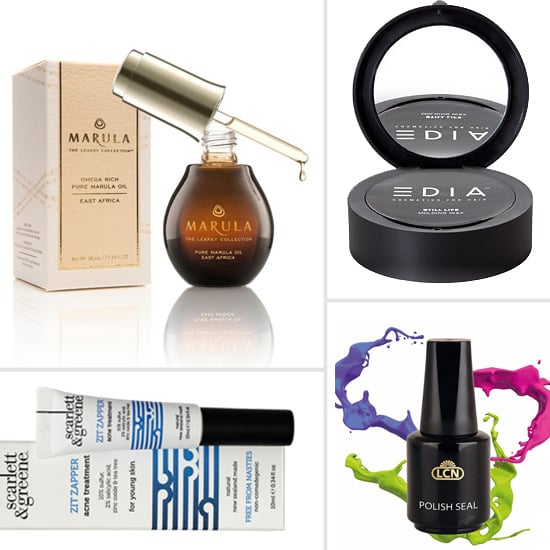 If this year's Cosmoprof North America show is any indication of what's to come, then we'll be seeing beauty products natural enough to eat. But there were plenty of other offerings (beyond the edible kind) that you'll want to keep your eye out for. See four top picks when you read more.
An oil stronger than argan: If you haven't heard of Marula oil, then get ready to see this potent ingredient make a big name for itself in the beauty world. Harvested from the nut of the African Marula tree, this oil is the main ingredient in Marula — The Leakey Collection's Marula oil ($78). With higher levels of antioxidants and omega-9 than argan oil, this nongreasy hydrator also has anti-inflammatory and antimicrobial properties, making it the perfect treatment for acne.
A hair product line for style-savvy people on the go: Fresh off his nomination for hairstylist of the year at the North American Hairstylist Awards comes DJ Riggs and his new product line, Edia. The molding wax ($30) is a standout, allowing you to add instant texture to your strands anytime. And you won't get any inadvertent streaks or clumps, either. There's a reason the folks behind the brand call it "cosmetics for hair": this compact comes with mirror included.
An acne cream that doesn't stink: Sulfur is a common ingredient in acne-blasting creams, but the problem is that it smells like rotting eggs. Not so with Scarlett & Greene's Zit Zapper ($31). What you get instead is a light lemon scent. Salicylic acid and tea tree oil also help to keep acne at bay.
A light-cured nail polish sealer: LCN has created a Polish Seal ($22) top coat that gives the long-lasting benefits of a gel manicure but without the harsh removal process. The solvent-free polish is sealed by light curing, and all you need is a 60-watt lamp (or a UV lamp) and about three minutes to set it. The best part is you can easily remove it without acetone, so there are no dry, brittle, scraped-up nails left behind!