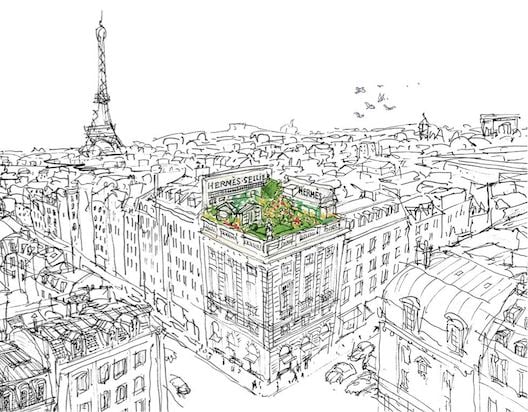 Hermès has been crafting scents reminiscent of gardens in gorgeous locales: beside the Nile, along the Mediterranean, and in a Indian garden after the monsoon. Now they have a new fragrance, Un Jardin Sur Le Toit (out in April), that's supposed to reflect the experience of standing in the rooftop garden of the Hermès building at 24 Rue du Faubourg Saint-Honoré in Paris. If you've loved the brand's other garden scents, or you're on the lookout for an adult but sweet and slightly fruity warm weather fragrance, there are several reasons you should check this one out. To see why, just keep reading
I smiled the minute I spritzed on Le Toit, because it has a near-irresistible burst of nasturtium and a hint of loamy soil at the top. This is a good-mood scent if there ever was one, and the perfumer, Jean-Claude Ellena, clearly adores the garden he's chosen to translate into a fragrance.
Past the first sniff, the scent transforms, and a crisp green apple note dominates the central accord. It's a much more tart, realistic apple than DKNY Delicious, but fans of that perfume will also likely adore this one. I see it as a more mature alternative to the DKNY scent. Once the apple settles in a little, it blends into a light floral with lots of magnolia. Again, it's not the soft, creamy magnolia you might expect, but a crisp, realistic one.
Le Toit dries down to a grassy, slightly acidic floral that feels transparent on skin and perfect for extremely hot weather; I've been wearing it around San Francisco during our sudden heat wave, and it's been marvelous. I'm already a Jean-Claude Ellena fangirl, and this scent doesn't disappoint. It may not smell exactly like a city garden, but it makes me just as happy.
Image courtesy Hermès