New Product Review of Jemma Kidd Pro Skin Perfection Kit
This Jemma Kidd Kit Keeps You Concealed and Hydrated
As POPSUGAR editors, we independently select and write about stuff we love and think you'll like too. POPSUGAR has affiliate and advertising partnerships so we get revenue from sharing this content and from your purchase.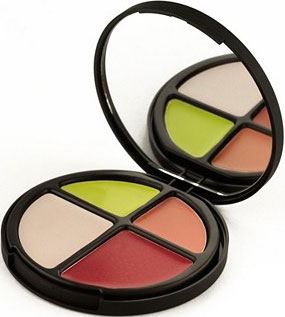 As someone with naturally dry skin, I'm always a fan of cream formulas, since they give me plenty of coverage without further desiccating my face. So the buttery color-correcting concealers in Jemma Kidd's new Skin Perfection Kit ($36) are a boon. The kit has lime and apricot-hued concealers designed to hide redness, sallow skin, and under eye circles, along with a jojoba oil-infused luminizer and a cream blush.
The products really do work—I subbed them for concealer and foundation and got pretty, natural-looking results. I only have two concerns. One, the color correctors are a little too movable and get into the creases under my eyes in no time. And two, they melt quite a bit on my fingers, and I doubt they'd hold up very well in warm or humid weather. Otherwise, though, it's a cute, handy kit for concealing on the go.