New Varicose Veins Treatment Approved by FDA
FDA Approves New Varicose Vein Treatment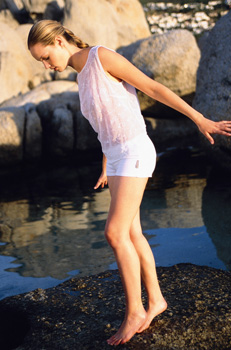 Whether they're caused by age, genetics, or frequent standing, let's face it; no matter how much we wish they'd go away for bikini season, varicose veins happen. While mostly prevalent in the more mature crowd, they can affect people of all ages and can range from barely there spider veins to ones that are large, protruding, and painful. While the latter can involve both sclerotherapy (injections made by doctors to collapse vein walls) along with more invasive treatments, smaller veins often just require sclerotherapy.
Enter Asclera. Thanks to a recent FDA approval of this injectable drug, there's another minimally invasive treatment option available come next month. Asclera, aka polidocanol, has been used successfully in Europe for years and is lauded for its impressive safety record. The drug, which is approved to treat the tiniest of spider veins up to bulging veins of three millimeters, has also been known to have fewer side effects, like temporary discoloration, ulceration, or open sores.
Veins, which can be quite painful in some circumstances, are typically more of a cosmetic problem than anything else. Have you ever had treatments done for veins before, and if not, would you consider having something done? Tell us about it in the comments below.