New Wedding Plastic Surgery Show to Debut on E!
TV, Plastic Surgery, and Weddings! What Could Go Wrong?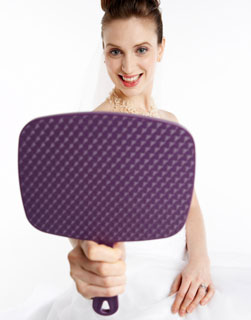 E! has officially given the green-light to a new show called Bridalplasty, which promises to combine extreme cosmetic surgery with weddings.
Participating brides will compete to win extensive pre-wedding plastic surgery. The winner of each week's challenge will be given the procedure of her choice, and the final overall winner will get a "dream wedding" where she shows up to "surprise" her groom, friends, and family with her wholly unrecognizable face and body.
Sounds fun and healthy, no? Besides the fact that this doesn't sound like much of a dream wedding for the groom, who'll be shocked by somebody who no longer even looks like the woman he loves, the whole concept seems wrongheaded. Will you consider watching this, or do you think E! should nix this one?