Nina Dobrev Skin Care Tips | Interview
5 Ways to Beauty Nirvana, According to Nina Dobrev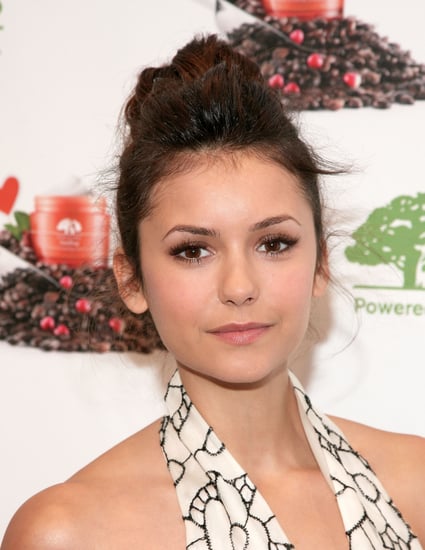 It seemed only appropriate that we ask The Vampire Diaries' Nina Dobrev her secret to healthy skin — and looking totally refreshed — at an early-morning event for Origins' latest product, the GinZing Energy Boosting Moisturizer ($27). The brunette starlet just finished filming the fourth season of her hit CW series, and made a quick pit stop in NYC before officially embarking on her Summer adventures. Read on for what she revealed about her skin care routine, the weirdest beauty treatment she's tried (recently), and what she can't leave the house without.
1. On her skin care routine:
Nina spends much of her days on the Vampire Diaries set in full hair and makeup, so it makes sense that she takes her skin care routine very seriously. "Even when it looks like I'm not wearing much makeup, I totally am. So, as soon as I'm done on set — I don't even wait until I get home — I'll use a makeup wipe, wash my face, and then use a hot towel. I use it to let my skin breathe, let the pores open up, and then I put tons of moisturizer on."
2. On her mom's beauty advice:
Mother knows best, right? "My mom told me once that if you put an egg in your hair, it will make it supershiny." In fact, Nina's mom is onto something — our favorite DIY hair recipe masks serve as further proof.
Nina's Summer beauty essentials, plus more, right here.
3. On how she avoids "looking tired":
Early on-set times mean even earlier wake-up calls. Translation? Nina has learned her fair share of ways to beat the morning blues, and it starts with getting those hours in. "I'm very serious about my sleep. Moisturizing my skin, drinking water, and eating right definitely helps energize me in the morning. I also drink teas, like macha green tea."
4. On one of the weirder beauty treatments she's tried:
We all need a little beauty-themed pampering sometimes, even if the process doesn't necessarily include eye masks and massages. Here's Nina's take: "On my trip to Mexico, I did one of those mud body wraps, after which they take you to the ocean to wash it off, then wrap you up in a towel. It's pretty amazing and you glow afterward."
5. On what's in her bag:
Like many women, there are Summer beauty staples you'll never leave the house without. We asked Nina to name three. "I always have sunscreen, waterproof mascara, and sunglasses. Dior has a great mascara and also LashBlast by CoverGirl ($9). Those are two of my favorites."