Nuance by Salma Hayek Launching in CVS in August 2011
Salma Hayek Launches Nuance to Honor Her Grandmother and Every Woman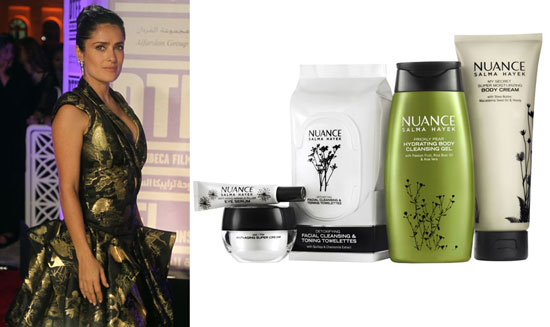 Salma Hayek unveiled the long-awaited products from her eponymous line for CVS last week in NYC. The effort, which has been a three-year-long labor of love for the actress, will finally arrive at outlets of the retail chain this August. Salma revealed that the items are en route to stores in a February interview with T Magazine, saying that her grandmother, who passed down beauty secrets during Salma's youth in Mexico, served as inspiration for the cosmetics, skin care, and hair care collection. She presented a range of merchandise including hydrating and toning cleansers, gels, and towelettes as well as shampoos, conditioners, masks, and volumizers. Her makeup includes brighteners, "eye pods" with four eye shades, and lots more — Salma and CVS also plan to introduce additional goods as the partnership grows. Salma said:
On her grandmother being her inspiration: "There is another woman in my life, and I almost want to stop and not talk about her because I'm afraid I might cry . . . which is my grandmother, who was so important to me . . . I can say she was my inspiration, but I can never explain to you in how many ways. But I can say to you that she lived in a time, in a country, when being a woman was even a lot harder than it is today. And that, even though she did not go to college and study medicine . . . she was so smart. And, in many ways, life did not do justice to her genius. She was very close to me because I was her hope. And through this line, I feel I do a little bit of justice to her."
On being actively involved in creating her products: "I wasn't willing to say, 'Why don't you put a little aloe vera in the creams? I hear it's good for you.' I wanted to go into the lab and work with the people, which by the way I'll tell you, once we picked the lab, some of them were like, 'What?!' Some of them were not happy to have me in there. Even though some of them were very impressed when I sent a list of ingredients . . . they said, 'Does she have a background in chemistry?' or 'Where did she find this stuff?' In the witchcraft stand of the Mexican markets, that's where I found some of it!"
To see what else Salma said about the line, just keep reading.
On the benefits of working with a brand like CVS: "If I had gone to a mainstream, luxury brand, I would have not been able to give you the quality of product that I am giving you today."
On thinking of her consumers: "I guarantee you there is not one product in this line that I didn't think about with love, and work so hard, and thought of every person that would use it."
On her inspiration: "I have a body wash . . . [my inspiration for] the smell. I said when you wake up in the morning and you don't feel like confronting the day and you're exhausted, 'How do you have this moment for yourself?' . . . And you look at your face, and you realize you're back to being you. This moment in the shower, I thought about all of us, this moment in the shower — to make you think, 'Yes! I can do it! I can confront this day with an optimistic attitude and celebrate myself and go on to my next routine!' Because I think it's important."