Oil Products to Help Dry Skin
Fall Skin Care SOS: Bring On the Oil Party
As POPSUGAR editors, we independently select and write about stuff we love and think you'll like too. POPSUGAR has affiliate and advertising partnerships so we get revenue from sharing this content and from your purchase.
The following post was written by Ivy Boyd, who blogs at Wake Up For Makeup, and is part of POPSUGAR Select Beauty.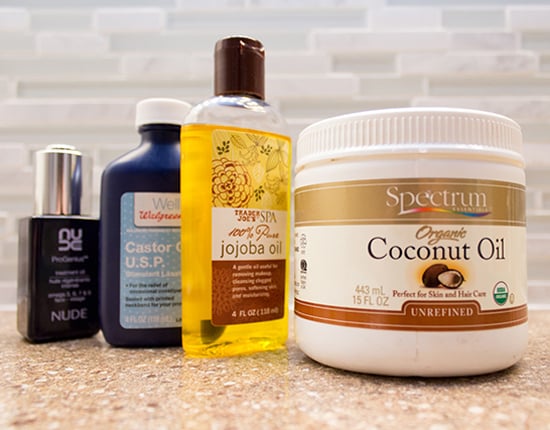 I don't even know who my skin is lately. We used to be pretty tight, laughing all the time, doing makeup together, and having a great time. Well, it's like my skin heard Fall was coming and decided that would be an excellent time to freak out and lose its mind. My skin has always been on the dry side, but it was suddenly full of dry flakes. I started breaking out all over and my foundation just looked gross due to my skin's sudden alligator texture.
It was truly time for some skin rehab! Believe it or not, oils can become your skin's new best friend and initiate a skintervention. Here are some wonderful ones, where I use them, and why.
Coconut Oil
I use coconut oil as an all-over makeup remover. Instead of using an old-school cold cream filled with mineral oil, I take this antibacterial, pina colada-smelling goodness, warm it in my hands and massage into my face and eyes to dissolve makeup. I follow with a hot washcloth to wipe away the goods. I have also shaved with coconut oil and it's 1000 times better than any shaving cream or gel. Try Nature's Way coconut oil ($11, originally $15).
Jojoba Oil
Jojoba is very similar in chemistry to our skin's own sebum so it makes a great makeup remover, too. I like to add some into my homemade eye makeup remover and use as a facial cleansing oil as well. Try Jojoba Oil by Hobacare ($17)
Castor Oil
This was a tad embarrassing to purchase as I had to venture to the laxative section of Walgreen's. I confidently explained to the young man working in pharmacy, "Yeah, this is for my eyelashes." I'm sure he thought, "um yeah, sure it is." But in all seriousness, castor oil makes a great lash and brow growth serum. If you do serious eye makeup every day like I do, your lashes get roughed up and need a little spa treatment. Castor oil also helps to unclog pores when mixed with another natural oil like the aforementioned jojoba oil. Look into OCM, or the oil cleansing method, for more info on that. Try Now Solutions Castor Oil ($7, originally $9).
Nude ProGenius Oil
So this is the only product you won't be able to get in a drugstore or supermarket. And yes, it's pricey. But this is the best skin oil I've used, and you will see brighter, softer, more even skin tone after the first use. This oil is super cool because it actually tells your skin to begin generating its own natural anti-aging properties. Science! I use this at night after cleansing, warming in my hands and patting all over my face and neck. I follow with a rich night cream. Try Nude Skincare ProGenius Treatment Oil ($78).
So, if your skin is also acting like a juvenile delinquent, head to your local drugstore and fill a basket with some skin care SOS oil treatments. I think your skin will thank you and start getting it's act together before you know it.