Oscars Makeup: Bruce Grayson Predicts Beauty Trends For 2012
An Oscars Insider Predicts What You'll See on the Red Carpet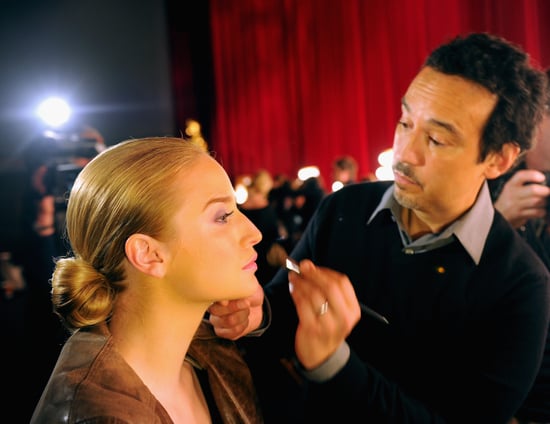 Bruce Grayson is the man who keeps the Oscars beautiful. As the head makeup artist for the Academy Awards, he's the one who makes sure that everyone appears on stage looking their best, whether their mascara is running from tears of joy or their lipstick has faded from an evening of air kisses. The Olay brand ambassador recently revealed what it's really like backstage, what stars will be wearing this year, and what he's excited about for this year's show. To get a taste of what's in store for Sunday, just keep reading.
BellaSugar: Is there a guiding principle behind beauty at the Oscars?
Bruce Grayson: The Oscars is all about balance. It can never just be about the makeup, or the hair, or the dress — it has to be about the whole thing.
BellaSugar: What trend is going to define the red carpet this year?
BG: Translucency: of lipstick, cheek color, and foundation, too. I believe that to get glowy, beautiful skin, you can't be wearing a heavy foundation. This year for the women on the red carpet, it's going to be about celebrating who they are, their natural feminine elegance.
BellaSugar: So do you know what people's makeup is going to look like beforehand?
BG: No, actually. We discover it just like you do, on Oscar night. I have to say, it's still really exciting to see celebrities enter the Kodak Theatre.
BellaSugar: How do you handle touch-ups for people who have unique makeup, then? Like an off-the-wall lip color or something?
BG: Most of the time when people wear something really exceptional, I'm told by their team that they're carrying a small sample for touch-ups.
BellaSugar: Do you always touch up presenters' makeup before they go out on stage?
BG: We try to; we at least suggest to people that they let us touch them up. Sometimes people are nervous or tense about going out and they don't want us to, so you have to convince them. That's part of the job, too.
BellaSugar: Super-long false lashes are everywhere right now, but will we see them on the Oscars red carpet?
Bruce Grayson: Sometimes they can get a little out of control, and that's not really an Oscars thing to do. What you get with too-long lashes is all lash and no eye, because it creates a big shadow. It looks bad on camera, too. Sometimes the straight-on shots are OK, but when they're in three quarter or even quarter profile it can be a serious problem.
BellaSugar: Who are you most excited to see come down the red carpet?
BG: I'm excited about what Angelina Jolie looks like, what lipstick she's going to wear. She went red at the Golden Globes, then changed it up for SAGs. I'm sure she's going to do something completely gorgeous.
BellaSugar: What look from last year did you love the most?
BG: So many look beautiful, and I'm always curious to see who sells it best. I would say, though, that I loved the look of Reese Witherspoon, when she did the Bardot-esque hair and makeup — the bumped-up hair, the pale lipstick, the '60s eye.