Our Review of Waxelene, a Petroleum Jelly Alternative
Petroleum-Free Waxelene Is the Bee's Knees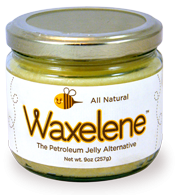 Looking for a plant-based alternative to petroleum jelly? Enter Waxelene ($6 for 2 oz.), which touts itself as just that.
Waxelene is made in San Francisco, using natural, organic, and sustainable ingredients and even comes in a recyclable glass jar with a metal lid. It contains organic rosemary and soybean oils, natural beeswax, and Vitamin E oil, which all help to protect and soften, as well as lock in moisture and regenerate cracked and broken skin. I was more than impressed by its thick, non-greasy consistency, and have been applying it everywhere I normally put petroleum jelly (my lips, eyelashes, under-eye area, feet, etc.), as well as using it to tame flyaways and moisturize my cuticles.
My verdict: it's pretty amazing. Not only are the ingredients top-notch, but it delivers the same great results as petroleum jelly. I love how it goes on; it's clear, with subtle exfoliating granules that dissolve as you rub them in. I also find that it stays put on my lips far longer than petroleum jelly did. So far, I have no formal complaints, and it has officially replaced petroleum jelly in my medicine cabinet and my life.