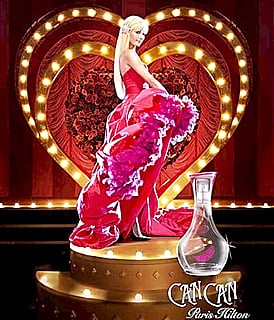 One of the challenges in reviewing celebrity perfumes is that it's difficult to ignore your opinion of the famous person behind the juice. Would Lovely Sarah Jessica Parker [1] have been such a runaway hit if, say, Bea Arthur were behind it? (I would so buy a Bea Arthur scent, for the record.) Or would a well-done perfume like Britney Spears [2]' Curious be considered more sophisticated if it weren't connected to a pop singer?
Which brings us to Paris Hilton [3] and her fourth fragrance, Can Can [4]. I normally wouldn't pick up a perfume by Paris; after all, I need my $55 more than she needs it, and I can't imagine telling people that I'm wearing Paris Hilton. But I wondered if my opinion of Paris was clouding my judgment. So to get an honest and fair opinion of Can Can, I set up a blind smell test by inviting other Sugar girls to smell the scent — without knowing its identity. Would they like Paris' perfume if they didn't know who was behind it? To find out, .
Yesterday afternoon, I sat in a small room and invited everybody to come in for a sniff. I didn't tell anybody what they were smelling until after they'd shared their opinions, and I remained stoic and neutral. Here's what they had to say:

CitizenSugar [5] liked it; actually, she was the only one of the group who said she'd definitely wear it. "Is this Aquolina Pink Sugar?" she asked.
TeamSugar [6] said it was "overwhelmingly sweet, like smelling cotton candy. It's not a classy or sophisticated fragrance."
GiggleSugar [7] said it was too sweet for her. "I do like it, but I wouldn't wear it," she explained. "It's a very sexy fragrance — like sophisticated cotton candy."
LilSugar [8] said she "kind of liked it," and would wear it if the scent faded a bit.
YumSugar [9] said it was too feminine and girly for her own tastes, but that it was a fine scent. "It smells like sugar — like cotton candy," she said. "I'm not that sweet, but I could see some people in Sugar HQ wearing this."
GeekSugar [10] wasn't a fan. "Maybe it's because I have Skittles in my mouth," she said. "But it's too sweet and candy-ish. It's not awful, but I wouldn't wear it."
So, there you have it. Incidentally, after discovering the perfume's identity, everybody felt that Can Can captured the essence of Paris Hilton. I agree with them; it's fun and flirty, but it's not cloying or juvenile. Ultimately, though, there isn't much substance to the sweetness.