Party Updos For Holiday 2013
4 Party Updos That Will Jump-Start Your Holiday Hair Plan
If you're anything like us, your schedule is packed with holiday soirees galore: your friends' annual potluck, pre-Christmas cocktails, and that fancy seasonal charity event. Plus, the year's end means you'll be putting in overtime hours at work and shopping for gifts. Who has time to hunt for holiday hair tutorials? (Not us.) The good news is, last night's Trevor Project Benefit in LA offered plenty of celebrity updos for inspiration. So allow us to help you cross one more thing off your list by copying the red-carpet-approved styles below.
For Fringe Fanatics
Blunt bangs can get in the way when you attempt your holiday updo, but take your cues from Beth Behrs, and let your fringe breathe. The beauty of this topknot is that you don't need to add any hairpieces (like a bun shaper) to create volume. Hairstylist Aviva Perea slicked hair up section by section to avoid lumps using Oribe Surfcomber Mousse ($37). Then, she split the high ponytail into two sections and pinned down the first section in a doughnut shape and repeated with the other section. Don't have bangs? Clip-in fringe ($26) can also work.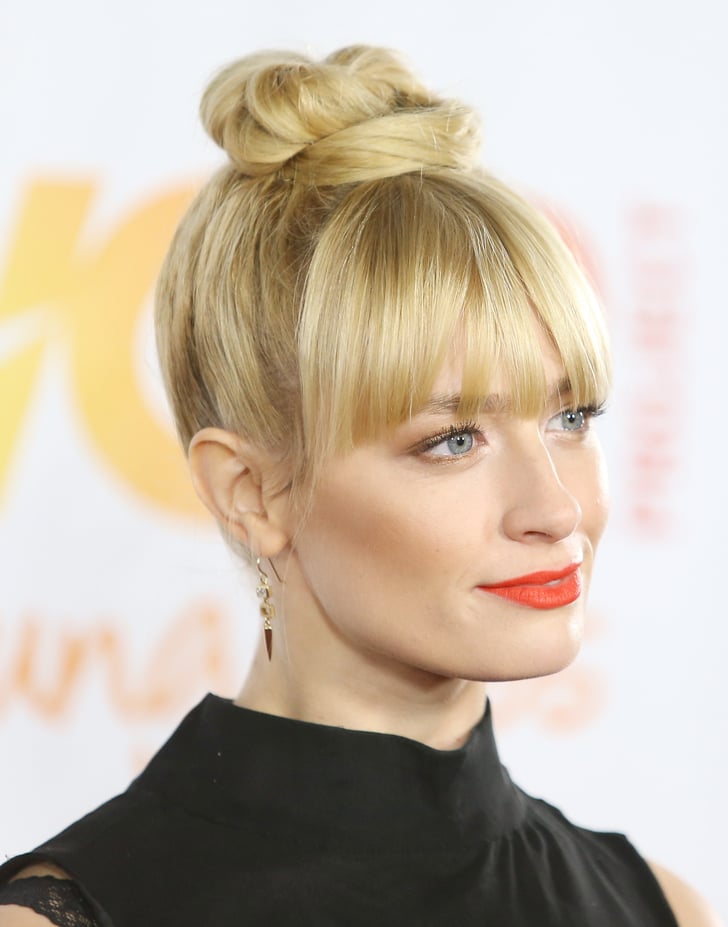 For Plait Players
You might want to take this photo to your stylist for help, but Nina Dobrev's braided chignon is worth taking a stab at re-creating. If you don't have time for the braid bar, start with two pigtail plaits secured at the ends with clear rubber bands. Weave the two braids into a bun by pinning each plait in an oval shape (tip: use bobby pins the color of your hair to hide them better). The beauty of this look is the imperfection, so make sure to pull out a few face-framing pieces to soften the look.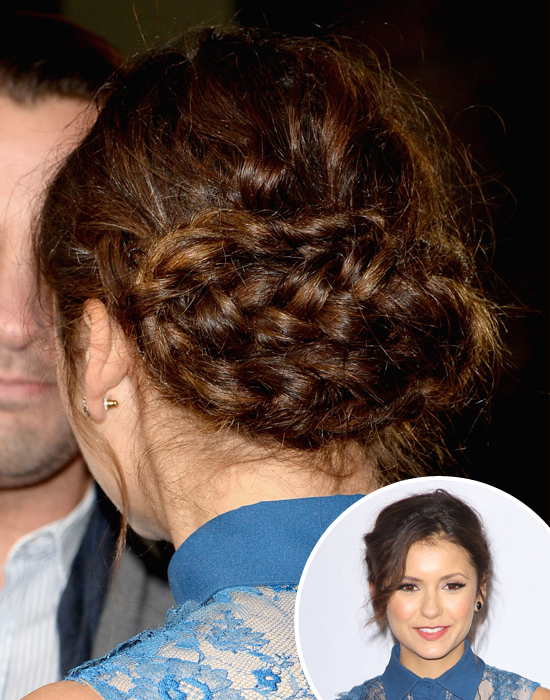 See more party hairstyles from the Trevor Project red carpet after the jump.
For Ballerina Wannabes
Amber Riley's topknot is the updo to whip up when you only have five minutes to convert your office hairstyle into a nighttime look. All you need are a ponytail holder and a bun shaper ($6), which will easily fit in your desk. Start with a high ponytail, and slip the ends through the doughnut hole. Comb hair over the mold, and finish by tucking the ends underneath. Amber's high bun had added texture because of the microbraids. You can get a similar look by doing a few smaller twists in your ponytail before making the bun.

For Second-Day Stylers
With such a busy social schedule, you didn't have time to wash (oops). Take on Candice Accola's braided look for your next after-5 event. You actually might recognize this french braid from your elementary days, but it's one style you're never too old to try. Use dry shampoo on your strands before you braid it to get the best grip. Section off a small portion of hair in the top center with a clear elastic. Then, crisscross the middle pony with sections on each side, creating a classic french braid. Polish it off by using a few bobby pins to tuck the tail under the nape. This is one case where flyaways are welcome.