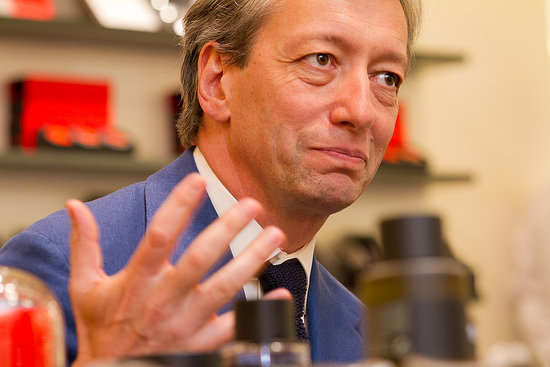 If you have even the slightest interest in fragrances, you know of Frédéric Malle, the founder of Editions de Parfums. Since debuting 11 years ago, the collection has given some of the most creative noses in the business an opportunity to create scents outside of the usual constraints of marketing needs. This past Saturday, we caught up with Malle at Barneys New York to talk about his Parisian upbringing, copycat perfumes, and influences. Keep reading for the interview.
BellaSugar: You come from a strong line of filmmakers and perfumers. How did your Parisian upbringing in that environment inform your decision to go into perfumery?
Frédéric Malle: It was quite influential. My mother was talking about perfumery all the time. I suppose it was linked to my father, because he created the company Christian Dior and she worked there for 47 years; I suppose that it was a way for her to keep a connection to him. So it's something I have always heard about. Now, I think what was more important to my brother and I, we were brought up amongst people that were really curious and interested in others and in the world. Very naturally we used to hear about politics, the latest exhibits, the latest books, and of course movies; I used to go at least three times a week to the cinema. It was a period where things were much more creative than they are today. I know I sound like an old grouch, but if you look at the design of the '70s, it was a much more optimistic and amusing period, in a way. I grew up in the world of Yves Saint Laurent; all the women in Paris were dressed in Yves Saint Laurent from head to toe. It was a very peculiar spirit. . . . I lived in that sort of world, so when you're brought up in this, you think that it is completely normal. I did not see this as outstanding at all. I realized much later, and actually quite recently, that the rest of the world was not like that. When you're brought up like that, it's a bit humbling. You feel that you have so much to know just to understand the conversation because there are so many topics. So it really encourages you to learn about all these things and as you learn and you get interested, you start liking them and then they become a part of you. It has been crucial in making me curious.
BellaSugar: When you were talking about your childhood, it made me think of another Frenchman who had a lot to say about childhood. Do you have any Proustian scents that take you back to a particular moment?
Frédéric Malle: A lot. First of all, I'm like everybody and I think this Proustian effect is not something which is very exceptional — everybody has that. As I was brought up by somebody for whom fragrances were quite important, I paid more attention and so I remember very well the smell of flowers. And I was wearing perfume as a child, which was very unusual, and I was doing a lot of sports. You know when you sweat a little and you have perfume on? I smelled like that. . . . I could go on forever, from the smell of the subway to the smell of fresh bread to the smell of my father's dressing room. Actually, the vetiver that we have [Vetiver Extraordinaire] is made after a friend of my father's scent. I remember my father's or mother's friends and how they smelled. I still remember that very precisely, and the vetiver is done from one of them.


BellaSugar: How do you feel when you smell someone wearing one of your scents?
Frédéric Malle: Oh, it's the best feeling!
BellaSugar: Do you ever tell someone that you helped make the fragrance?
Frédéric Malle: Do you know something, which is really embarrassing? I can't tell you who it is, but I had lunch with a famous designer the other day. And I said, "Oh, I love that fragrance on you," and it was Cologne Bigarade. But it wasn't Bigarade! It was a pure copy. So I went to my store and said, "Come with me." He looked at me and blushed. I said, "It doesn't matter, they don't know." So, even the copies made me proud. We work from a white sheet of paper and I believe that we really do create new smells. So when they influence, I'm very happy to try and embellish the world in my own little way. If someone else does it, they should not have a clear conscience, but I am on to something else.
Editions de Parfums Frédéric Malle is available at Barneys New York. For more information, visit the just-relaunched fredericmalle.com.
Photographs: Rob Villanueva