Philosophy I Love Candy Corn Lip Shine Review
What We're Sweet On: Lips Like Candy (Corn)
As POPSUGAR editors, we independently select and write about stuff we love and think you'll like too. If you buy a product we have recommended, we may receive affiliate commission, which in turn supports our work.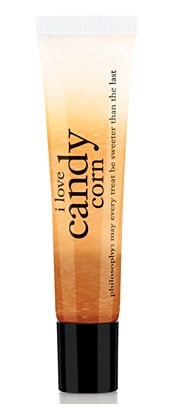 For all our fellow candy corn fanatics — and just in time for Halloween — comes a supersweet treat for your lips: Philosophy's I Love Candy Corn Lip Shine ($10). Joining the brand's line of Fall-flavored lip glosses like Caramel Apple, Sparkling Cranberry, and Cinnamon Buns, the sugary, sheer gloss is a must have for those with a sweet tooth.
Besides the spot-on candy corn flavor, the gloss contains a rich, natural emollient formula containing vitamin E and beeswax to soothe and soften your lips. The consistency is thick enough to hydrate without being overly goopy (because the last thing you want come Fall's windy days is hair sticking to your lips).