Pictures of Jewelry Made of Hair
If It's Tastefully Done, Would You Wear Hair Jewelry?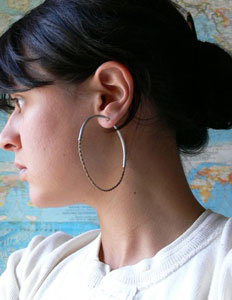 When it comes to using hair as a material, things could go either way. A lot of the results are tacky, but then there's the tastefully done. Brooklyn designer Larissa De Souza Varges's hair-meets-jewelry line falls more into the latter category. Take this Large Loop Earring ($80), for instance.
Varges also offers up customized pieces, and openly admits on her Etsy store page that the notion of using hair can seem "creepy." However, she's working on reviving the craft that was popularized around the time of Louis XIV's reign, when hair of deceased loved ones was used in jewelry as a memento. What's your take on hair jewelry? Would you wear it if it was tastefully done, or is it all just a bit too strange for your taste?