Pictures of OPI's New Texas Nail Polish Collection
Messing With OPI's New Texas Nail Polish Collection
With names like Houston We Have a Purple and It's Totally Fort Worth It, OPI's new Spring/Summer 2011 collection, dubbed Texas, will put a smile on your face. The Texas collection features 12 new shades, including six seasonally-perfect sorbet-toned hues. I tested Big Hair...Big Nails ($9), an orange-pink almost exactly the same hue as my favorite Crayola shade from childhood, Shocking Pink. To see what I thought, just keep reading.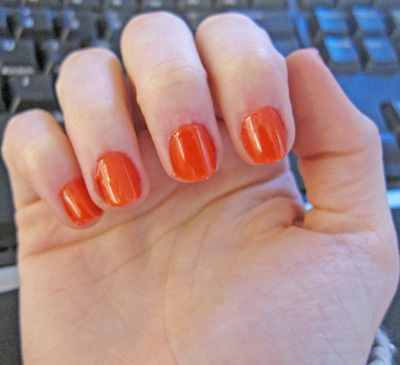 The first thing I noticed about the polish was how highly pigmented it was while simultaneously remaining sheer. This, then, is what they mean when they say "sorbet" finish.
The color was extremely bright, but even though I applied three coats, I could still see through to my nails underneath. I like the translucent effect, but if you don't want your nail beds to show, you might want to use a base coat or an opaque polish first. And because the polish is glossy (which I love) and sets with a softer texture, I recommend a topcoat to avoid nicks and rough patches.
If you think you'd like a creamier, more pigmented version of the "jelly" polish finish, or just a really fun, bright new shade, you should definitely check these out.