Poll: Mo'Nique Doesn't Shave Her Legs
Mo'Nique Goes Unshaven. What Do You Think?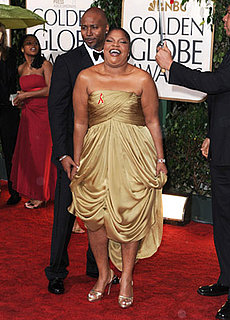 I missed this on Sunday, but apparently Mo'Nique attended the Golden Globes with hairy legs. I know, breaking news, right? Actually, one paper thinks it is: a Daily News writer barely tries to conceal her horror in discussing the actress's leg hair. Mo'Nique, she writes, "forgot to take care of a little beauty matter before the awards — shaving her legs. And if she was at all embarrassed by her shaggy state, she didn't show it."
Pardon me while I facepalm. It's just leg hair, which is so not a big deal in my book. It bums me out that instead of focusing on the 14 awards Mo'Nique has won for her performance in Precious, someone's trying to shame her for kicking the Bic. Do you care one way or another if an actress shaves?