That's right! All you have to do is put into words how you manage to look adorable in Autumn and win $500! Chinese Laundry Legwear loves two things, Fall and fashion; that's why it has created a new line of Chinese Laundry Legwear that is the perfect pop to keep your legs warm and fashion sense intact. Whether it's stripes, leopard, patterned, footless, tights, or knee-highs, your legs will be lookin' good.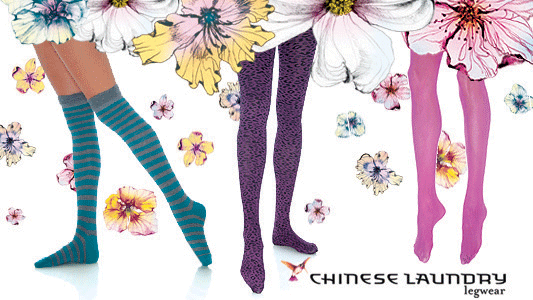 Fall is for fashionistas, so tell us how you add style to your Fall fashion lineup and win $500 (plus some new Chinese Laundry Legwear, score)!
To learn how to enter, just
.
Leave a comment to share your layering secrets for a chance to win!
Congrats to our winner from September 8:
Oh Fall, how I love Thee
I can once again wear my boots..over the knee.
I pair them with my loooong socks, made of wool
No don't try and tell me I don't look cool!
Because I'm stylin all year round
but maybe more so when the leaves start to hit the ground.
I like wearing tights with crazy patterns
like leopard..or planets..Venus and Saturn.
Chinese Laundry..yes I love that brand
But ya know I really need more than two pairs of those leggings on hand..
a different pair for each day sure would be nice...
then all those boys would always look twice!
- kelliechio
Official Rules