Prada Candy Commercial by Wes Anderson
See All 3 of Wes Anderson's Quirky-Cool Prada Candy L'Eau Shorts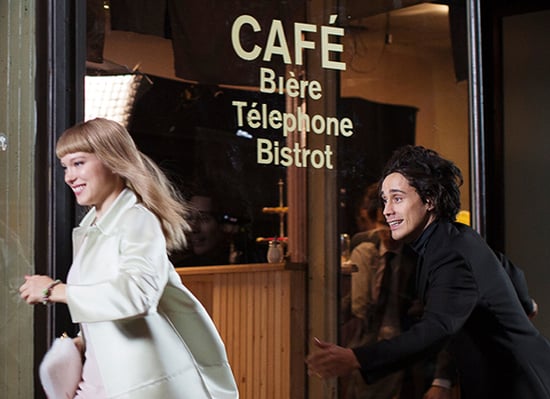 When a sparkling gourmand fragrance is set to be launched, as is the case with Prada's new Candy L'Eau, it makes sense that director Wes Anderson, known for his quirky-cool aesthetic, would be involved. This week, the Internet has been abuzz with delight thanks to the premieres of three Anderson-directed shorts dubbed Prada Candy L'Eau. Codirected by Roman Coppola, the films star French actress Léa Seydoux of Midnight in Paris and Mission: Impossible — Ghost Protocol fame. We're promised "a real tale in three episodes that encompasses Candy as the most sparkling and unexpected character," and that's just what we get.
As you would expect, the series has the perfect amount of eccentricity woven throughout, with a hint of sweet and sassy thrown in for good measure. And as with any Wes Anderson film, no detail goes unnoticed, from Seydoux's nail polish choices — Essie's Flawless is featured prominently in episode one — down to her unabashed taste for sweets. Prada Candy L'Eau, a playful, seductive scent, includes notes of Italian citruses, sweet pea, benzoin, white musk, and caramel. Look for it out next month in stores, and now, take a look at Anderson's charming foray into beauty.
Episode 1: "Meet Candy . . ."
Episode 2: "Let's Dance!"
Episode 3: "Gene or Julius?"